17 Powerful Feminist Resolutions To Make In 2017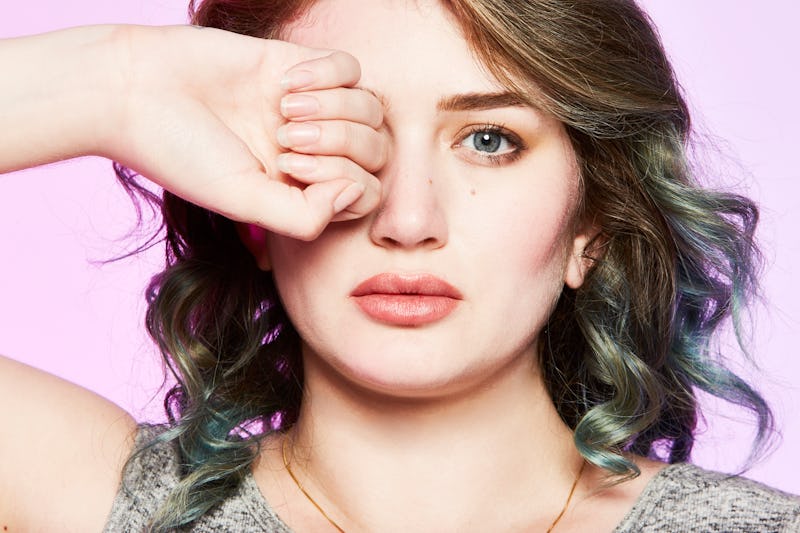 With 2016 almost at an end and a challenging new year ahead of us, it's safe to say that the world needs the voice of women now more than ever. All throughout the year we heard stories of women being assaulted, attacked, talked down upon, and portrayed as objects — so if anything, 2017 is certainly the year where making feminist New Year's resolutions is straight-up imperative. In reality, though, that task can feel massively frightening. Standing up for what you believe in, though vitally important, is never easy — which is why it's such a good idea to have a strategy in place to make sure that 2017 isn't just an empowering year, but a productive one as well.
For some, the word "feminism" raises a slow-burning passion inside that inspires them to ignite and stand up for what is right. For others, the word feminism can be a bit confusing. Boiled down, though, the concept is actually pretty easy to digest. Being a feminist simply means standing up for what is right. It's making equal what is not equal. It's giving women the same exact opportunities as men. And if you are someone who identifies as a woman, that means fighting for the opportunity for equality politically, economically, and socially.
Starting to feel that passion burn inside you? Me too. In order to truly utilize this passion in 2017, here are some feminist resolutions to make.
Psst! Check out the "You IRL" stream in the Bustle App for daily tips on how to have an empowering 2017 starting Jan. 1. Right now, tweet @bustle about how you plan to make 2017 the best year yet. Use the hashtag #2017IRL, and your tweet could be featured on our app.
Before you get started, it's a good idea to have some understanding of the history behind the feminist movement. After all, women weren't magically given the right to vote. Early suffragists had to work incredibly hard to see the 19th Amendment ratified — and even now, there's still a long way to go before women are fully viewed by society as equal to men. As you begin to brainstorm your list of feminist resolutions, take some time to read up on the incredible women who helped introduce the concept of "women's rights" into the public consciousness in the first place.
Use your voice to speak up for women who are suffering. Equal pay and voting rights are one thing, but other issues such as domestic violence, sexual assault, and women's health still desperately need our attention. Notice where there are wrongs being committed, and don't be afraid to fight injustice happening around you.
With President-elect Donald Trump weeks away from becoming commander-in-chief, it is evident that our country needs people to speak their minds and hold the pending administration accountable — and the most effective way to do so is by voting. When the opportunity arises for you to vote, no matter how big or small the election may seem, exhaust your right to vote. And if you aren't of age to vote, keep reminding others of the power of this right as women. Your voice can't be heard if you don't show up.
This is absolutely crucial. There is no reason for our generation of women to pretend like we don't have a clue about what is going on, and to back down from people or situations that make us uncomfortable. These are the moments where the world needs strong, educated leaders. So basically, be like Hermione Granger.
If there is ever a situation when someone makes you feel inferior for being a woman, stand up for yourself. Being able to live out these feminist resolutions means actually standing up for yourself in sticky situations, and to also speak up when you see others in sticky situations. As Eleanor Roosevelt eloquently put it, "no one can make you feel inferior without your consent."
Standing up for yourself is important, but standing up for other women is even more significant. Supporting the types of projects or positions that other women face means becoming part of something way bigger than yourself. There are women fighting for what's right every day, and if the 2016 election taught us anything important, it's that we need to stick together in such hard times and support each other's endeavors. Post a video of a speech you heard, share on Twitter about that awesome podcast you listen to, or even post Insta photos or stories of protests and rallies you attend. Show the world all the cool things women are doing.
Even if we want to be in motion all the time, taking a break is also really important. I'm not saying stop fighting for what is right for extended periods of time, but just give yourself time every now and then to reflect and refresh yourself. Use this time to read women authors, learn about women's rights, or even just take a bath to relax and think. These moments of solitude will help you feel refreshed and ready to conquer.
Along with taking care of yourself, it's important to have someone to talk to. Not being able to confide in someone about your personal struggles might mean keeping all of that pent-up anger, hurt, and anxiety to yourself. Find someone like-minded who can talk to you about the issues you face.
If you're in a conversation with someone and they bring up a sexist comment, don't be afraid to ask hard questions that seriously get them thinking. An easy way to call someone out on this type of behavior is to ask them questions that make them reflect on their positions, and why they ended up believing those positions in the first place. Try to avoid fighting about it, because fighting never ends up anywhere good. Instead, have a serious conversation with them about their beliefs, and open up opportunities to share your opinions as well.
It's super important to stay informed on what is going on, especially if that means listening to feminist experts who are helping to start the conversation. These feminist podcasts are a great place to start, as well as these feminist reads including Bad Feminist by Roxane Gay and The How to Build a Girl by Caitlin Moran.
What better way to support being a woman than to love the skin you are in? Take time in 2017 to remind yourself that your body is beautiful, healthy, strong, and capable of doing so many incredible things. Seriously, you're amazing.
There are so many incredible women authors out there coming from all different backgrounds and belief systems, and they all have important things to say. This year, take some time to support intersectional female writers who can help you understand your own feminism more deeply. You can even start up a feminist book club, if you're feeling ambitious. Here are some great titles to get you started.
Through the American Association of University Women (AAUW), you can join a safe group also willing to fight for change. The Younger Women's Task Force is a community empowering women to make a difference through opportunities in your city, and even in your work or personal life. If you are looking to join other women to fight for women's rights, and even want to make some new friends, this group is a great place to start.
Use your social media presence to point out women who are already making a difference — like when Serena Williams was named Sportsperson of the year in 2015, or all of the women in politics who killed it this election season, yet somehow went largely unnoticed. Give people proof that the world is changing by posting about women that you admire.
There's no easier way to blow out the passion burning in your soul than by hanging out with people who don't support you. It is incredibly easy to feel terrible about yourself when you are surrounded by friends who, evidently, weren't great friends to begin with. Don't settle on people who aren't good fits. Instead, choose people who actually get your passions, and will help you stand up for what you believe in.
Have you ever felt yourself apologizing for a situation in order to fix it, even if you don't actually feel sorry about it? It seems to be the ultimate defense mechanism for too many women — so don't give into it. Instead, ask yourself why you are saying sorry, and if it is actually necessary to apologize.
The best way for this world to improve is to listen to what others have to say. Start a conversation. Create a space that is comfortable, where political opinions can be heard but not discarded. It's super important to take steps towards each other and to hear what others have to say. Solutions can be made when we listen to each other, no matter how hard that may seem.
Check out the "You IRL" stream in the Bustle App starting on January 1 for daily tips on how to have an empowering 2017.
Images: Hannah Burton/Bustle