Too Faced Sweet Peach Is Breaking The Internet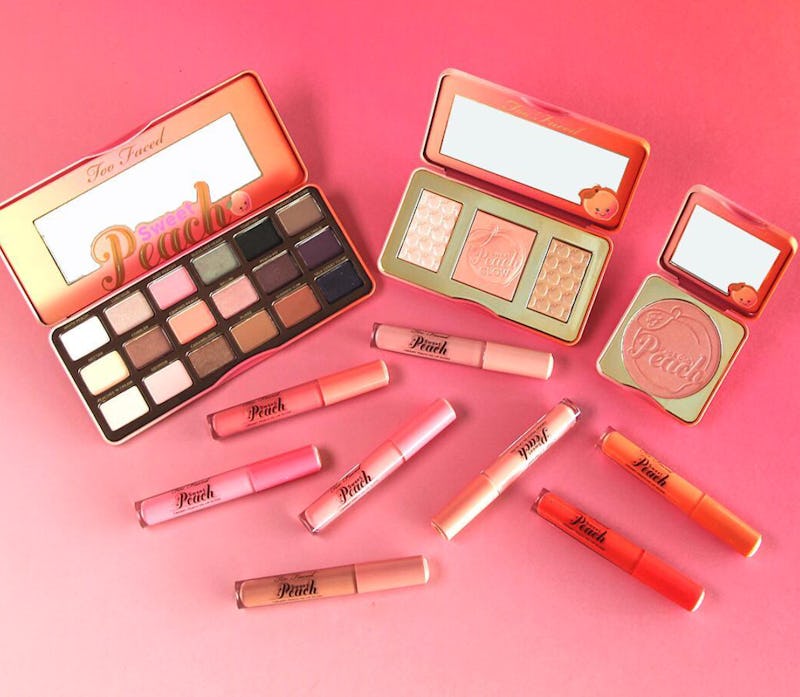 Everything's peachy over at the Too Faced site on Wednesday, Dec. 14. Like not even figuratively, either. The brand dropped its full Too Faced Sweet Peach Collection, which includes the best-selling Sweet Peach eyeshadow palette that started it all, accompanied by lip oil glosses, highlighter, blush, and more. Too Faced offered Sweet Peach shopping tips and tricks ahead of the launch, revealing it would create a digital line and shoppers would be able to see their place in that line and know what their wait time would be. As of press time, the lines are lengthy and the site is jammed with users, so it feels like the Too Faced Sweet Peach Collection is breaking the Internet or at least the Too Faced site. So, is the Too Faced Sweet Peach Collection sold out?
Well, as of 9 a.m. ET/6 a.m. PT on Dec. 14, the brand is still letting shoppers get in line. Below is the screen shot of my place in line when I signed on. There were over 6,000 people ahead of me and my wait time was just under a half-hour. Hey, at least I had intel, right?
I have to say that this is a brilliant digital strategy on Too Faced's part. It lets customers know exactly where they stand and eliminates guesswork. If you know your place in line, you won't refresh due to fear that your browser froze and then be kicked out or off, you know?
It would be seriously great if other makeup brands adopt this model to keep customers informed when there is a frenzy-inducing launch and subsequent shopping mania is expected. Having some information eliminates frustration.
This is what all the fuss is about.
It's all about dat peachy glow.
You can never have too much peachy goodness in your life or on your face, right?
Images: Too Faced Cosmetics/Instagram (3)