John Legend Comments On Kanye & Trump's Meeting
On Tuesday, the internet blew up after Kanye West was spotted walking into New York City's Trump Tower for a meeting with president-elect Donald Trump. As expected, it caused quite the reaction and even drew a critical response from a good friend of West's. While chatting with French outlet Clique on Wednesday, John Legend commented on West and Trump's meeting. In no surprise whatsoever, the singer didn't hold back his opinion about the now famous meet-up — even using the phrase "publicity stunt" to describe it. The "All Of Me" artist began, "I don't think it's impossible to talk to [Trump] about issues, but I won't be used as a publicity stunt. I think Kanye was a publicity stunt."
Then, Legend really expressed his distaste over the rapper's comment during a November concert that he would have voted for Trump if he had actually voted in the 2016 election. "I'm pretty disappointed with Kanye that he says he would have voted for Trump," Legend admitted. "I think Trump has been corrosive, his message has been corrosive to the country. I think the things he's promised to do have been very concerning for a lot of people, and for Kanye to support that message is very disappointing."
Legend hasn't kept his feelings about Trump a secret. Before the election, not only did the "Love Me Now" singer campaign for Hillary Clinton, but he even said the following about Trump to CNN in September, "He's spread bigotry and hatred and division on a regular basis. He shows no interest or understanding for any sort of policy depth, and I feel like he's uniquely unqualified to be president."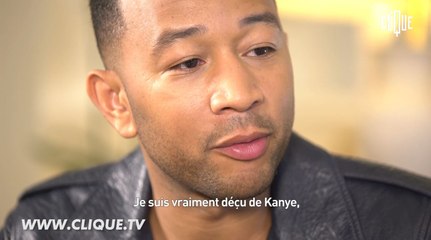 During his interview with Clique, the reporter also asked Legend if he thought The Life of Pablo artist had something else in mind when he met with Trump, rather than what West tweeted about their meeting on Wednesday. "Whatever's in his mind, I disagree with him," the La La Land actor said.
After speaking with Trump, West took to Twitter explaining what their meeting entailed: "I wanted to meet with Trump today to discuss multicultural issues." He continued, "These issues included bullying, supporting teachers, modernizing curriculums, and violence in Chicago." And then in another tweet, he wrote, "I feel it is important to have a direct line of communication with our future President if we truly want change." West then ended by posting, "#2024." It's still unclear if that means the rapper will run for president in eight years, instead of in 2020, like he previously stated. On Wednesday, West also shared a photo on Twitter of an autographed copy of Trump's TIME magazine cover.
For years, Legend and West have been friends. Even their wives, Chrissy Teigen and Kim Kardashian, are super close. While promoting his song for Broadway's Finding Neverland in June 2015, Legend spoke highly of West and said, "When I moved to New York, I met Kanye, and he signed me to his production company, and really made an investment in launching my career as a solo artist. So, his believing in me was really important."
They've had quite the history and relationship. So to hear Legend's disappointment with his long-time friend, well, it just goes to show you that he speaks his mind, no matter your relationship with him.