Jasper Won His Princess Back On 'The Royals'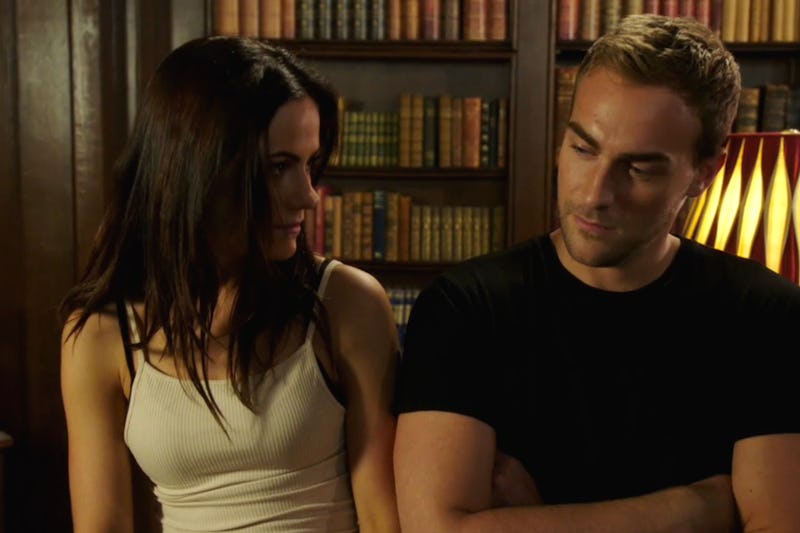 Does it make any sense that Eleanor should be with Jasper on The Royals? Nope. But I am still rooting for them to be together. That's why I was so happy to see Eleanor and Jasper have sex on The Royals during the Dec. 18 episode, "Aye, There's the Rub." Even though neither of them could write a poetic letter to one another, Jasper telling James Hill's daughter how Eleanor is a real princess was good enough. Sure, that was kind of a strange turn on, but if you had been hoping that Eleanor and Jasper would hook up again like me, then you were able to look past it.
Considering the sexual attraction that Eleanor and Jasper have, it's pretty amazing that it took until the third episode of Season 3 for them to have sex again. However, after she forgave him, Jasper had to work for her affections a bit. And after she heard his "perfect" words about how she is always true to herself, Eleanor decided to let Jasper back in for a genuinely sweet hookup. It even inspired Jasper to write a letter to Eleanor using his own words this time. Ah, how far these crazy kids have come since Season 1!
Yet, the preview for the rest of Season 3 shows that things aren't going to remain purely blissful for this pair. Another guy — presumably with royal blood — shows up and tells Jasper he's not good enough for Eleanor. Eleanor appears to tell him off though, so that should hopefully not affect their relationship too much. The more troubling moment is a sexy woman strutting up to Jasper and kissing him, which is followed by a tearful Eleanor telling Jasper, "I've given you so many chances." I'm sure this is some creative editing, but I really can't handle more roadblocks in this relationship — especially ones caused by misbehavior on Jasper's part.
These future shenanigans shouldn't damper the fact that Eleanor and Jasper finally slept together again though. Since it's The Royals, there will of course be drama to follow, but let's take a moment to be thrilled for the happy couple as they are now.
Image: E!