Star Wars Story Movies Will Keep On Coming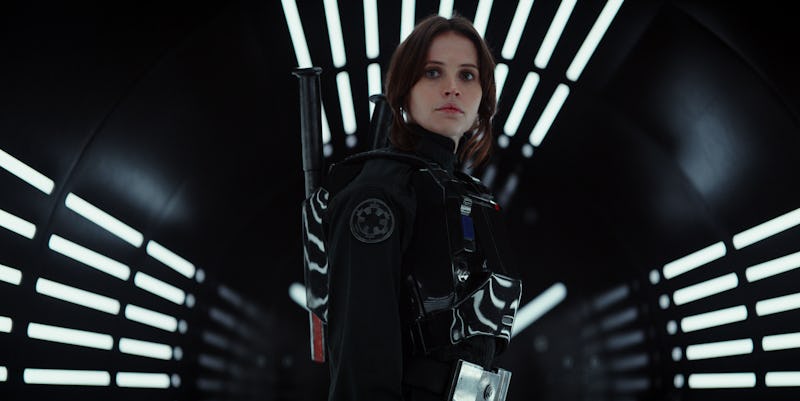 If the little taste of you've gotten of two new Star Wars flicks — The Force Awakens last December and this month's Rogue One: A Star Wars Story — is making you hungry for more of that far-off galaxy, you are in luck. There will be a quite a few more Star Wars Story movies, as well as "regular" Episodes, scheduled until 2020. More specifically, there will be two more standalone stories, following Rogue One, which focused on Jyn Erso and her mission to get the plans for the Death Star. And down the line, it's definitely possible that there'll be even more standalones,which will help explain and expand the whole Star Wars universe.
As of right now, it's only certain that there will be four upcoming Star Wars films in total, two being a part of the standalone Story series and two finishing up the trilogy started with last year's The Force Awakens. The saga's next edition is the Rian Johnson-directed Star Wars: VIII on Dec. 15, 2017 and the final part of that trilogy, which will be directed by Colin Trevorrow, will come out sometime in 2019. But for some fans, the standalones are even more exciting additions to the franchise.
On May 25, 2018, we'll get a look at Han Solo's past with a Phil Lord and Chris Miller-directed standalone starring Alden Ehrenreich as a young Sol, and Donald Glover as the future traitor Lando Calrissian. I'm hopeful that a younger, and maybe less blobby, Jabba the Hutt will be involved as well, because we can always use some of that oozy guy. The story will focus on how young Han Solo became the smuggler and handsome scoundrel whom Luke Skywalker and Obi-Wan Kenobi first met in the cantina and Princess Leia fell in love with.
Then, in 2020, we've got another standalone, but no one is certain who it's going to focus on. Some people are saying it could be Boba Fett or Princess Leia, while others are saying Obi-Wan Kenobi, but the fact of the matter is, there's no way to know just yet. Fans can only sit, wait, and hope that Ewan McGregor gets to reprise his role as Obi-Wan, at the very least.
So with that schedule, the Star Wars Story series will take us to the end of the decade, and perhaps even beyond. What a time to be alive, Star Wars fans.
Images: Walt Disney Pictures, Giphy (3)