How To Give Your Latkes A Personal Twist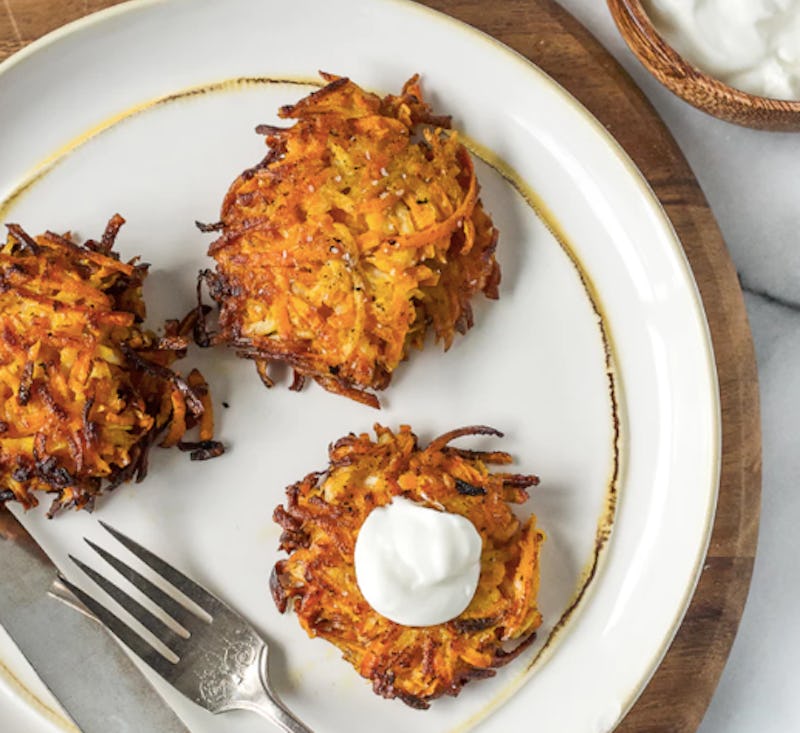 I seriously don't know why we don't eat latkes all year, the potato-fried goodness is definitely a year-round savory delicacy, and yet, we mostly save them for Hanukah. Traditionally, oil-fried foods are eaten at Hanukkah to celebrate the oil lamp that stayed lit for eight days, instead of one, a celebrated event considered a miracle in the Jewish faith. But fast-forward to present-day foodie culture, we're all about oil-fried everything, all the time — hence all these variations in latke recipes in 2016. And not to fail to appreciate the religious and historical significance of the Hanukkah latke, but I think we can all agree these starchy, crispy, breakfast-for-dinner potato pancakes deserve a regular appearance at mealtime.
The best part about latkes is that while they're incredibly simple to make, there are tons of different ways to make them. Nearly every family and every chef has their own variation, their own secret ingredient, their own potato preference, and their own special dipping sauce or garnish. That's why I've put together a list of some of the best latke recipes so that you can play around with a few until you find the one that works for you. Then you can fine-tune it so that you've got your own signature recipe. These are some of the best of the best, ranging from sweet to savory and everything in between. Bon appetite and Happy Hanukkah!
Sweet Potato, Turnip & Parsley Latke
This seriously savory latke is pretty high-brow, but it's also incredibly sweet and delicate. Head to the farmer's market and the follow along with this recipe from Kitchen Confidante.
Brunch Latkes
You can eat latkes any time of day you want, but you're definitely going to want to try out these brunch-style latkes that pair seamlessly with smoked salmon and roe. Check out the Sunday-style recipe at I Am A Food Blog.
Greek Latkes
If you're thinking about a later-in-the-day latke feast, you might want to try out this recipe from Love U Madly, featuring Greek-style latkes made with spinach, scallions, leeks, dill and feta cheese.
French Latkes
The foodies have spoken and leeks are a great addition to the potato latke recipe. This French-inspired recipe from Food & Style calls for a fancy creme fresh dipping sauce as opposed to the standard sour cream or apple sauce. Try this recipe if you're looking to step up your culinary game.
Green Onion Benedict-Style Latke
This Cooking for Keeps recipe holds the key to the perfect breakfast latke. They've turned the standard eggs Benedict into the perfect Hanukkah dish. It's no longer a side, it's the main event here.
Butternut Squash Latkes
This is butternut squash's season to shine, so why not mix them in with everyone's favorite Hanukkah snack. This recipe from Big Girls Small Kitchen is a great potato-free option if you've hit your personal potato limit.
Veggie-Packed Latkes
If you're looking for a recipe to help bring your latkes from a side to a major source of nutrients, this recipe from Big Girls Small Kitchen will help you fit those veggies in there, without compromising any of the naughty fried taste you know and love.
Apple Cheddar Latkes
Drooling? Me too. This recipe from A Cozy Kitchen is seriously mouth-watering and totally different than most recipes out there. These potato-less apple and cheese latkes look like the traditional kind but taste entirely different.
Zesty Sweet Potato Latkes
If you're looking for that sweet yam flavor but not in the mood for dessert, these ginger, lime, cilantro and chili-infused latkes will seriously shake things up for you. Check out the recipe from A Pretty Life in the Suburbs.
Classic Crispy Potato Latkes
If you're looking for a traditional recipe that's been modified just enough to satisfy your french fry-loving needs, this crunchy, chewy potato latke will seriously hit the spot. Check out the easy recipe on Brown-Eyed Baker.
Image: Kitchen Confidante