Jeffree Star's New Metallic Lips Are Coming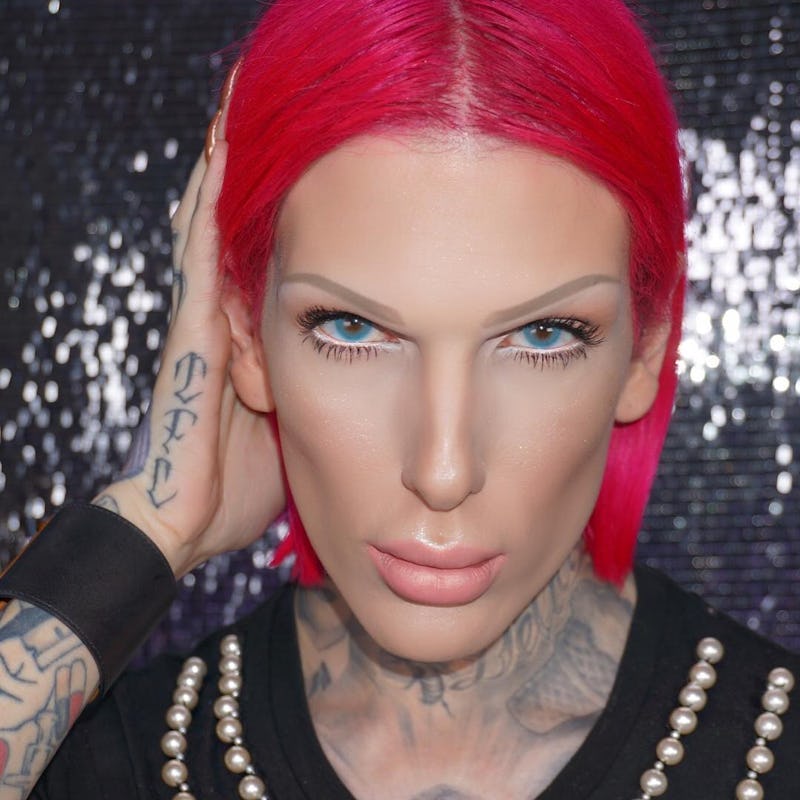 Jeffree Star Cosmetics probably features some of the most sought after products not sold in a brick and mortar store. From liquid lipsticks to highlighters the brand has seriously stand out products, and now, Jeffree Star's new metallic liquid lipsticks are being added to the mix. Star has had metallic lipsticks in his collection already, but fans are always stoked to see more from the multi-talented cosmetics creator. Now, they're getting it, and the best part is that they're coming soon.
Star took to his Snapchat on Wednesday to tease the new metallic liquid lipsticks while on vacation in Hawaii. While Star initially mentioned swatching the two new colors he skipped that step. However, what he did do was announce that they'd be available on the Jeffree Star Cosmetics website on Dec. 26 at 10 a.m. PT. Star's new releases are arriving super soon, and while they obviously won't be able to be stocking stuffers or gifts for friends obsessed with the line, they will make a great gift to yourself with whatever cash gifts you may have gotten.
Star didn't just reveal that the products would be available on Dec. 26 either. He also revealed the always stellar names. Pussy Whipped and No Tea, No Shade are the two names of the new metallic hues, and like the rest of Star's products, the colors are sure to be stellar.
This isn't the first time Star has released products with fantastic names, though. In fact, just recently Star released a gorgeous hot pink Skin Frost named Regina George that had Mean Girls fans and makeup junkies across the internet reeling. It was basically name perfection. While there's no way to know what these metallics will look like just yet at least we know their names are hilarious.
Star has said that he will be premiering the shades soon, but so far, he's given to specifics. That hasn't stopped his fans from already being shook over the release and making guesses about the colors.
Gold? Yes, please!
True, though.
Despite not seeing swatches, the hype is real for the new Jeffree Star metallic lipsticks, and for good reason. With a seriously stellar range of products, hilarious names, and a huge following, Star's lipsticks are probably going to go fast.
Images: Jeffree Star/Instagram