Oh Good. 'TVD' Is Finally Back.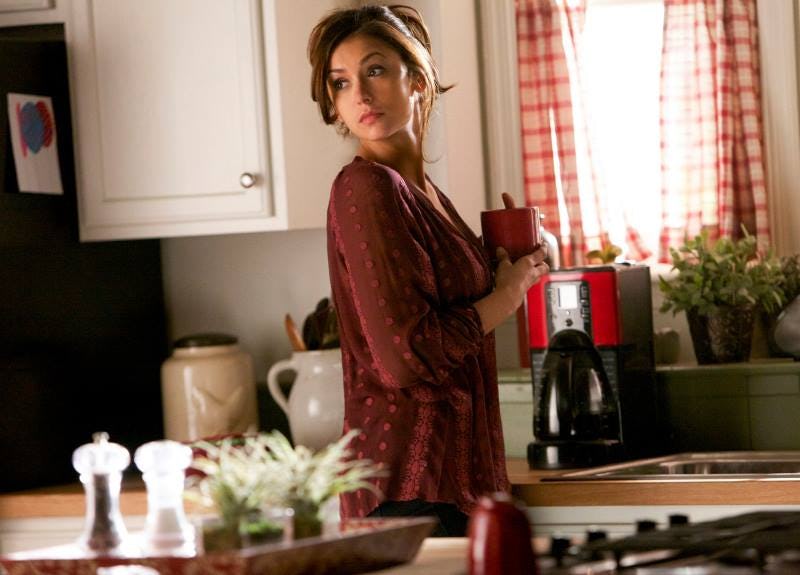 We've officially made it through our Mystic Falls withdrawals — congratulations, Vampire Diaries fans. The CW's The Vampire Diaries returns Thursday night with "Resident Evil," and it's guaranteed to be a disappointing episode if you're a Delena or Steroline 'shipper. When the series broke for a month-long hiatus in March, we were left hanging with whether or not Damon and Elena's relationship would survive. This push and pull is really nothing new, if you think about it, but spoilers for "Resident Evil" and the remainder of Season 5 suggest that we'll all be in for some surprises, regardless of who we 'ship.
Here's what we know about tonight's episode: First, we're finally going see Paul Wesley's directorial debut on the series (yay, go Stefan!). And we're going to catch a lot in the Stelena-romance department by way of kind-of disturbing alternative reality visions, as unsettling as that may be, considering the juicy Delena hook-up from the show's most recent episode. Stefan can turn up the heat too, guys, we shouldn't count him out just yet. But anyway, there's more trouble from the Other Side headed Bonnie's way and Jeremy plans to pull some shady moves on his witchy girlfriend. (Get it together, Jeremy.) We're also finally slated to meet Heather Hemmens' new character as Enzo offers Damon some relationship advice on how to end his and Elena's constant dysfunction.
"Resident Evil" is shaping up to more than satisfy fans after TVD's long hiatus, so let's celebrate with some big spoilery predictions for Season 5.
Alaric Returns
Last week, Michael Trevino (who plays Tyler Lockwood) posted a photo of himself with a large group that included Matt Davis. Now, Alaric's been dead for a long time, but Julie Plec hinted at a "rebirth" for some characters recently. We're totally not complaining, but it's about time we took a break from killing off characters and brought a few back from the dead, right? (Jeremy hasn't died in like, three episodes.) Trevino's photo isn't from the TVD set, so there's no concrete proof that Davis will reprise his role as the Gilbert's most capable guardian. But, considering Alaric Saltzman was a fan-favorite character that's popped up a few times in Damon's subconscious, we're optimistic that he's in.
Prediction: Alaric will be a part of the solution to the "problems on the Other Side" that Bonnie's Grams is going to tell her about in "Resident Evil". He'll return and because he's so skilled with dealing with the supernatural, he'll help guide Bonnie through. Alaric will also finally give Damon some advice that he can use regarding his extreme self-depreciation and his relationship with Elena — because that's what friends are for.
There's A Traveller Inside
We've seen a lot of body-sharing on Season 5 and according to recent spoilers from TVGuide , we haven't seen the last of that terrifying situation. And it seems like some of the series' main characters will be the destination for these creepy, traveling souls. Who will they inhabit next?
Prediction: Tyler, Stefan, and Caroline all seem like HUGE targets and characters that have spurned the Travellers before. In the synopsis for "Resident Evil", TVD teased that Tyler will unwittingly end up involved in ritual with Liv and Luke — could he end up with another spirit inhabiting his body? Anything's possible. As for Stefan and Caroline, their relationship with the remaining Travellers is shaky at best from their recent visit to their compound and the killing of Tom Avery. So there's definitely a motive to gaining control over them.
The Stelena Problem
We're all trying to figure out which Salvatore brother is Elena's endgame and whether or not Steroline will actually, ever, happen. (It won't, but keep trying, people.) Last week, Wesley told E! that nothing with Stelena is ever permanent. The actor said of the pair, "Those two are like perpetually a pendulum that swings. There's really no algorithm," and that they're going to work it out in the end. Will those visions of a perfect, sexy life get under their skin? We were promised that Season 5 would be reminiscent of Season 1, so there could be more Stelena in our future.
Prediction: That Doppelgänger Curse is the real deal. These two are going to have a moment — either sexual or emotional — in the very near future. Now, that's not the same thing as getting back together and falling madly in love — but it's a step in the direction of them being endgame and the curse coming to fruition. If we know Elena, she won't be able to ignore them, even if she's "in love" with Damon and she and Stefan will eventually have to talk it out. And we all know how Elena is about words and feelings.
Image: The CW