Will 'Maleficent' Defeat the Superheroes?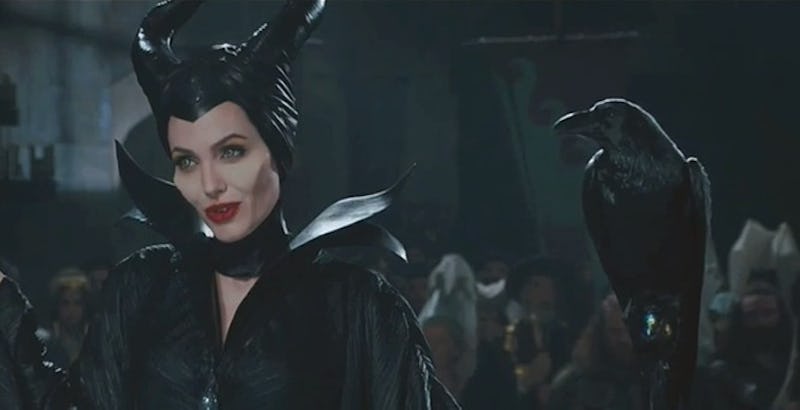 With the latest sneak-peek into Disney's Maleficent released, it looks like the live-action untold story of Sleeping Beauty's famous villain is poised to be one of this summer's biggest hits. Considering the recent overwhelming success of Disney's Frozen , I wouldn't be surprised if Maleficent turned out to be the highest-grossing film of the season. There's alreay been plenty of buzz surrounding the film, particularly around its star Angelina Jolie, who is chilling and pitch-perfect as the iconic baddie.
Summer notoriously belongs to the boys club with mega-huge comic book superhero and testosterone-heavy gun fests bulldozing through the box office. However, we have seen a shift happening in recent years with the Hunger Games and Sex and the City franchises proving that women bring in big money when it comes to ticket sales. There's also that little fun fact that in 2013, women-led films made more money than men-led films. Angelina Jolie — who has raked in huge sales in genres from action-adventure blockbusters to Oscar-nominated dramas — is now at the helm of a Disney film. So when you put the two most successful box office trends of the past year, you have Maleficent.
The film also has much greater crossover potential than many of its competitors. It's a given that kids will come in droves to see it... and then see it again. Again, to use Frozen as an example, the movie made over $1 billion because audiences returned for multiple viewings. There's also interest in the movie for adults, as well. It tells a new side to a story from our childhoods, and since we experience nostalgia on a daily basis through web trends and social media (#TBT), returning to Maleficent is like $12 regression therapy for us.
Lastly, Maleficent has the power to take down this summer's superheroes because she's the villain, after all. The movie taps into audience's macabre curiosity toward the dark side. It's just scary enough to make a good date movie, but not too scary that kids won't find the Disney magic in it. How do you like them apples? Maleficent is poised to dominate.
Image: Disney