So Where Exactly Did Joel and Julia End Up?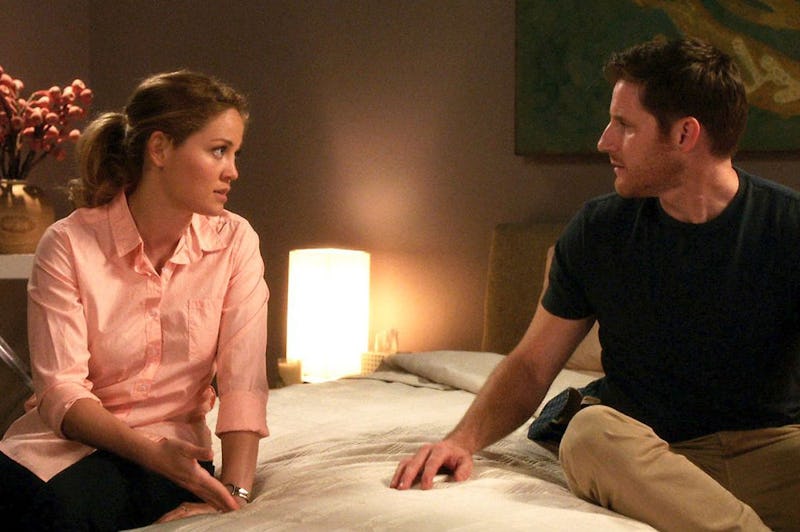 The fifth season of Parenthood has had its share of surprises, from Kristina running for mayor and opening a charter school to the return of Haddie with a girlfriend in tow. But the biggest surprise of all may have been the season's focus on Julia and Joel. The previously low-key couple's marriage reached its breaking point about halfway through the season and since then, the show has focused on their separation. In the most frustrating part of Thursday's season (and possibly series) finale, nothing really changed for Parenthood 's Julia and Joel, cruelly leaving fans without any real answers.
When Victor read his winning essay in front of his family and the school, all about how much he appreciated the time spent working on that car with his grandpa Zeke, we saw matching looks of pride on Joel and Julia's faces. When they took him and Sydney out for yogurt to celebrate, they were getting along better than they have all season — including when they were still married. By the time Joel told Sydney the story of her birth with he and Julia laying on each side of their daughter, even holding hands by the end, a reunion of some kind seemed all but guaranteed.
But for some reason, Parenthood chose to leave their marriage completely up in the air, an awful end to a storyline that until now, had only gotten better as the season went on. Their marriage drama was irritating at first, as Julia obliviously hurt Joel and got a little too close to fellow parent Ed. Once they actually separated, however, it quickly became one of the show's best arcs as it showcased an emotional, realistic portrayal of divorce and let Joel and Julia each have their own, complex, understandable views, instead of opposing sides.
So why give Haddie, who hasn't even been on all season, an end but not Julia and Joel? Why focus so much on Drew's boring romance? It seemed like Julia and Joel were getting closer to mending their relationship, but when the whole Braverman family gathered in the final scene, Joel was nowhere to be found.
Are they patching things up or will they just be more amicable from now on? Fans had better keep their fingers crossed for a sixth season because if "The Pontiac" served as Parenthood's series finale, we'll never know what exactly happened to Joel and Julia.
Image: NBC