'Fargo,' Stop Confusing Us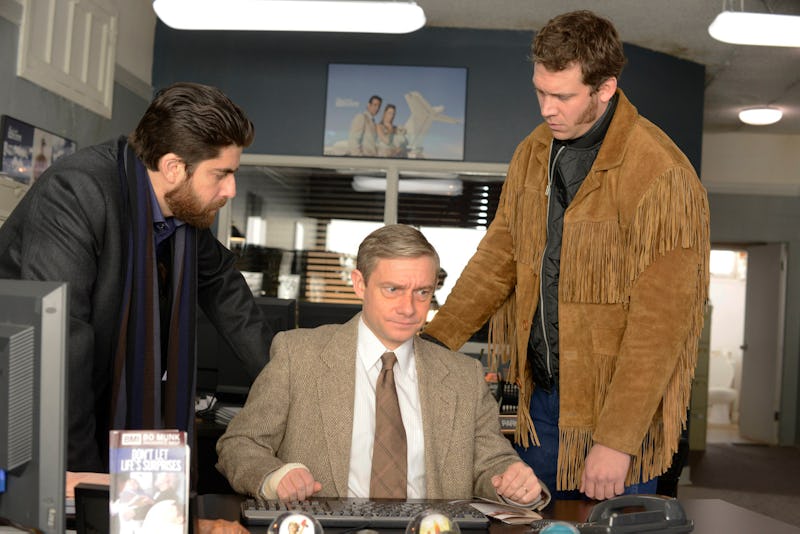 FX's newest original series Fargo is brilliant, just like the Coen Brothers film that preceded it. Fargo's adaptation from film to series has seen some changes; the story is pretty different and the series follows characters who are unique from the ones in the film. But one change was not made: The name. The weirdest thing about this new series — apart from people dying by hammers and hearing talk of finding feet in toaster ovens — is that Fargo doesn't even take place in Fargo, North Dakota. Most of the action is in Bemidji and Duluth, both of which are in Minnesota.
Why would the show continue to use a name that makes no sense? Well the most obvious reason would be that they've kept it for the sake of the adaptation. Noah Hawley, the creator of Fargo the series, pointed out that even in the film, only the first scene takes place in Fargo. Hawley says Fargo is more like a metaphor than a location:
"It's like a state of mind. It's a word that describes a sort of frozen hinterland that makes you think of a certain type of story."
Now that's all well and good but maybe there's another reason to keep the name. Perhaps Billy Bob Thorton's hitman character Lorne Malvo was traveling to Fargo for a case that was left unfinished. The trajectory would make sense. In last week's episode, Detective Molly Solverson found out that the man who was found frozen to death in the woods — the one who escaped from the trunk of Malvo's stolen car — was abducted from his workplace in St. Paul, Minnesota. Maybe Malvo's job was to kidnap and transfer the man to Fargo.
And maybe Hawley could introduce characters to this complicated but totally intriguing series that will actually hail from Fargo. After all, the show did introduce the men of Duluth pretty much immediately after they introduced us to Lester Nygaard and the band of weirdos from Bemidji. It seems so far everyone is tied in some way or other to Malvo so maybe this previous case idea could involve us meeting his clients in Fargo. It's pretty clear Malvo tends to leave destruction and confusion wherever he goes.
All I know is that the show's name, like the show itself, is unclear. There are so many unanswered questions and so many new questions being raised constantly during each episode. With a show that has a million thickly accented characters killing people left and right, it's nice to have a little bit of clarity every once in a while. But we might have to wait a long time before any mystery is solved, including something as simple as a name.
Images: Chris Large/FX; Tumblr/nemoniknemonik