Who Would Ever Go On This Reality Show?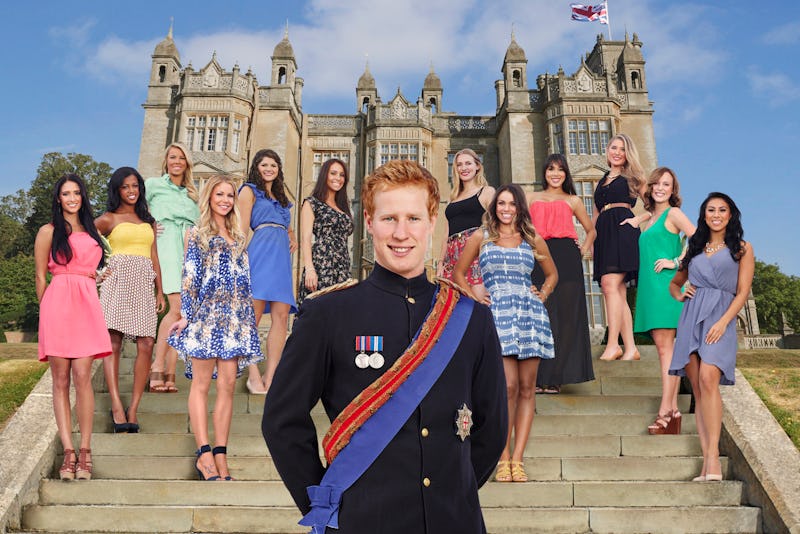 It's hard out there for a reality TV show contestant. One day, you're just a regular old Jane Doe, and the next, you're competing for money, love, and "eternal" glory as millions of people watch and scrutinize your every move. Though FOX's newest reality series I Wanna Marry "Harry" doesn't premiere for a little less than two weeks, the cast of ladies vying for "Harry's" heart already know all too well that putting yourself out there on national TV makes you prone lots of judgment.
Much of America is pretty dumbfounded (and that's putting it nicely) that the contestants on I Wanna Marry "Harry" actually believe the bachelor at the center of it all is part of Britain's royal family. The Prince Harry impersonator Matt Hicks doesn't look that much like the real royal, after all. Plus, let's be real, with women all over the world practically lining up to date Prince Harry, would he really need to go on a reality show to find love? Probs not. So America has basically made up its mind that these women are probably not the smartest.
Watching them fall madly in love with a big fat lie every week is going to please our schadenfreude-loving hearts, but let's cut these women some slack. They weren't told who their eligible bachelor was really going to be, and when they first meet him, they only catch a glimpse of Hicks from afar as he steps out of his helicopter and gets whisked away in an SUV. The staff of the estate also never call him "Prince Harry," only referring to him as "Sir," which would make you think he's an important bloke, if nothing else. And then the first time they meet their bachelor is at a masquerade ball where everyone has on masks. Admit it, you'd probably let your mind think he was Prince Harry, too, even if just for a second.
So who are the 12 ladies at the butt of FOX's latest practical joke, anyway? Well, they're pretty much just regular women looking for their Prince Charming. FOX has released their names, ages, hometowns, occupations, dating deal breakers, and favorite British phrases. We will supply the commentary.
Kelley Andrews
Kelley is a 25-year-old restaurant hostess from Mobile, Alabama who loves a man who can dance and the British phrase "cor, blimey!" It looks like Kelley will fill the token "Country Girl" spot in the castle, even dancing in a cowboy hat and Daisy Dukes for "Prince Harry." Kelley also loves adrenaline and trying new things. Well, we bet she's never been fooled into thinking she was dating Prince Harry before, so she'll probably like that.
Kimberly Birch
Kimberly is one of two contestants from Long Island, New York on the show. She's 24 and is a social worker who hates it when guys are arrogant and really loves to hear Brits say, "going the full monty," which generally means being unclothed, something Prince Harry knows absolutely nothing about.
Chelsea Brookshire
This 22-year-old store cashier from Long Beach, California likes the English name for a police officer "bobby" and her dating deal breaker is when the guy doesn't believe in God. Hopefully appearing on I Wanna Marry "Harry" doesn't make her lose her faith.
Andrea Fox
Andrea is one of the taller contestants on the show, so she can't date a guy who's shorter than her. She's 25 years old, hails from Long View, Texas and is a technology sales rep. Andrea likes the British phrase, "What do you fancy?" She has the distinction of being the contestant in the show's preview to outright say the bachelor is Prince Harry, which basically means she will remain the face of the gullibility of the contestants throughout the season.
Carley Hawkins
Carley is a 24-year-old student from Buffalo, Missouri. She has no dating deal breakers, only "standards," and she likes the British phrase "He's fit." You probably recognize Carley as the one in the preview who gets that record halting sound after she says that she's studying cell and molecular biology with an interest in ophthamology, which makes it seem like she's too intelligent to be on this show. Smart girls need love too, y'all.
Anna Lisa Matias
This 24-year-old from San Francisco, California digs the British phrase "Oh, bloody hell." Anna Lisa is a pageant queen, so naturally her deal breakers are if the guy doesn't have any manners. If she falls for the Prince Harry act, knowing the real prince's famously raucous behavior, Anna Lisa may find herself totally turned off by the prince.
Rose Copeland
Rose is a 23-year-old preschool teacher from Westlake, California who doesn't seem to have any deal breakers when it comes to dating. On paper, she seems like she would be the wholesome contestant on the show, but with her favorite British phrase as "Get your knobs out," it looks like she has a wild side that "Prince Harry" will probably be into.
Jacqueline Conroy
The second Long Islander of the bunch, Jacqueline, is a 25-year-old nutritionist whose favorite British phrase is one Hicks said on the show, "American girls are forward." But, she hates liars, so she's going to have a particularly rough time when she learns who "Prince Harry" really is.
Meghan Jones
Meghan is a 26-year-old artist from Tustin, California who is turned off by insecure men and likes the British phrase "slap and tickle." Hicks was right. American women are forward.
Karina Kennedy
Karina is also a fan of any phrase with "bloody" in it, and she's over arrogant men. The 25-year-old physical therapist is from Palos Hills, Illinois. In one of series clips, Karina says she loves dating shows, and this one "seems like a respectful" one to be on. Mmmkay... "seems respectful" and "is respectful" are two different things.
Leah Thomas
This 24-year-old cocktail waitress from Fort Worth, Texas likes the British phrase "We get on." Her biggest deal breaker is if the guy hasn't seen Star Wars, so if "Prince Harry" doesn't know the difference between R2-D2 and C-3PO, then he needs to go.
Maggie Toraason
Maggie is a 25-year-old beverage sales rep from Peru, Illinois who enjoys the British phrase "getting a leg over." She can't stand it when a guy wears Crocs (who can, really?), so hopefully "Harry" will keep his footwear classy for her.
Images: FOX; Daniel Smith/FOX