Where is 'The Good Wife' Headed?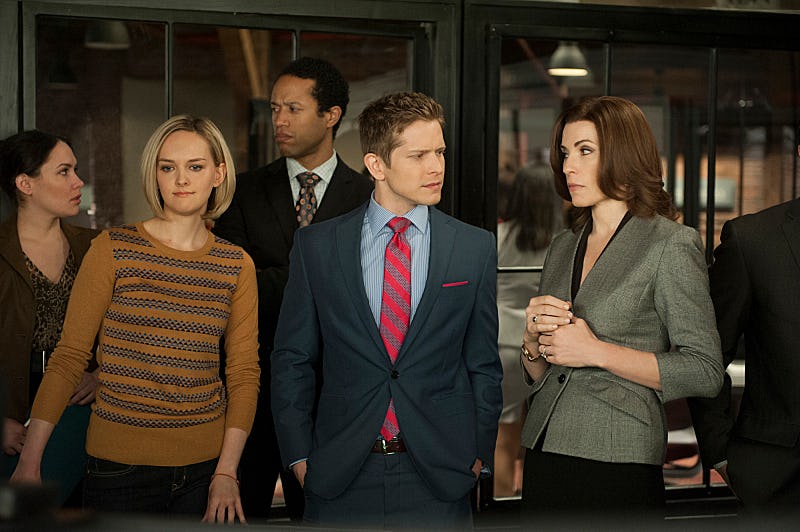 Yes, it's true. We're about to enter the summer, also known as the Alicia Florrick-free zone. CBS' critical darling The Good Wife's Season 5 finale "A Weird Year" airs this Sunday. The outcome of the finale will ripple through the next season and may slightly change each character's trajectory. Of course CBS renewed The Good Wife for Season 6, and there's no reason to believe it won't be as awesome as the fifth.
We've gone through a lot this season, but nothing was more shocking than the death of Will Gardner. Still, things got tough when Alicia and Cary experienced some growing pains with their new law firm Florrick/Agos. Peter settled into his new role as Governor, only to have it threatened by Marilyn Garbanza (Melissa George) and an investigation into his gubernatorial election. Diane found herself fighting to maintain her control over Lockhart/Gardner. And guest stars Carrie Preston and Michael J. Fox continued to shine in their portrayals of Elsbeth Tascioni and Louis Canning.
Hopefully, the show doesn't have another death in the cards (we couldn't handle it). However, the finale does look like it'll be the catalyst for a lot of change in Season 6. Here are a few things we think could definitely happen.
Alicia & Peter's Relationship Will Further Dissolve
This may seem like a gimme, but Alicia's relationship with Peter has weathered many valleys just before she randomly opts to involve him in her life even more. We don't think they'll be coming out of this particular pit anytime soon however. Though their relationship remains mutually beneficial from a professional standpoint, look for Alicia to start seriously questioning the benefits of being tied to Peter. She's been too busy as of late putting out fires, but with time to think she'll struggle to find those reasons, just as viewers have for the past five seasons.
We are clearly being pushed towards an eventual Alicia and Finn Polmar (Matthew Goode) hook-up. Goode was promoted to a series regular this season and it doesn't look like they're getting rid of him, so our future State Attorney will be in the picture for a while. Is Alicia ready to move on from Will? Probably not, but it doesn't hurt to have options. Plus, Peter is horrible.
Kalicia Still Won't Be a "Thing"
I feel like this is "fetch" all over again, and maybe we should just stop believing our favorite friendship on the show will ever get back to what it once was. There is no reason to believe that Alicia will suddenly allow Kalinda back into her inner circle. Things are progressing so slowly on their front.
It doesn't make sense that Alicia has been able to redevelop some sort of bond with Peter (though he was her husband long before), and can barely muster up any strength to talk to Kalinda. Maybe there is some truth to rumors that it's actually a personal grievance between the two actresses, or maybe showrunners feel they've done all they can on that front. Either way, don't hold your breath on this pairing getting too much screen time.
Florrick, Agos, & Lockhart
The synopsis for The Good Wife's season finale teases a scandal unfolding after Alicia and Cary hear something they weren't supposed to following a teleconference deposition with Lockhart & Gardner. While it could be Diane stabbing them both in the back, the duo could also stumble across another part of Canning's plot to wrestle the firm from Diane. Tired of the non-stop infighting and the politics, Diane could opt to leave behind her firm and join Florrick/Agos, much to the chagrin of Cary. Am I wrong or has Cary has at one point or another been screwed by every main character (including Kalinda, who is currently screwing him both literally and figuratively)? He will get tired of drawing the short stick and opt to leave, whether that means he'll leave the show entirely or lurk in the shadows as an enemy, we'll have to wait and see.
The Good Wife's fifth season finale airs this Sunday at 9 PM. Check out the trailer for the episode below.
Images: CBS (4)