You've Never Heard 'Aladdin' Like This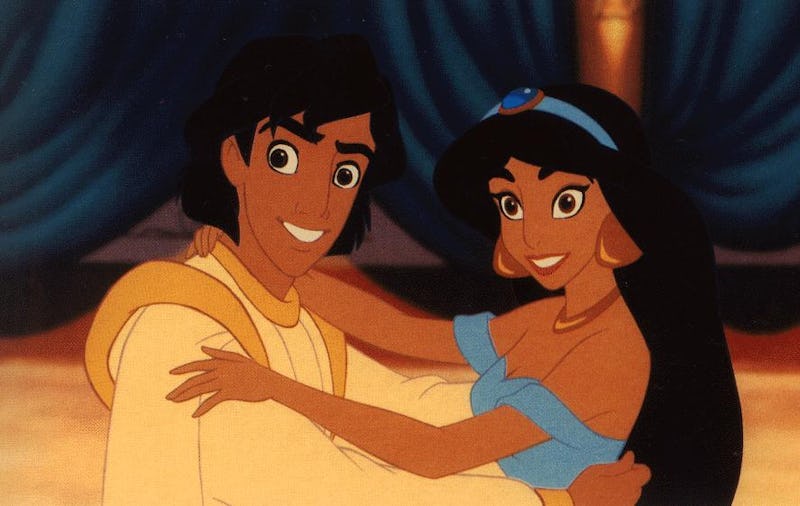 Aladdin is one of those Disney movies that seem like they can't get better. Disney's Broadway version of Aladdin has been nominated for a Tony Award for Best Musical, but, to be honest, I doubt any of us really understood why. After all, critics seemed to agree that Aladdin was bad and that was enough to scare me out of springing for a ticket no matter how big a crush I still have on Aladdin. However, the musical can't be all bad otherwise people wouldn't keep watching it. For example, Aladdin's Broadway version of "Friend Like Me" is just epic enough to make the whole musical worth seeing. (Okay, maybe we shouldn't go that far.)
The entire song in the musical seven minutes long where the original scene was under three minutes, if even that long. How exactly do you stretch out what was already one of the best songs in the movie without making people so mind-numbingly bored that they get up and leave in the middle? By letting the Genie do what he does best: improvise. Well, scripted improvisation anyway. "Friend Like Me" as re-imagined on Broadway combines phrases and songs from different Disney movies, such as "bippity boppity boo" from Cinderella and lines from The Little Mermaid, among many, many others.
There's a musical interlude that's presumably meant to be covered by a well-choreographed routine and the song cycles through every genre under the sun, from jazz to country to musical theater. By the time the song actually ended, I was wonder why it wasn't longer. Maybe if Aladdin had made the rest of the musical on the same level as this one song, then it wouldn't be such a critical flop. Then again, if every number in the musical was as over-the-top as the Genie's then he wouldn't be the Genie, now would he?
The new version of "Friend Like Me" is just one of the many new songs that will appear on the Aladdin soundtrack that will be released digitally on May 27. The soundtrack will also include songs were cut from the movie, such as "High Adventure" and "Proud of Your Boy", and new songs like "A Million Miles Away" and "Somebody's Got Your Back". While it seems obvious enough that Disney couldn't really expect people to pay more money to see a live action version of the same movie they memorized as children, "Friend Like Me" already stands out as truly exceeding expectations.
Reviews still have me wary of shelling out the money for a ticket to see the show on Broadway, but this one song alone has more or less persuaded me that the soundtrack is worth listening to. It sounds exactly like how I would expect Genie to perform the song in 2014. And most Broadway shows, no matter how lackluster, are worth it for the soundtrack alone.
Listen to the song below.
Image: Disney; Tumblr