Who Wins "Most Naked In Hollywood"?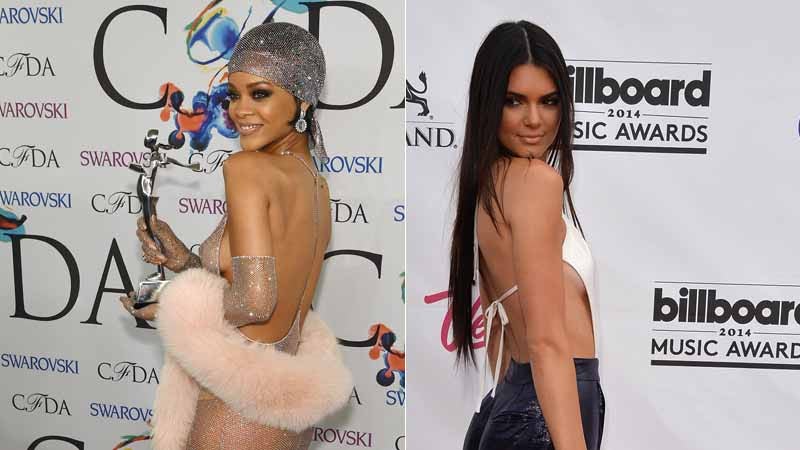 I'm officially convinced: Rihanna and Kendall Jenner are in a Fashion Death Battle to see who can get away with wearing less clothing in a tasteful way on the red carpet. And I am so totally on board with this whole plan. The two have very different reasons to being showing some extra skin — well, aside from both being completely stunning — at formal events recently: Jenner appears to be using her recently-legal-and-therefore-able-to-shoot-nude-photos status as a way to demand us to take her seriously as a model, while Rihanna's is more likely a protest against recent ridiculous censorship from Instagram.
Whether they're really in cahoots or not (it's unlikely, since most of Rihanna and Jenner's interactions appear to via Twitter, and not in an entirely nice way), it certainly feels like the two stars step out in a new, nearly-naked outfit basically every day. Granted, RiRi's been doing the barely-there dressing thing for a few years longer than Jenner, but she lacks in legacy Jenner is making up for sheer volume of her, well, sheerness. In celebration of a little fun, friendly competition, let's break down this face-off outfit by outfit, to see who really wins the crown of Most Naked In Hollywood.
Sheer At Fashion Week: Kendall Jenner
I'm starting this countdown here to be fair, since Jenner had to wait to turn 18 before she could start wearing whatever the eff she wanted. She started off her young adult years with a bang by walking in the Marc Jacobs show, nipples flying free.
Sheer At Fashion Week: Rihanna
What is this "winter dressing" you mortals speak of? A fur stole and leather gloves totally makes a not-even-close-to-there lace top totally acceptable for below freezing temps.
Little White Number: Kendall Jenner
Nothing says, "I'm a serious novelist" like a sheer jumpsuit. I'm honestly obsessed with this and would like to wear it to work every single day.
Little White Number: Rihanna
At the MTV Movie Awards this year, Rihanna's gown felt more like lingerie than red carpet wear...but of course she pulled it off by adding heels and tasteful jewels.
A Bit Of Black: Kendall Jenner
Is it a romper? A suit? Joggers and a halter? Whatever, it's fabulous.
A Bit Of Black: Rihanna
RiRi's head-to-toe lace at the iHeartRadio Awards barely even made headlines — everyone was too focused on her green lippy and knotted 'do.
So Much Sparkle: Kendall Jenner
I am so completely baffled by Jenner's MuchMusic Video Awards dress. I guess the overly excessive slits were to offset the fact that she's wearing long sleeves in the summertime? But the amount of double stick tape that had to go into this hardly seems worth the effort.
So Much Sparkle: Rihanna
Despite being a completely sheer gown, the general consensus on Rihanna's CFDA dress was overwhelmingly positive. Shine bright like a diamond, indeed.
Topless Magazine Shoot: Kendall Jenner
In the July 2014 issue of Interview Magazine, Jenner looks seriously stunning for her black and white shoot.
Topless Magazine Shoot: Rihanna
In a full color spread that featured her naked breasts on the cover, Rihanna's shoot in Lui mag was what got the singer banned from Instagram. Probably they were just jealous of how freaking hot she looks.
So who wins the title of "Most Naked In Hollywood?" Between RiRi's legacy and Jenner's ability to make so many style statements in so little time, I'm calling this one a fashionable draw. Keep being awesome, ladies.
Images: Getty Images; @KendallJenner/Instagram; @Rihanna/Twitter