Emoji-fy Your Personal Style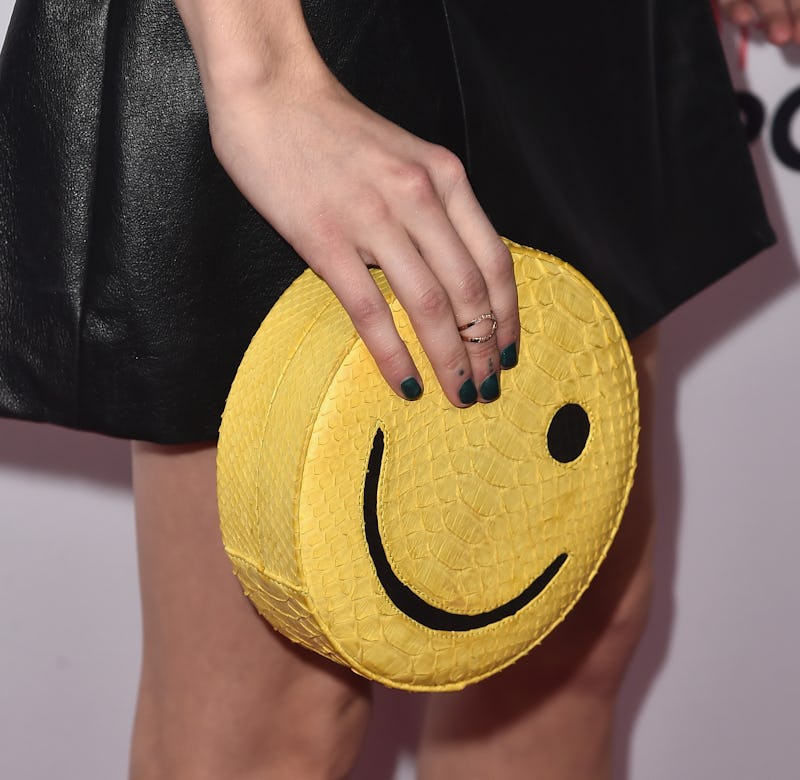 Alberto E. Rodriguez/Getty Images Entertainment/Getty Images
I think at this point, there can be no doubt that emojis are taking over the universe. I mean, there's emoji-based psychoanalysis (yes, really), emojis as personality indicators, and even emoji recaps (this one of the recent very, very sad US/Belgium World Cup game is particularly fabulous). So I guess it should be no surprise that they're starting to infiltrate our street style. A year ago, who would ever imagined that anyone would want to display the poop emoji anywhere on their person? Well, now you can get it emblazoned on your shoes, on your earrings, as a not-so-fetching medallion on a necklace — and you might even catch some walking down the runway.
So make no mistake: emojis are becoming the must-have accessory of the summer. But where do we even start? With graphic Ts? With charm bracelets? With loafers? Or all of the above? There are so many options to choose from that it's almost overwhelming! So let's just slow down, take a deep breath, and do some emoji-shopping, ranked from cool to very cool.
1. Emoji Icons
These emoji icons may be marketed at the "ages 8+" category, but in all honesty, I wouldn't be surprised if this trend caught on for adults too. I mean, they're kind of adorable, you can make bracelets and decorate your phone case with them, and they cost less than $5 at Toys R Us.
2. Emoji Charm Bracelets
When in doubt, always check Etsy. User walldaisies makes awesome detachable emoji charms that you can create your own charm bracelet with.
3. Beyoncé's Emoji Shirts
Would you wear them? I'm not sure — if I was a guy, I don't think I would want "Blow" written in capital letters so close to my nether regions (or would I?)
You be the judge.
4. Emoji Necklaces
These Baublebar Emoticharms are kind of a necessity. Because we all need the cat with heart eyes somewhere in our lives. (I'm also particularly sold on the hot pink skull emoji charm).
5. More Emoji Necklaces
If you want to kick it up a notch, the Jane Basch Emo Collection has some great offerings, too.
6. Emoji Loafers
And finally, the piece de resistance... the poop loafers. The Edie Parker x Del Toro collaboration was available at Moda Operandi (unfortunately, it isn't anymore), and I want all of them — almost as much as I want the Charlotte Olympia kitty shoes. The poop emojis are an instant classic, of course, but I also appreciate the wit of the "Dancing Queen" and "Hot Chick" options.
Image: Toys R Us, walldaisies/Etsy, beyonce.com, Baublebar, Moda Operandi, JaneBasch