Fifty Shades of Failure Is More Like It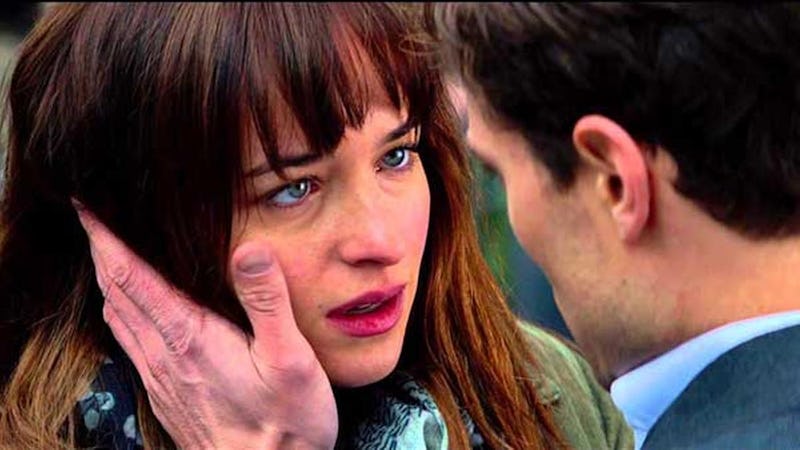 If you were too busy having your own hot July to get all hot and bothered about the release of the Fifty Shades of Grey trailer last week, don't sweat it. Having watched the sneak peek, I have to say that Fifty Shades of Grey never seemed so apt a title. If the trailer is the sexy sell, then consider me a lost customer — I'd rather empty the shed than enter this Red Room of Pain. From Dakota Johnson's overwrought librarian styling and her puttering gurgle, to the cowardly inclusion of Grey's "I had a rough start in life" explanation for why he's kinky, I found the trailer torturous for all the wrong reasons. It's like the directors of the Disney Channel had a collective naughty talk about what it might be like to like try a dominant/submissive relationship — and then called on the Glee rejects to enact it.
The film, starring Dakota Johnson as Anastasia and Jamie Dornan as Christian Grey, is due for release Valentine's Day 2015. But based on the clichés we were subjected to in the trailer — Ana dressed more dowdily than a librarian on laundry day, the "trapped in an elevator with you" moment, the intimation that the sight of Grey's private executive helipad makes Ana wet — I suggest you only take your date if you're planning to never get it on with them ever again. Of course, we hope this teaser is just that — a tease. Perhaps the genuinely racy scenes in the book — such as the one where Christian breaks into her house to remind her just how good a lover he is, or the one where he removes her tampon to have no-holds-barred period sex with her — are being withheld from us in an extended game of tease and denial.
But I can't say I'm optimistic based on what I've seen so far. And as a former dominatrix, BDSM sex memoirist, and sexual liberties campaigner, I'm beginning to think that no depiction of kinky sex in the mainstream media would actually be preferable to the diluted, ill-informed one we're getting.
When I became a dominatrix to help fund my break into the media, I had no personal interest in BDSM. But in time, that changed, and ultimately, as well as funding my education, it made me more empathic towards other people and their desires, and awakened me to a rich alternative mine of psychological and emotional exploration that has transformed my experience of intimacy and desire.
It's truism that a film better than its book is about as elusive as a really hot sex scene on screen. That has a lot to do with the pressure on movie makers to steer away from the strictest ratings classification in order to maximize viewing figures and box office profits — productions often have to tame things down just to get an R rating. Just see how hard the Weinstein Company had to fight for Blue Valentine 's R rating after the MPAA slapped the film with an NC-17 rating, inspired by a scene in which Ryan Gosling's character performs oral sex on Michelle Williams' character. Writers have considerably more freedom to be explicit, and do so with far less fuss, which is why I was initially eager to join the tens of millions of others in reading Fifty Shades of Grey.
When I first read Fifty Shades it was with a mixture of curiosity, mild arousal, cringing contempt, and ultimately, clit-shriveling anti-climax. As a former professional dominatrix and personal submissive, I expected to be underwhelmed by the mass market-appeal work of erotic fiction — but my affection for erotica meant I still had some hope when I picked it up.
Unfortunately, I found Fifty Shades to be even less sexy than the pre-pubescent ballet romance books I read as a tween girl. (They featured female protagonists who tortured their bodies chasing their prima dreams, and tortured their hearts lusting after cruel and unusual dance masters and orchestra leaders — The Princess Diaries-meets-Black Swan, basically.) Maybe it was the tonal turn-offs in Fifty Shades — the comic-book exclamations, the banal and repetitive lip-biting, the ease with which Ana thinks every little thing that Grey does is black magic — that left me cold, which is why I fear for the film. But actually, I think I was turned off by the way kink itself was being depicted.
Though we'll have to wait until Valentine's Day to see how exactly BDSM is represented in the film, the book was infamous for its error-prone treatment of kink. There's even a scene in which Christian trusses up Anastasia with cable ties, something serious kinksters would never advise, since you can't get out of them easily enough, and they cut into the skin. (Admittedly, I once tightened tiny cable ties, the kind designed to secure telephone wires, about the nipples of one tradesman submissive who brought them straight from a job. But I did wrap his nipples up in special non-slip ribbon first.) And most experienced kinksters don't necessarily have dungeons to rival that of Mr Grey's either. Instead, they simply do their homework, consulting the expert practitioners in the BDSM world, which include people like Rope Dojo expert Midori, Mistress Lorelei Lee, and Tristan Taormino. But it's not just about the props: Besides having first-hand experience of everything they teach at their workshops and in their online tutorials and writing, those experts back everything up with psychologically sound explanations of the why BDSM can be both feminist and empowering.
Two-dimensional characters and flaccid sex scenes are one thing, but if the kink isn't even accurate, then that'll be more than one nail in the coffin for the next generation of doms and subs. Interestingly, members of the online BDSM community Fetlife tell me that twentysomething females are now venturing onto the site looking for their very own Mr. Greys, only to leave in a haste when they realize Fifty Shades didn't prepare them for anything like a genuinely kinky experience. Even the dating site Match.com is in on the action.
Perhaps the biggest myth of all perpetuated by the book is the notion that a suave dominant like Grey would be able to prey on an unsuspecting virgin like Ana so easily and effectively and manipulate her into becoming his submissive — contract or otherwise. Safe, sane, and consensual isn't the BDSM community's mantra for no reason; it's because practitioners take the notion of consent very seriously.
The same cannot be said for Christian Grey. BDSM-familiar fiction readers can of course discern between the fantasy depiction of an all-but forced submission and the real-life complexity of negotiating a kink dynamic, which by and large, happens over a lot of emails, drinks and dinners, and walks in the park before such a contract is entered into — oh, and such a courtship is almost always led by the submissive. But readers and the media who come to BDSM through Fifty Shades? They simply have no clue. Sure, Grey never stops trying to force a contract onto the clueless Ana — but it hardly constitutes a mutually beneficial arrangement when she doesn't have the experience to make the judgment call on whether what Grey is asking for is sane, safe, and consensual.
In reality, BDSM attracts thoughtful, creative people who want to play with their minds as much as their bodies — and who are, by and large, only too keen to embrace the heady emotional contradictions that kinky play arouses. But when we find out in the book that Grey only likes what he does because he was abused as a youngster, I was disappointed. It's as though E.L. James suddenly realized that she might be responsible for awakening millions of women to the notion that a sadomasochistic dynamic could make for a scintillating relationship — then balked at the last moment.
The overall message is, arguably, that only a messed-up egomaniac will give you, an entirely unexperienced virgin, hot sex. Given that this message has already been clearly spelled out in the trailer, the worry is that audiences will come away from the theater feeling decidedly downbeat about kinky sex and its relationship to love, as though they've been given a warning to the curious, rather than a visual aperitif for the next course to be served up in their own bedrooms.
What's more, perpetuating misconceptions of BDSM only hurts the community itself in the long-run — and the release of an inaccurate film will only lead to more of those misconceptions. Most galling to the established BDSM community is the same thing that irks any sub-culture invaded by sensation-seeking tourists: The interest is ultimately temporary. And when the tourists leave, the original community is still left to fight the prejudice against it. For members of the BDSM community, that means the employers, law-makers, and governments that discriminate against them because of their consensual sexual activities — like the case of Edward Bagley, who was accused by the U.S Attorney's office of exploiting his wife Marilyn, while actually being her consensual dominant partner.
And though Fifty Shades headlines are all the rage, the media is not necessarily any more open to BDSM, either. A while ago, I pitched to notable women's magazine a serious piece on rape fantasies and what psychologists had to say about them, asking the editor whether she'd be interested in a sensitive exploration of a topic many women were troubled by. The reply to that pitch was "ABSOLUTELY NOT!!!!" in capitals. It was though I'd pitched her a piece sanctifying rape itself.
When I became a dominatrix to help fund my break into the media, I did so with no initial personal experience of or interest in kink whatsoever. As a journalist interested in gender and sex, I was naturally curious, of course, but I wasn't prepared for what I would find — a community of people for whom sex was very much cerebral, who disliked the cliched "bitches get banged" tropes of most conventional pornography. (If any bitches were getting banged, it was the guys that payed us huge sums of money to penetrate them with strap-ons.) For the kink community, sex was very much a game of hide and seek — hiding from their own desires then seeking them out when it became impossible to resist them any longer. In fact, far from making me cynical about the sexual buying power of men, or the perverted predilections of the human psyche, the experience made me more empathic towards other people and their desires, and awakened me to a rich alternative mine of psychological and emotional exploration that has transformed my experience of intimacy and desire.
That's the thing about BDSM. It's meant to liberate us from the conventional sexual script, and give us alternative ways to play with our power and gender, not merely sell us another version of a life where we serve a man's sexual fantasies to have him shower us with gifts and attention — which is basically what happens in Fifty Shades.
So my advice to anyone now counting down to the film? Hope that the mildly sexy bits are well-rendered. Don't judge the community based on the words in the film's screenplay. Set your overall expectations for sexual titillation lower than Twilight, the fan fiction that originally inspired E. L James, and try and remember what is like to never have been kissed. And in the meantime, try some genuinely erotic bondage on film from Erika Lust, or Pandora Blake . Oh, and don't lose hope: I guarantee you, your own kinky travails, should you have them, will be a hell of a lot hotter than Fifty Shades.