One Man's Transgender Journey, In Photos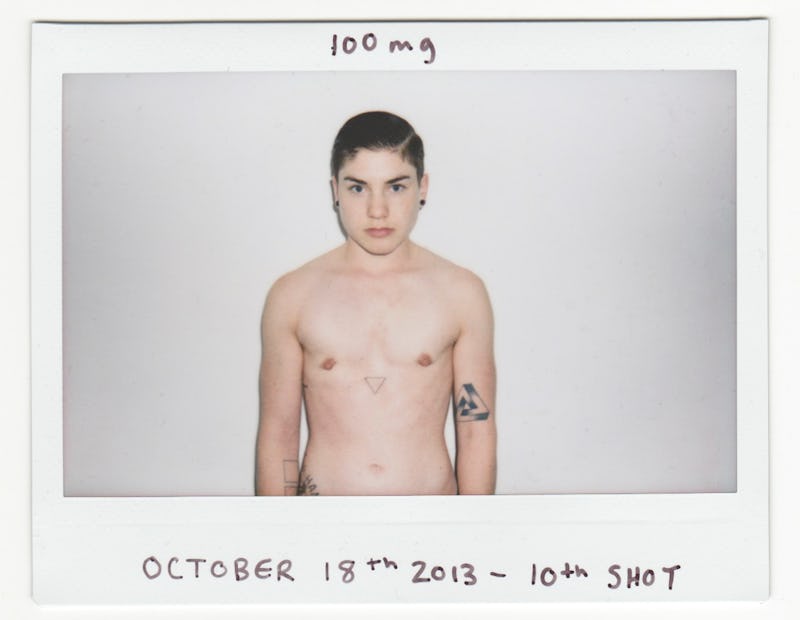 There is a lot of fear and misunderstanding surrounding the topic of transgender individuals, but slowly the public is becoming more informed. As trans icons like Laverne Cox and Andreja Pejic use the spotlight to educate the public, the conversation surrounding the struggles and rights of transgender people is progressing. Helping to nudge this progress along is Wynne Neilly, a photographer who intimately documented his own transition process.
Neilly, an artist who hails from Toronto, says on his website that he focuses on "portraiture work, using its personal nature to reflect the development of identity and the complexities of human gender expression." In his series "Female to 'Male,'" he has turned the camera on himself. The result is a series of photos taken during the transition process.
While many trans* individuals find the cis community's preoccupation with the transition itself to be belittling (for completely understandable reasons), Neilly embraces his transition. The photos are sometimes intense, sometimes clinical, but always open and honest. In creating such a series, Neilly is demystifying and shedding light on a process that few cisgender individuals understand.
The series is currently on display at the Ryerson Image Centre in Toronto. A short description provides clues as to why the "male" in the title has quotation marks around it:
"[Neilly] insists on the use of quotation marks around the word "male" stating that his identity is something fluid that cannot be easily defined by use of a single word. For him, his gender and body are a construction of the ways in which he perceives himself and the queer social experiences he has lived. Neilly maintains that his trans identity is not a shift from one sex or gender to another, but rather a continual evolution."
Word. The more people who understand that, the better — for both the cis and trans communities. As Neilly told the Huffington Post, ignorance is what truly leads to discomfort with, and harassment of, trans* individuals. "At the end of the day I realized that trans representation in art is really important," he said. "The reason that I am making my experience vulnerable and accessible is to hopefully help with the very ignorance I have experienced in my own life."
Below are some of the images from the series. Neilly took each photo on a Friday, and the number on the image corresponds to the number of weeks he was into the transition process when the photo was taken.
If you're in Toronto, you can stop by the Ryerson Image Centre to see the entire exhibit, which also includes objects and audio clips to show how Neilly's voice changed during the transition.
Images: Courtesy of Wynne Neilly (4)