I Let A Celebrity Stylist Dress Me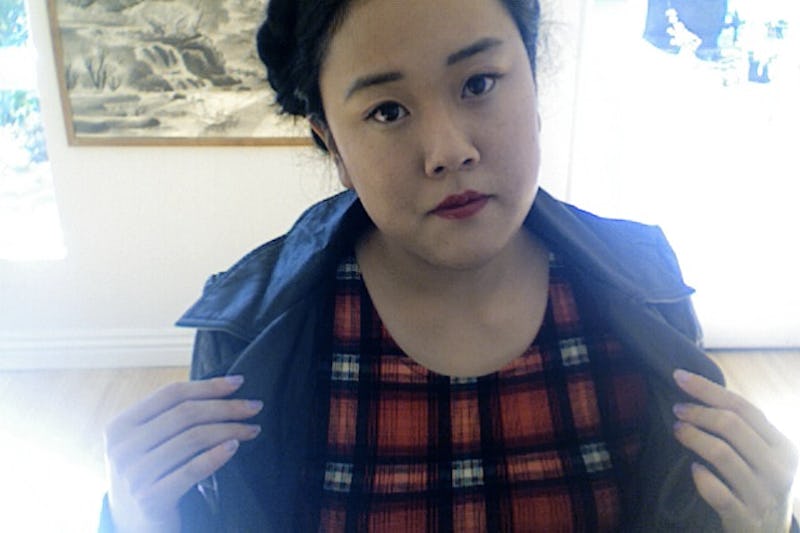 Guess what? I got styled by Hollywood stylist Lindsay Albanese! She's been in the business for over a decade (read: she knows what she's talking about) and has worked on some of the hottest TV shows, as well as with some of today's most popular celebrities — as a staunch Pretty Little Liars fan, I was very excited to learn that she's worked with 3 out of 4 of the show's eponymous little liars (Ashley Benson, Troian Bellisario, and Shay Mitchell — all of whom she deemed quite sweet).
With that in mind, I was already excited to meet her, but when I walked into the TJ Maxx in Beverly Hills and saw her in her awesome black vest/dress, spike-y statement necklace and zebra-printed platform sandals? I knew I was in good hands.
She had cherry-picked some of the best of the best from the floor (focusing on the covetous Runway section), bringing me to a room full of high-end clothing, shoes, and purses, which was, to say the least, lovely. We had a quick talk about my style preferences, and that together with a quick fashion survey, and a precursory glance at my laid-back outfit (a star-printed dress, paired with ankle strap flats), she pointed me towards a couple of lightweight sweaters, perfect for transitioning from summer to fall.
I tried on a few, including a lovely maroon number with a bejeweled collar (very Mindy Lahiri-approved), and a heather gray oversized sweatshirt with athletic-futuristic leather detailing on the shoulders, but this mixed material gingham piece was my favorite:
Full disclosure: I did get to keep some of the clothes Albanese recommended. I paired this sweater with some basic blue skinnies, which Lindsay also helped me pick out! And as for shoes, she suggested some amazing cobalt point-toe pumps to go with the ensemble, and they looked quite fab — much cooler than the neutral-toned shoes I usually go for. Regrettably (I'm still kicking myself), I didn't end up getting them, but they really did add something special and unexpected to the look.
Next, it was time to head next door to Marshalls, where I was greeted with another tantalizing tableau of clothes and accessories — again, all items handpicked from the floor by Lindsay herself. There were a few items I immediately gravitated towards (most notably, an absolutely lovely silk blouse, with a beaded collar, and a slightly '90s-esque floral babydoll dress), and Lindsay again pointed out key pieces that might work for my style: a (very chic) all-black jumpsuit with a blousy sheer top, and a red plaid sheath dress.
I got very close on the jumpsuit: After all, it felt like pajamas, but looked like the very picture of sophistication, with its perfectly-fitted crepe pants and blousy sheer top — especially when taking into account the suede ankle-strap heels that Lindsay urged me to pair it with.
But even with all it had to recommend it, I still wasn't quite feeling it — luckily, Lindsay, the fashion expert extraordinaire was on-hand to help me make the difficult decisions... in fact, she proceeded to give me style advice that I feel certain pertains to pretty much every arena of life: "I tell people, shopping is like dating: if you're not really, really excited about it? It has to go."
So that's how I ended up in this plaid dress instead:
It reminded of me of Clueless, so I had to have it. And, coincidentally, it also ended up looking very nice with the aforementioned heels!
Though, while I was getting Clueless vibes, Lindsay was thinking more Gwen Stefani — she counseled me to pair the look with a good ol' leather jacket for an updated take on the grunge look. I welcomed the advice, because I am fashioned-challenged and would have had a legitimately difficult time trying to figure out what to wear on top of this dress. Sadly, it probably would have been a mumsy cardigan, because that is what I wear about 95% of the time.
Feeling very grungy today, as you can see.
All-in-all, it was a great experience — and I walked away from it all with some (designer, hee-hee!) high-quality pieces, some of which I've already worn multiple times. Now, all that's left is to somehow find a way to make this luxurious experience a regular occurrence!
Images: Rosie Narasaki (4)