Do You Remember Every 'SYTYCD' Couple... Ever?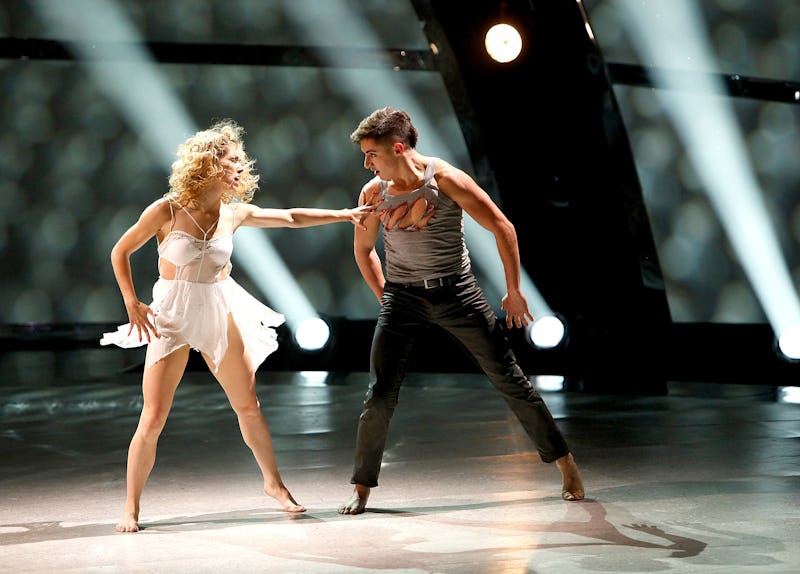 Last week, So You Think You Can Dance fans were dealt a tough blow. Rudy Abreu and Tanisha Belnap were sent home (why dance gods, why?) and thus ended the "relationship" between Jacque LeWarne and Rudy — at least on TV. In the August 6 episode, Rudy and Jacque's relationship was promoted by the show, but in the August 13 episode, it wasn't mentioned at all. While Rudy was crying after being voted off, Jacque didn't even embrace him before getting off the stage and smiling at her own fortune for getting to dance another week.
Since then, we've obsessed over Rudy and Jacque's social media interactions (What does that cheeky caption mean? Something romantic, right?) and sighed into the wind. Could the relationship that Cat Deeley swears is real still be going now that Rudy is off to the real world? We can't be sure until one of these kids just spills the beans already, but if these two are together and really want to make their relationship work, they might want to look to the past first. These crazy need to take some advice from other SYTYCD couples to get through this tough time.
But what exactly can they learn from other SYTYCD love connections?
Be Experts in Cuddling
Lauren Froderman (Season 7) and Dominic "D-Trix" Sandoval (Season 3) performed a hip-hop dance on Season 7 when Lauren was competing and Dominic was her all-star partner. The dance was about an abusive relationship, so not really the most romantic way to start a love affair, but they started dating while on the SYTYCD tour in 2010 and are still together, per an interview with WetPaint.
Lauren and D-Trix are definitely a good couple to try to emulate if Jacque and Rudy want to make it for the long haul, especially since they know how to be silly. D-Trix has his own YouTube channel, RANDOMinicSHOW, full of fun videos, including one about how to cuddle, featuring his girlfriend Lauren (above).
Jacque and Rudy could take another page out of Lauren and D-Trix's book and start a Tumblr to document their love — something that Lauren did. She changed the names of everyone involved (she refers to herself as "Rose" and D-Trix as "Kyle"). She hasn't updated it since 2012, but maybe her first post will resonate with the young love Jacque and Rudy are sharing.
Make an Up Inspired Music Video
As of last month, Pauline Mata and Tadd Gadduang celebrated their first anniversary, at least according to Tadd's Twitter. Pauline is a jazz dancer from Season 6 and Tadd is a breakdancer from Season 8, continuing on the theme that you're more likely to be successful as a SYTYCD couple if you come from different seasons — sorry to be the bearer of bad news, Jady (or is it Rucque? One of those couple nicknames is bound to catch on).
Adorable couple Pauline and Tadd made an adorable video to Pharrell Williams' "Happy" that was inspired by the Disney-Pixar movie Up (above). The result? Adorableness.
Get Married
OK, maybe marriage is a bit too soon for this Jacque and Rudy's potentially non-existent relationship. But Allison Holker and Stephen "tWitch" Boss are the power couple on SYTYCD and respectively, Rudy and Jacque had the opportunity to dance with the pair on Rudy's last episode.
Rudy and Allison rocked the house down (making it worse that he was voted off), but hopefully he got to talk to Allison about how to communicate in a relationship. She was on Season 2 and he was on Season 4, and later, Allison and tWitch got married in December 2013, per Us Weekly. They both know how important it is to be open with your partner, as Allison told Dance Spirit magazine, "There might be moments of jealousy, like, 'You're working on that project or with that person, and I really wanted to do that.' The best thing to do is communicate. We talk out everything." That should really resonate with Rudy as Jacque continues on the show.
And if you don't believe how amazing this couple is together, just check out how tWitch proposed to Allison.
Already Be Married?
Well, this tip won't actually work for young loves Jacque and Rudy. Ballroom dancers Ashleigh Di Lello and Ryan Di Lello were on Season 6 of the show, but they were married before they were even on SYTYCD and they both made it to the finale. Here's one of the few times they got to perform together on the show.
They both lost to krumper Russell Ferguson, but hey, when you got love like theirs, who needs to be voted America's favorite dancer?
As we get closer to the SYTYCD finale, viewers will see if Jacque will make it to the finale show — and if Rudy will be there to cheer her on.
Image: Adam Rose/Fox