17 Ways To Cheer Yourself Up About Summer Ending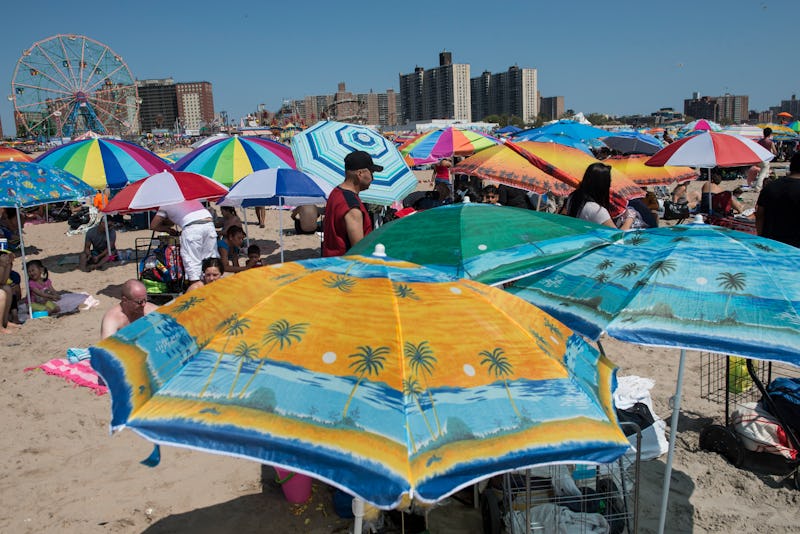 Stephanie Keith/Getty Images News/Getty Images
The last day of summer is technically Sept. 22, but seriously, who are we kidding with that crap? By then, students will be back in school, our city streets will be virtually ice cream truck-free, and summer share houses will turn back into whatever they are the rest of the year (storage facilities for unsold jorts?). Summer truly ends on Labor Day, that long weekend that will probably include your last trip to the beach, your last invitation to a barbecue, and your last chance to get drunk before 2 p.m. on a weekday for a very, very long time.
But you shouldn't crawl into your seasonal depression hidey-hole just yet. There will be more than enough time to do scientific tests to determine a winner in the "Snuggie vs. the Forever Lazy" debate over the winter; so for now, why not make use of the unique pleasures that this transitional time of year brings?
I mean, it's not really autumn yet, either, or you wouldn't still be sweating so much every time you walk down the street. So grab yourself a piece of the post-summer, pre-serious-autumn action while you still can. Here are 17 ways to cheer yourself up before summer ends for real.
HIT up THE SUMMER SALES
This is the time of year when almost every store busts out deep discounts on anything sheer, distressed, or otherwise deemed "summery" (even though you can probably get away with wearing it for at least another month). Now is the time to grab that cute-but-too-expensive summer clothing, as the prices drop so that stores can make room for NorthFace and depressing tweed blazers. Hey, their loss is your fancy espadrille, man!
indulge in those BEACH READS
Listen, the sun isn't going down at 3 p.m. yet. As long as there is still a hint of summer warmth in the air, you can read nothing but books about vampires getting it on and not have to feel guilty about it, OK?
GO ALL THE PLACES YOU AVOIDED WHILE SCHOOL WAS OUT
Like museums, or mid-day movies, or any public location that became packed well past the point of sanity when kids were on summer break. Hey, guess what, kids at that park near my house who told me that my tank top made me look like a super-fatty? Joke's on you, because I can go sit in the park and I never have to learn anything ever again if I don't feel like it. Also, I can buy beer.
GET OUTSIDE
Especially if the weather has cooled down a bit wherever you are. Now you can finally investigate some of that pristine natural beauty you've heard so much about, with the added bonus of not sweating to death.
DRINK PUMPKIN SPICE LATTES . . .
Since the fall-tastic pumpkin spice latte is now available at Starbucks starting Aug. 25, it now straddles two worlds, providing sweet, thick, sugary comfort to you as you transition between the seasons. They're available that early for a reason, and that reason is to take the edge off the end of summer. So drink them. Drink them until each of your tears is, like, 500 calories each. Drink them until all you feel is nutmeg running through your veins.
. . . and SANGRIA
Sangria tastes like a mouthful of summer, and you can drink it whenever you want.
WEAR WHITE AFTER LABOR DAY
Why should you have to stop wearing white after Labor Day? Who's the boss of you? Not some frickin' day, that's for sure. Wear those white jeans for as long as you like!
GO TO A LAKE OR PRIVATE POOL
Though most public beaches and pools close after Labor Day, lots of neighborhood lakes remain open for swimming until the weather turns. Or, you could try finally befriending that jerk at the end of your block with the pool. I mean, that wonderful woman at the end of your block with the pool!
HAVE ONE LAST BIG BACKYARD SHINDIG
One where you get one last crack at all your summer favorites: corn on the cob, potato salad, s'mores, and those popsicles that are made out of wine. You can even make it a classy outdoor dinner party with a tablecloth and everything, not just a barbecue where everyone just spills beer on everything while listening to "Fancy" (though there's something to be said for that, too).
TAKE YOURSELF TO THE AMUSEMENT PARK
Though we link summer and theme parks heavily in our minds, most parks in southern areas stay open yearround. Even parks in northern areas generally stay open through the end of October (at which point, they'll make everyone who works there put on a rubber zombie mask and try to charge you $20 extra for admission). So bid a melancholy goodbye to the pleasures of summer with a trip to the local theme park. Ride the ferris wheel, shoot water into the clown's mouth, and eat cotton candy until you feel mildly ill. To truly do this properly, you need to convince/bully a friend into calling out sick from work with you and going on a weekday.
PICK A FALL JAM
Sure, we all love to argue over the season's definitive summer jam, but isn't that really because there are only a handful of good songs actually released over the summer? Fall is traditionally peak music season, when all of the biggest acts tend to drop new albums. So why not put as much care into choosing the new song that gets you pumped to rake leaves as you did selecting the new song that got you pumped to go to the beach?
BUY YOURSELF SOME BACK-TO-SCHOOL SUPPLIES
Glory is the seasonal bounty of office supplies, even if (especially if) you don't actually have to go back to school. Pick out a Lisa Frank glitter eraser or some Monster High pencil cases, avoid eye contact with the checkout clerk as you buy it, and voila: You have now enjoyed all the fun of going back to school, with none of the trigonometry or field hockey team hazing.
and SOME NEW BACK-TO-SCHOOL CLOTHES
Even if you're not in school, you could theoretically have to go to a school, or near a school, or pass a school in your car or something! You need to dress appropriately for this!
CHECK OUT ALL YOUR RETURNING FALL TV SHOWS
I know there are new TV shows running during the summer in the same way that I know that somewhere in my house, I own a Roomba: I am aware that both things exist, but I am probably not going to do anything with that knowledge any time soon. Returning fall TV shows, however, are another matter; just as your heart is breaking with knowledge of the imminent return of Daylight Saving Time, here come Jess Day and Leslie Knope to distract you from the sadness of the changing seasons.
DO SOME FALL TRAVEL
There are some places that are actually best to visit in the fall, places that get too hot or crowded in the summer, or look especially cool in the fall with all the foliage and whatnot. Hit them up for a day trip or long weekend.
try to EMBRACE THE WHOLE FALL THING . . .
I know, I know, it's not summer. It's never going to be summer. But it has pretty leaves and Halloween and you can still get away without wearing a jacket for most of it. It's kind of cute.
. . . or at least know that it could be much, much worse
OK, so maybe that doesn't cheer you up, but have some perspective. Go and enjoy the end of summer before everything is covered in snow and you feel like you'll never experience the sun on your bare skin again. Things could be much, much worse.