'Hart of Dixie' May Shock Us All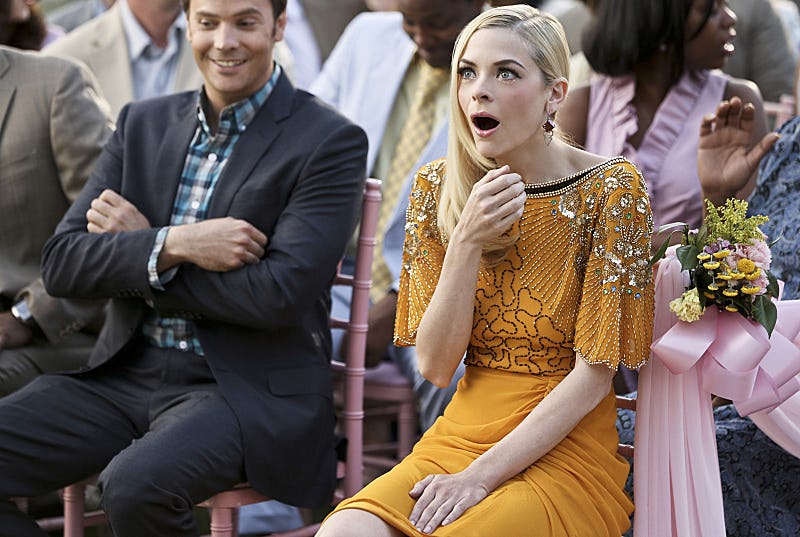 The itch for the Hart of Dixie premiere is growing stronger and it isn't singularly due to the cliffhanger that was the Season 3 finale. In 10 short episodes, Dixie will be made to cover not only the inevitable Zade reunion, but also the pregnancy that could ruin it all. Although fans foresaw a potential future child between Zoe and Wade when The CW announced that Hart of Dixie Season 4 includes Rachel Bilson's pregnancy, some fans may be discounting the possibility that Wade might not be the father.
According to E! Online's latest Hart of Dixie Season 4 spoilers, the series intends on casting a female obstetrician to appear in Episode 6. However, this information does not confirm whether or not Zoe knew about the pregnancy prior to Episode 6. Most Season 4 details are still being kept tightly under wraps, including the premiere date. So, does this mean fans are in for a mind-blowing, game-changing plot twist? Is it possible writers plan to use Bilson's real-life pregnancy as an excuse to pull Zoe and Wade apart again?
Frankly, a successful, patched-up relationship between Zoe and Wade right off the bat would just be too easy. In case Zade fans haven't been put through enough heartbreak, Bilson's pregnancy opens up several avenues for the Zade relationship. One, of course, being that it's Wade's baby and the couple live happily ever after. But that's too easy and, hello, we need a fifth season.
While I'm a huge Zade fan myself, we have to acknowledge that the pregnancy could cause the reunion to go horribly wrong. For one thing, the kid might not be Wade's. Since E! Online confirmed that the "completely professional" obstetrician would not appear until midway through Season 4, we can safely assume the premiere will find us in Bluebell shortly following the wedding. In other words, when Dixie returns with a pregnancy in the making, the "making" would have to have been done in Zoe's fairly recent history.
If you recall, Joel Stevens was present during the finale. Although he was seeing someone else at the time he returned to Bluebell, the finale established that Zoe and Joel's relationship ended on good terms and they remain friends. Is it possible the baby is Joel's? That would certainly put a damper on the already complicated Zoe and Wade relationship. Wade told Zoe not to think too much into his staying in Bluebell. Which isn't to say he won't eventually give in to Zoe's charm, but he may not be grown up enough to raise someone else's child.
And that leaves Zoe in a tough spot. Wade is still questioning whether it's worth another shot, but we're pretty sure he'll give in. For all we know, Zoe could begin the season questioning whose child she's carrying. Something will have to break Zade up eventually if the writers want to keep the show on the air and a paternity saga might just do the trick. Between Wade's skepticism and Joel's new adventure in London, Season 4 might leave Zoe Hart in yet another hiccup-inducing pickle playing Who's Your Daddy.
Images: Tyler Golden (2)/The CW; Eddy Chen/The CW