What's in the Cards for Kate Mara?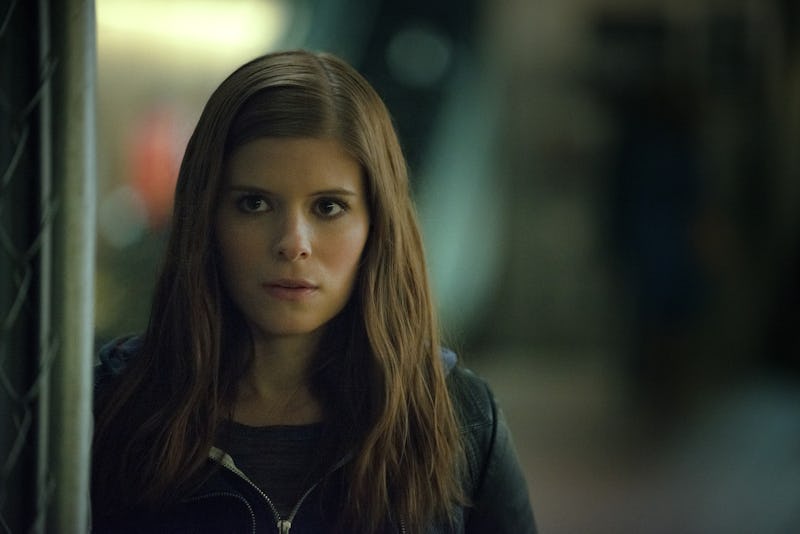 Spoilers for the second season of House of Cards follow — but it's been six months so what are you waiting for? Zoe Barnes may not have been dealt the best hand when she found herself shoved into the path of a speeding D.C. metro in the first episode of House of Cards Season 2, but actress Kate Mara seems to be doing just fine without the Netflix juggernaut on her schedule. Despite appearing in only one episode this season — a plot twist Mara had to keep secret for two years — Zoe's presence (and lack thereof) in the show clearly resonated with viewers. Mara scored her first Emmy nomination for the role, for Outstanding Guest Actress in a Drama Series, though she lost to Allison Janney in Masters of Sex.
Mara's already made her way back to the big screen, appearing in sci-fi flick Transcendence in April. The much-hyped debut from Wally Pfister, Christopher Nolan's go-to cinematographer, was panned by critics and became another box office bomb for Johnny Depp — but Mara got to switch gears and play villain instead of victim as the leader of an extremist group.
And Mara will join the good guys next summer as one of the stars of The Fantastic Four reboot. The actress, who will play Sue Storm (aka the Invisible Woman), just wrapped shooting for the comic book film, slated to be released in July 2015, with co-stars Miles Teller, Michael B. Jordan, and Jamie Bell.
Though most details of Josh Trank's update on the films are under wraps, there were rumors the new film will be based on the Ultimate Fantastic Four comic series, in which — unlike Hollywood's previous Fantastic Four films — the foursome are remodeled as much younger government employees. However Mara seemed to disprove them when her first controversial comments about the film not being based on the comic book series to Esquire Latin America were later clarified as meaning that it will be generally based on the overall series, not one specific comic.
At least Mara knows she's not out of work for a couple of years—Fox has already greenlit a sequel for the film which, according to The Hollywood Reporter, is scheduled to be released in July 2017. And how's this for a fun fact. Mara will be reunited with House of Cards co-star Reg E. Cathey, everyone's favorite barbeque man Freddy. Cathey will be playing Mara's father, scientist Dr. Franklin Storm. And they've already got father-daughter bonding time down pat.
Even with her toes dipped in sci-fi and comic book lore, Mara isn't abandoning her dramatic roots. The actress will star in veteran director Jerry Jameson's Captive , where she will play a drug-addicted single mother taken, well, captive, by an escaped prison convict (played by The Butler's David Oyelowo). The film is based on a true story.
And Mara's stretching her comedic chops. She lent her voice to Strawberry Shortcake on Adult Swim's Robot Chicken, and will also be featured in Comedy Central's upcoming animated series Moonbeam City. The 1980s police comedy follows a sleazy cop (Rob Lowe) in a town that looks straight out of Miami Vice, with Mara voicing young rising cop Chrysalis—who seems immune to his charms.
As if all of that wasn't enough, Mara's also stepping into the fashion world. Alongside friend and ice bucket-challenger Johnny Wujek, a stylist and the creative director for America's Next Top Model, Mara is designing nine window displays for H&M's fall collection. The windows, a part of New York Fashion Week, will be revealed on Sept. 4.
Movies and television, comedy and drama, animation and fashion. Zoe Barnes may have folded, but Kate Mara's got a full house.
Image: Netflix