Lena's Hair + This Dress = So Cute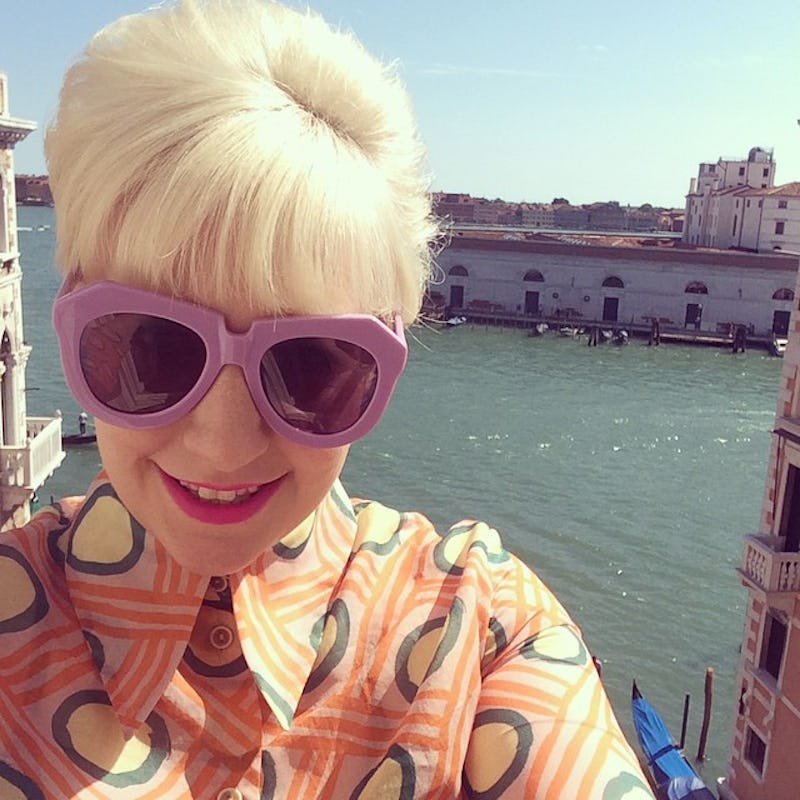 It's official, folks: Lena Dunham has taken over our lives (plus our hearts and news feeds) as of late, even more so than I ever thought was possible for the Girls star, author, director, and all-around amazing lady. Whether it's because she was looking so sweet and princess-y in her Giambattista Valli Couture dress at the 2014 Emmy Awards (a dress that, on its own, stirred up quite the controversy when questions arose over whether Dunham's dress was a Christian Siriano knockoff gown) or because she's finally releasing excerpts of her highly anticipated new memoir, Not That Kind of Girl , it seems like we just can't escape the hilarious star and all of her awesome accomplishments (not that I'm complaining or anything).
So what's the latest reason Dunham is basking in the celebrity spotlight? That would be thanks to the string of spot-on '60s looks she's been sporting here, there, and everywhere at the 2014 Venice Film Festival. And at the center of each of those marvelously mod ensembles (one of which included an uber-groovy, patterned button down and oversized, lavender sunnies): The most adorably perfect beehive hairdos you ever did see, at least on this side of the 1960s.
Hair has been quite a "thing" so far at this year's Venice Film Festival, thanks to the debut of Emma Stone's new bob haircut. And it's also been a hot topic for Dunham herself, who stunned just about everyone recently when photos of Dunham's Sia-style, platinum blonde bob sparked a flurry of "did she or didn't she?" questions.
But let's be clear: It's not just Dunham's perfectly coiffed bouffants that are stealing the show in Venice — her pretty printed Prada look, for one, was great enough to stand out on its own.
Featuring a dizzying pattern in a classic black and white palette, the maxi-length number struck just the right balance between masterfully mod and undeniably modern.
Belting the look and adding nothing but a studded envelope clutch, black sandals, and a darkly rimmed eye, Dunham was able to hold her own in the style department even when pitted against red carpet pros like Kate Mara and Kirsten Dunst.
Though I'm not sure we can totally credit Dunham's chic new hairstyle for her latest run of great outfits, it's certainly doing nothing to detract from their awesomeness. (And really, that's all we should ask of our strands anyway.)
Images: Lena Dunham/Twitter (2), Getty