Joan's Best 'Tonight Show' Moments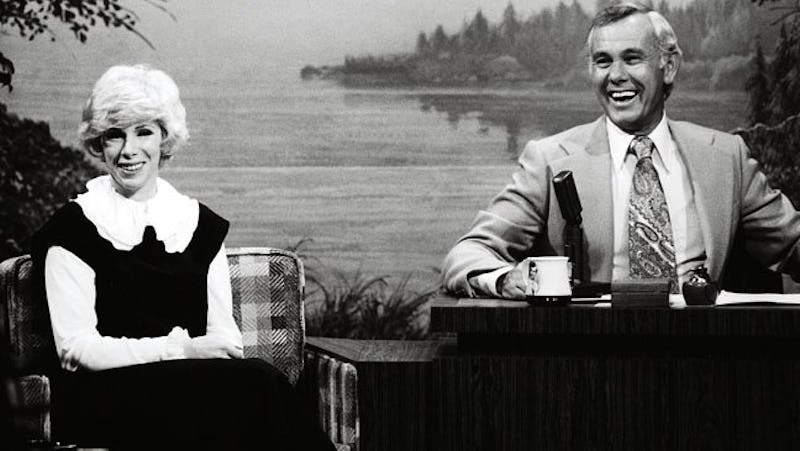 Based on the public's immediate and heartfelt response to the news of Joan Rivers' death on Thursday, it's clear that this comedian has left a legacy. She may have been controversial, but she will be remembered for much more than just stirring up trouble. Before she became the outspoken and hilarious host of E!'s Fashion Police, Joan Rivers got her start on Johnny Carson's Tonight Show. Of course, she was equally hilarious back then. Over the span of 21 years, she went from a guest on the show to guest-hosting it, which is definitely a testament to her hard work.
It all started when Rivers first appeared on The Tonight Show as a guest in 1965. She grew to consider host Johnny Carson a mentor, and began writing for the show. Starting in 1983, she became an official guest host of the show, but the relationship between Rivers and Carson became rocky when she left to host her own late night show in 1986. The two had a falling out that never was fully fixed. After that, Jay Leno banned Rivers from the show when he hosted, reportedly out of respect for Carson. Many years later, Rivers made her return to The Tonight Show when Jimmy Fallon had her as a guest in March 2014.
Regardless of the falling out with Carson, she made a major splash in late night TV, a field usually filled with men (even to this day). Her impact won't be forgotten, and neither will her hilarious jokes. Here's a look back at some highlights of her time on the show:
1968/1984: Early appearances
In this retrospective clip, Carson begins with a look back at one of Rivers' first appearances on his show in 1968. Then the clip flashes forward to 1984, showing her talk about motherhood. P.S. Her sparkly dress is fantastic!
1972: Talking About NY vs. Cali
In this video, Rivers goes on a rant about the difference between New York and California. She talks about how she misses the angry New Yorkers, compared to the laid-back citizens of Cali. I'd say this is a very valid debate.
1982: Opening Monologue About Marriage
Rivers talks about marriage and what it's like to get old. She also jokes about her lack of sex appeal, saying she is the complete opposite of Dolly Parton. While it's a bit self-deprecating, it's funny and shows she was always able to poke fun at herself.
1983: Interview with Mister Rogers
Talk about a contrast — the wholesome appearance of sweater-clad Mister Rogers with the candid, comedic Rivers. This interview is definitely worth watching. Spoiler alert: It includes a puppet and sing-a-long to "Row, Row, Row Your Boat."
1984: Opening Monologue About Her Childhood
This clip is from another one of her opening monologues from the show. She jokes about her parents and her looks as a kid. While I highly doubt she was actually ugly (like she insists), her stage presence and ability to make the audience laugh are perfect.
1984: Interviewing Lucille Ball
"You're a legend in your own lifetime," Rivers says to Ball in this video, but it's a fitting statement for both women. These two definitely broke barriers and set a precedent for female comedians everywhere.
1986: Reuniting With Carson
She appeared on the show to promote her book and wore the same outfit she wore 21 years earlier during her first appearance. The two reminisce about their early careers.
2014: Returning to the show
In March, Joan Rivers returned to The Tonight Show. It was especially meaningful because she hadn't been on since the '80s. Current host Jimmy Fallon said, "Welcome back to the network, Joan." He even showed her a photo from her first time there. And of course, she was as funny as ever — causing Fallon to crack up at her Bruce Jenner jokes.
As seen in the clips above, she made a lasting impact and caused lasting laughs. Late night TV definitely wouldn't be the same without Joan.
Image: NBC