Is 'Boardwalk' Still On Course WIth History?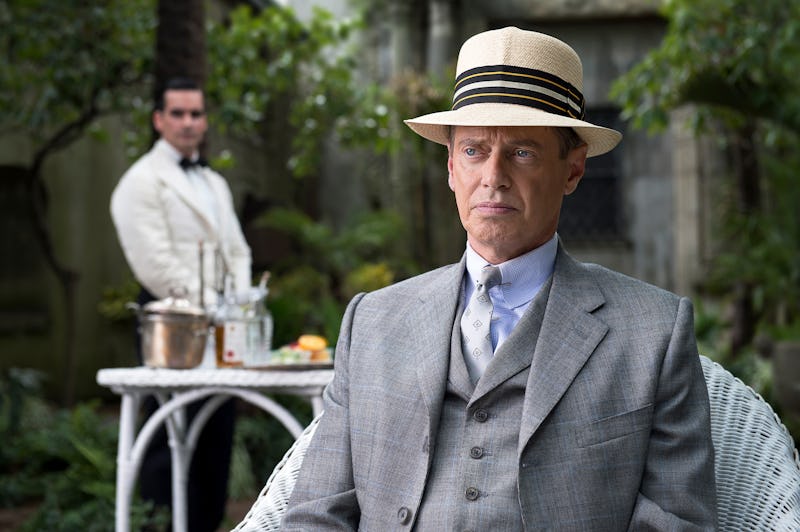 It's 1931, people — seven years ahead of where Boardwalk Empire Season 4's finale left us. The final season of HBO's Prohibition-era drama, Boardwalk Empire Season 5 is starting off in Cuba and it's on the brink of a major national event — the end of Prohibition in the United States. What better way to say farewell to Nucky Thompson and his illegal booze trade? On Sunday night's Season 5 premiere, Nucky and his girlfriend and business partner Sally Wheet are in Cuba trying to get some ducks in a row for when liquor becomes legal again in the good, old USA with none other than everyone's favorite rum, Bacardi.
Boardwalk Empire has always been relatively on par with the history it's attempting to recreate. Well, with the exception of keeping Arnold Rothstein alive for a lot longer than he actually lived and giving Nucky dirtier hands than his real-life counterpart. So, it comes as no surprise that the series is totally on-point with the allure of the city of Havana and Cuba for Americans during Prohibition in the series' Season 5 finale. Nucky's discussion with the man in charge of the Bacardi company, leading into the end of Prohibition, is full of historically accurate tidbits from Bacardi's history.
In the premiere, Nucky sits down with a man he calls Don Maxime (who, we can assume by the company's timeline, is loosely based on Bacardi presidents Henri Schueg and his son-in-law) in an attempt to secure a position as Bacardi's number one import following the repeal of Prohibition. During their conversation, which includes Sally Wheet and Senator Lloyd, Don Maxime mentions the establishment of a plant in Mexico in a month's time. Which, according to Bacardi's official timeline, is right on par with the company's history — the timeline states that during the 1930's, Bacardi opened facilities in both Mexico and Puerto Rico.
Don Maxime also references the fact that, thanks to Don Facundo, Bacardi's founder, the rum became a direct association with visiting Cuba and turned the country, specifically Havana, into a tourist destination for thirsty Americans. Thus, drawing them in droves to the city and the Edificio Bacardi (though it hasn't yet been shown on Boardwalk), built in 1930.
Will Bacardi end up being Nucky's entry into legal, honest business? I mean, that's what all of those flashbacks in the premiere were setting us up for, right?
Images: Macall B. Polay/HBO (2)