He's HoH But He Can Still Go Home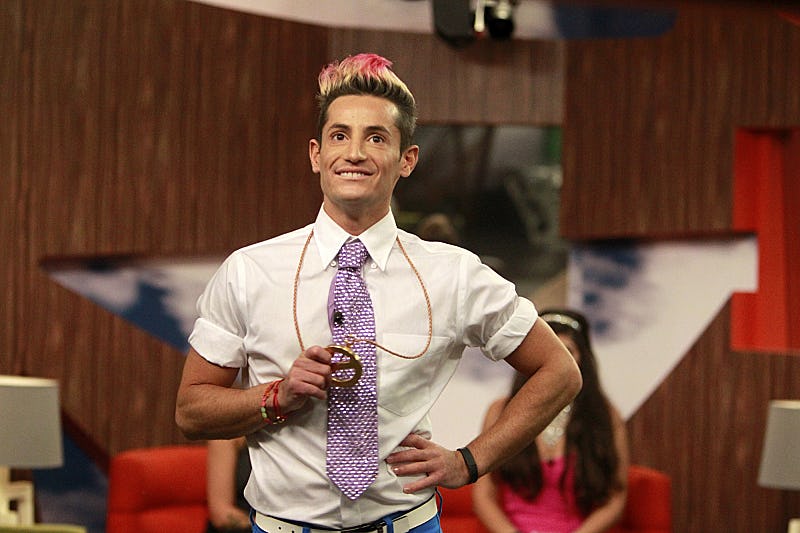 Just when you thought this season of Big Brother couldn't get any worse now that most of the fan favorites are out of the house, Frankie Grande had to go and win HoH yet again during Sunday night's episode. Coming off of a week where everyone in the house and those watching at home hated Frankie for being the villain of the Big Brother house, I'm sure we had all hoped for the exact opposite scenario, i.e. Frankie would finally be evicted from the game. But no such luck. Unfortunately, Frankie is incredibly good at competitions. Remember when Caleb didn't help Frankie during the Battle of the Block competition a few weeks ago, and Frankie still won all on his own? Yeah. He's a force to be reckoned with.
Knowing that, the other houseguests really needed to win this HoH if they had any hope of getting Frankie out this week and winning the game at the end. Let's be real here. Frankie is pretty much unstoppable at this point, and he is on the road to victory. But folks, it's all going to be OK. Take a deep breath. Laugh at Cody in his dinosaur suit. And remember what we have in our corner this week on Big Brother: the rewind button.
In case you need to hit the rewind button to know what I'm talking about (See what I did there?), here's what went down during last Thursday night's double eviction episode. Host Julie Chen introduced the rewind button twist, which will effectively erase this week in the Big Brother house. So during Wednesday night's eviction episode (note the day change), neither of the nominees will go home, and the houseguests will compete to see who becomes the next HoH. It's like this whole week in the Big Brother house was just a bad, bad dream.
And that's a good thing since Frankie is now reigning as HoH. The houseguests didn't know what the gold button in the old Have Not Room does, so they naively pushed it, come Hell or high water. The wallpaper that spelled "GAME" backwards probably should've been a hint, but when you've got a shiny gold button in front of you, it's too pretty not to push, right?
Now that the rewind button twist is in effect, this means Frankie can go from being HoH to being on the block and (fingers crossed) evicted, faster than you can say "Go Grande or go home." Oh, please go home this week, Frankie. Please, go home.
Image: Lisette M. Azar/CBS