19 Things That Change When You Move In Together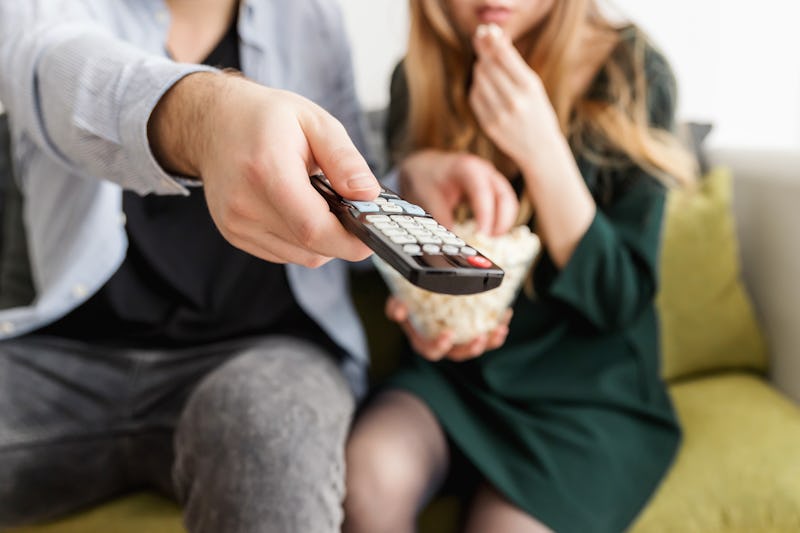 Pexels
For the first time in my life, I'm living with a man in my apartment. Although I have lived with my husband off and on for the past year, we've always lived in Paris together, at his place. Now, he's in New York City, in the apartment in which I've been living alone for eight years. And, to be honest, it's terrifying.
He's been here less than a week so far, and I can already feel myself on the verge of a freakout. In my ideal world, we wouldn't live together, because that's just how much I love being alone. But, from what I'm gathering, this is what married couples do.
The week before he got to the States, I was pretty much a mess. As I tried my best to clean up the disaster that the people who had subleased my apartment left behind, I also tried to pack in the things I usually do alone in my apartment — you know, sitting in the window with the sunlight showing me the furry patches on my leg I missed shaving, vacuuming in the nude, and eating leftovers on one foot like a deranged and hungry flamingo.
Now, I fear, my secret single behavior is about to become not-so-secret, or single. If you're thinking of moving in with your SO, you should know that nothing will be the same. Here are a few of the changes you can expect.
your NAKED TIME will actually decrease
It just seems weird now to be naked and sprawled out on your couch eating pizza and watching America's Got Talent.
BIZARRE LITTLE HAIRS will APPEAR NOT JUST IN THE BATHROOM, BUT ALL OVER
Unless he waxes every inch of his body, weird hairs everywhere are practically your substitution for a pet now.
INVESTING IN A big BED will prove necessary
Your full size bed is great in January, but in August? No effing way.
THE BEN & JERRY'S will MYSTERIOUSLY get EATEN BY SOMEONE WITH THE NAME 'NOT ME'
And you thought "Not Me" had run off with "I Didn't Do It" somewhere around the time you left home for college.
THERE will be AN UNSPOKEN COMPETITION TO SEE WHO CAN GET TO THE LEFTOVERS FASTER
That leftover slice of pizza has your name all over it and it will be yours.
THERE will be A WEIRD SMELL COMING FROM THE HAMPER THAT WASN'T THERE BEFORE
Some people just don't believe in washing their gym socks ASAP.
NOT TO MENTION, THE WEIRD NOISES coming from the bathroom
Girl, I know. I. KNOW.
yes, POOPING IS NOW something you will have to consider his feelings about
It's all about lighting a candle and having Lysol in hand, as you fondly recall your days when you pooped with the door open.
ARGUMENTS will END WITH A SLAMMED DOOR AS OPPOSED TO A SLAMMED PHONE
Not that you were any good slamming your phone, because that off button on your iPhone just doesn't do it.
or, worse, you'll have to go outside
And now you have to put on pants while you mope? Sucky.
WHO TOOK OUT THE RECYCLING LAST WILL ALWAYS BE A SOURCE OF DEBATE
It's strange how each of you will always think you were the last one.
30-MINUTE MORNING SHOWERS will become A THING OF THE PAST
You not only have to conserve hot water, but you've got someone banging on your door reminding you that they have to shower before work, too.
FINDing ALONE TIME TO MASTURBATE will prove TRICKY
You don't want to insult him, but sometimes you just really do prefer masturbation.
YOUR apartment will look . . . different
Your BFF's photo next to his BFF's photo despite the fact they slept together and he never called her again? Great.
YOU'll have to learn to FALL ASLEEP WITH THE LIGHT ON
Everyone loves to read in bed before going to sleep, so you're just going to have to deal. Or at least this is what you will be told.
you'll have to alternate HAVING FRIENDS OVER
Or at least give a heads-up that you're making dinner on Thursday for your BFF, so his BFF better not be coming over to drink, again.
YOUR ONCE 'ENDEARING' QUIRKS will NOW become ANNOYING
And vice versa. Because how he drinks juice right out of the container is so cute?
BREAKING UP OVER SILLY THINGS will NO LONGER BE AN OPTION
NOT THAT YOU WOULD DO THAT, OF COURSE
You know, because you're totally made for each other.
Images: Giphy(13); ReactionGIF (4); WiffleGIF( 2)