Imagine What This Couple Could Be Capable Of...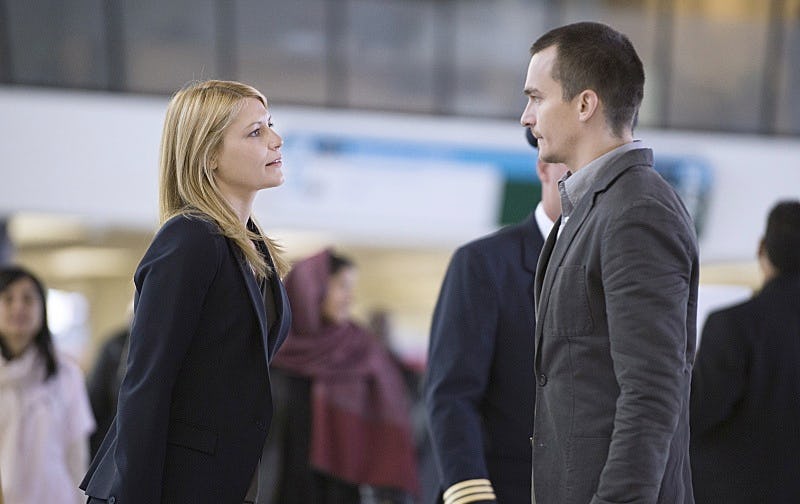 I don't normally turn to Showtime's Homeland for my fill of romance — it more fills my need of political intrigue and serious drama that I didn't even know was missing in my life. But since Season 4 of Homeland gets to hit the restart button in many ways since the death of Nicholas Brody, it could mean a new love interest for Carrie in the form of her colleague Peter Quinn. Showrunner Alex Gansa isn't saying a Carrie-Quinn romance is impossible — so that's promising for people like me that think regardless of Quinn's own baggage (including a son that he didn't raise), he could be a good thing for Carrie.
Gansa told TVLine's Michael Ausiello:
I think if there is romantic energy between them it's at a very nascent state ... Carrie's emotions have been engaged elsewhere, so it's unclear how she feels about him. I think it's pretty clear how he feels about her. But whether Carrie Mathison is going to be emotionally available for a romantic entanglement is another question entirely.
I'm so with Gansa on this. Maybe it's just my love of Rupert Friend (or because Quinn is from my sort of hometown Philly [back again]) that makes me slightly wish for a romantic entanglement, but Quinn has had Carrie's back, particularly in Season 3. Part of me likes Quinn so much that I don't want him to go on the crazy roller coaster ride that is Carrie Mathison and then the other part of me acknowledges and enjoys the chemistry between the two of them.
I mean she's gotta be attracted to him a baby bit, right? This is a man who can make enormous hats weirdly sexy.
I realize not all Homeland fans will think that what Quinn and Carrie share is romantic chemistry. Of course, it could also be a bond that is forged between CIA agents under the most intense and dramatic circumstances. (Seriously, can you imagine the stress levels these fuckers must be under?) At minimum, Quinn is protective of Carrie and they respect each other.
Yet another positive thing about the potential pairing is that Quinn doesn't let Carrie get away with all of her bullshit.
Quinn even shot Carrie when she was about to blow her cover on a secret mission in an attempt to try to clear Brody's name — and Quinn had to take her down.
And since Brody is really, really dead, Carrie will need to move on which is hard when you have a (super ginger) baby that's part Brody. Perhaps that's one reason she left the little nugget at home with her sister while she goes to work in Kabul, Afghanistan. As Claire Danes says in a Homeland promo video, "It's very difficult being in the same space with her child — it evokes Brody."
(Let's please note that it appears Quinn will be doing the two things he does best with Carrie again in Season 4 — calling her out on her shit and protecting her life.)
Carrie and Brody's love was fraught with deception. I never could tell if either of them were actually sincere. And I think that's what is so genius about the show. They both were master liars and used to manipulating those around them. When Carrie & Brody were paired together, they were well-matched.
It would probably be for the best if Carrie maybe didn't get romantically involved with anyone at this point. (Plus, Danes has one of the most attractive men ever at home with her, in the form of husband Hugh Dancy ... sigh. She doesn't need an onscreen love affair with a cute Brit when she's got the real deal at home.) But for Carrie, a romance could mean a one-night stand that since Season 1, viewers have seen she can be destructively good at (which can sometimes be a symptom of Carrie's bipolar disorder). It would make me concerned if Carrie and Quinn just had a fling, but she's definitely not in the right emotional state for a more serious thing — Homeland's homegirl has enough going on.
But you gotta admit that together, Carrie and Quinn could be the most badass, fucked up, dream team of CIA agents ever. And if Quinn could show Carrie and baby girl Brody the kind of love we know Rupert Friend is capable of portraying (like in the Young Victoria), it could be truly swoon-worthy.
Images: Joe Alblas/Showtime; quinnandcarrie , crownprincely; quinnandcarrie (2), gilbertblythe (2)/Tumblr