Find All the Pets in Kim Kardashian's Game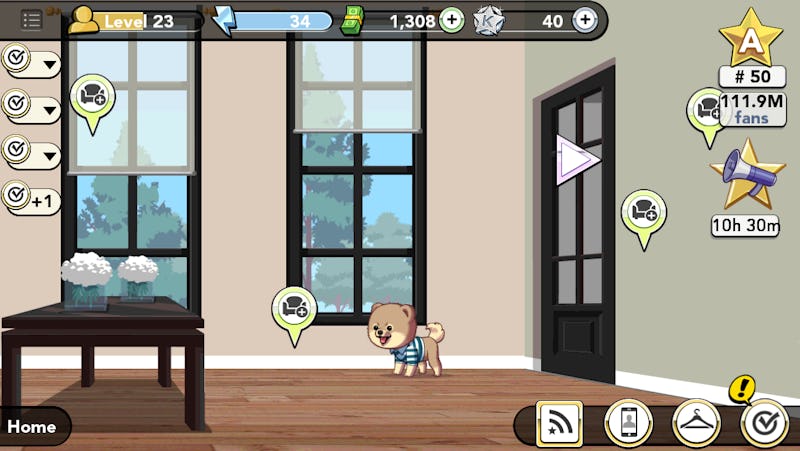 One of the only things I spend my K stars on in Kim Kardashian's iPhone game is the adorable dogs and cats. But where exactly can you find the pets in Kim Kardashian: Hollywood? That depends on where you're living. See, some of the houses and apartments in Kim's game come with the option of buying a pet; usually it's a dog, but you can get a koala if you buy the yacht in Australia, and a cat in Downtown L.A. So if you have the cash flow, you might want to pony up and buy a house and a pet because they come with a lot of added bonuses.
Every few hours you can tap on the pet and it will give you money, points, and lightening bolts. Usually it will even dispense 2 to 4 bolts, which makes pets a big payday in Kim's in-game world. Plus, they're adorable. And if you adopt enough of them, you can easily fill up your energy bar just by tapping on your animals.
But the important thing to remember is that not every house you buy comes with a pet. So because I don't want you to waste your digital dollars on petless homes, here's a cheat sheet to the locations of all the in-game animals.
DOWNTOWN L.A. — CAT
You can adopt this little guy off the street for 20 K stars.
HOLLYWOOD APARTMENT — DOG
If you buy this Tinseltown apartment, you have the option to add a cute pup to the mix for 20 K stars.
CALABASAS MANSION — DOG
No mansion is complete without a Pomeranian wearing a shirt. Duh. Just ask Paris Hilton's new dog.
MIAMI BEACH HOUSE — DOG
This miniature pinscher will run you about $15,000. But at least you don't have to fork over any K stars!
PARIS HOTEL SUITE — DOG
This is the game's most expensive dog at 75 K stars. Are you surprised? It's Paris after all.
LONDON FLAT — DOG
This adorable bulldog will run you 50 K stars, but he's cute and totally worth it.
SYDNEY YACHT — KOALA
It seems a little cruel to keep a Koala on a ship, but this isn't real life, so go for it!
Images: Kim Kardashian: Hollywood (5)