What Not to Buy With Your K Stars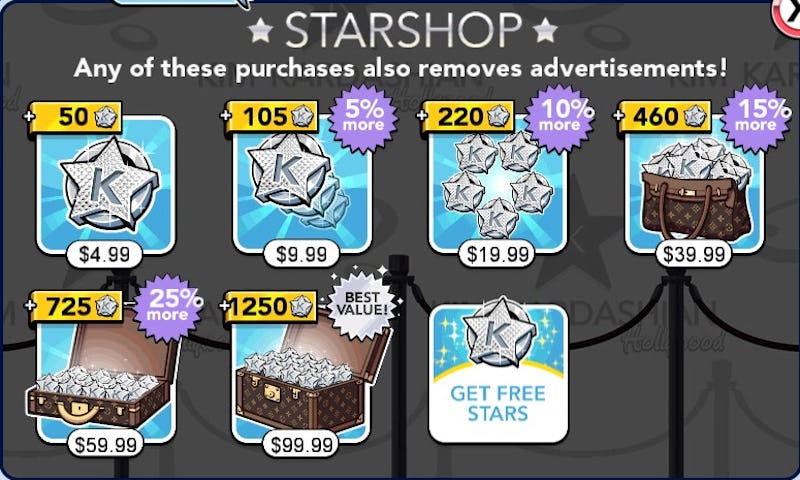 Unless you plan on spending real money to get K stars in Kim Kardashian's iPhone game, then you know how precious they are. You're lucky if you get one every few days of game play. Because of their scarcity, I find that I have a tendency to hold on to them and avoid spending them for fear of being disappointed with my purchase. I mean, I once spent like 20 K stars on a Last Song poster that just sits in my apartment. Definitely not my finest moment. But with all my K star spending mistakes, I've learned when and when not to dole out those precious silvery coins.
The good thing about Kim's game is that it's not real life, so you can experiment a little and spend some K stars. You can always earn them back. It might take awhile, but there are ways to get K stars for free. So go ahead and spend them, but spend them in a way that gives you the most bang for your buck.
Here are six things you should and shouldn't spend those K stars on, if you want your purchase to be worth it.
DON'T SPEND YOUR STARS ON ENERGY
It can be tempting to purchase more lightning bolts when you're trying to finish a photo shoot, but I advise you not to. You can get free energy just by waiting a few minutes, or if you can't wait you can search the game's energy hiding spots for free energy. (See a full list of those spots here.) Don't spend hard earned K stars on energy just because you're impatient.
DO SPEND YOUR STARS ON OUTFITS
Not only does buying nice clothes earn you fans, but it's one of the most fun aspects of the game. The game designers made a lot of cool-looking digital duds and if you can afford to spend your K stars on a new dress or pair of pants you'll be glad you did. After all, you have to spend all this time looking at your avatar, you might as well like what they have on.
DON'T SPEND YOUR STARS ON JEWELRY
Unless you're playing on a tablet, it's pretty hard to make out that 25 star nose ring on your iPhone screen. Save the stars and buy something that your eyes can actually see and appreciate.
DO SPEND YOUR STARS ON PETS
It may cost 20 stars to adopt that street cat, but pets give you energy/money/points. Plus they're pretty cute, okay? Some might see it as a waste of money, but investing in adorableness is never a waste.
DON'T SPEND YOUR STARS CHARMING PEOPLE
It may get you places faster but overall it's a waste. For example, if you decide to charm the comedy coach he might propel you right into an SNL-type gig, but if you don't charm him he just makes you do two comedy practice jobs and then he sends you to the SNL gig. Either way, you get to be on Saturday Night Laughs (yep, that's really what it's called). The second way may take a little more time, but you emerge with the same opportunity and all your stars intact.
DON'T USE STARS TO BUY FURNITURE
Buying a house may boost your fan count, but decorating the house is a pain. You can buy that telescope for 25 stars, but you can't use it, so what's the point, really? Until Kim lets us interact with our houses and furniture more, it's not worth forking over the stars to just stare at some 30-star posters of hot air balloons.
Images: Kim Kardashian: Hollywood (7)