All About 'Hart of Dixie's Scott Porter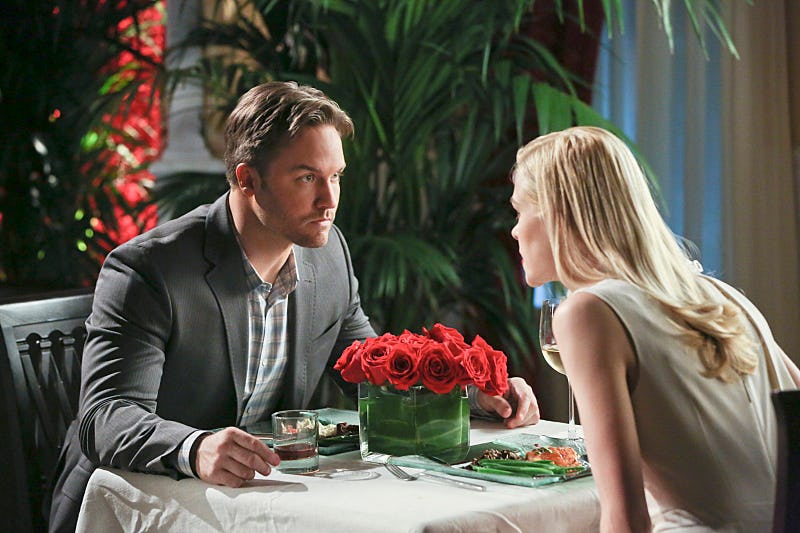 Spoilers and theories about Hart of Dixie's season premiere have been emerging like wildfire and fans are demanding some answers. Characters leave, like Joel Stevens, and others, like the charming Dr. Dalton and the mysterious "Zoe 2.0," are only just arriving. But as the future of Dixie trudges forward, I'm more interested in the pasts of our beloved protagonists; particularly that of one George Tucker, the most eligible single guy in Bluebell. But where did Hart of Dixie actor Scott Porter (George Tucker) use his wit, charm, and acting chops before he made his way to Alabama? As it turns out, Porter's actually been around the TV block a few times. In fact, saying that he's no stranger to screens big and small would be a serious understatement.
George Tucker may be the most eligible bachelor in Bluebell, but Scott Porter most certainly is not. In April, Porter tied the knot with casting producer Kelsey Mayfield, who Porter met on the set of NBC's Friday Night Lights. That's right, Hart of Dixie fans, he isn't available (sigh). But if some devastatingly life-altering tragedy were to occur and Hart of Dixie were canceled, there would be no lack of Scott Porter elsewhere in TV history.
He Knows The Meaning of "Texas Forever"
For four years, Porter played high school quarterback Jason Street on NBC series Friday Night Lights, a similarly Southern storyline set in Dillon, Texas. Dillon High School's Star Quarterback, Street suffers a spinal injury in the series' opener and spends his entire time on the series coming to terms with the way it's changed his life and all-star trajectory. Even though he couldn't be the talented quarterback that Dillon needed, his character proved to be easy to root for.
He's Got Sci-Fi Cult Status
If you didn't pin George Tucker as the science-fiction type, think again. Scott Porter broke from his usual Southern status and took brief residence on a peaceful planet known as Caprica in 2009. In Caprica , a SyFy drama spin-off of Battlestar Galactica, Porter played college student Nestor Willow, the youngest husband of high priestess Clarice. Don't get too attached, though. Caprica is a story about how robotic Cylons plot to destroy humanity and it doesn't end well for Nestor Willow.
Alicia Florrick Is Not a Fan
Caprica wasn't the only time Porter broke out of his usual role as the good guy. In fact, when he graced CBS hit series The Good Wife as investigator Blake Calamar in Season 2, Porter played the villain. His character became an immediate rival of Kalinda Sharma when he joined her firm, but he also used aggressive tactics to uncover major info about Alicia's dear pal (and sometimes lover) Will Gardner that led to some serious consequences. Blake only appeared in 14 episodes, but he certainly left a mark.
And He's Got The Beat, Literally
Porter's been on the big screen, too, usually playing small parts like Randy in Dear John, and Brittany Snow's hot boyfriend Bobby in Prom Night. But even more interesting to note about Scott Porter's history on the big screen is that Bluebell, Alabama wasn't the first public display of his musical talents. Some of might recognize Scott Porter from that corny-but-cute musical Bandslam, where he competed against Aly Michalka and Vanessa Hudgens in a battle of the bands. (This movie was also shot in Texas — could he be more Southern?)
Sometimes, He's a Cliché
And even more of you, if you think about it, like really really hard, might also recognize him from Music and Lyrics with Drew Barrymore and Hugh Grant, where he very briefly appeared as an 80s-pop boy-band cliché. The blackmail-worthy video above of Porter shaking his big-haired booty is proof.
Oh, Scott, please stick to your bright-smiled, goofy lawyer ways. Your Nebraska charm and that irresistible voice are sorely needed in Bluebell.
Images: Mike Yarish/The CW (2); Giphy (3)