Your Childhood Faves Have All Been Banned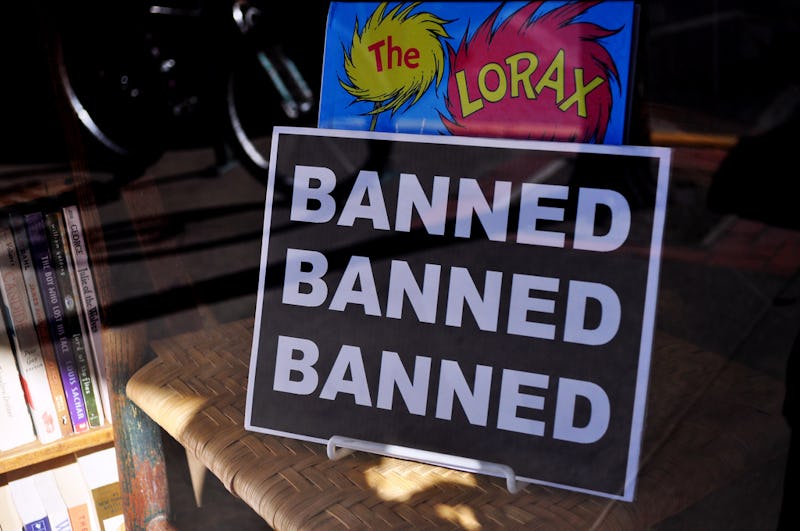 If you count off on your hands your favorite childhood books, chances are the majority of them have been banned at one point or another. Beverly Cleary? Banned. Roald Dahl? Banned. Judy Blume? Banned so many times you couldn't even count.
We all know some of the more famous challenged books, such as To Kill a Mockingbird and The Adventures of Huckleberry Finn, but sometimes even the tamest seeming picture books get banned. And look, I'm never ever on the side of book-banning. It's lazy and cowardly; rather than opening a discussion, those who ban children's books are shutting out an entire piece of the world. But, man, some reasons for banning are just more outwardly silly than others.
Essentially any book that includes at least one talking animal has been banned — Charlotte's Web, Winnie The Pooh — because talking animals are insulting to some people's religions. So if you don't want to have your book challenged, don't even think about writing a book about a talking animal because banners be banning. No word yet on just how Disney will ever recover.
But it's not talking animals that really grind the gears of some parents. Several of your most beloved books from childhood have been banned for one reason or another, often for completely gasp-worthy reasons.
1. The Giving Tree by Shel Silverstein
There is still a debate over what The Giving Tree all means — is the tree Mother Nature? God? Is this a mother-son relationship? Something else entirely? — but that debate is part of the magic. We're still talking about Shel Silverstein's children's story because it's still incredibly moving and poignant, even as adults.
Which is why it's particularly upsetting that The Giving Tree was banned from a public library in Colorado. They are taking this book away from children because it is sexist. Look, I'm the first one to knock children's books that are grossly gendered and misogynistic — though I would argue for diversity not censorship — but... huh? Sexist toward whom? The female tree? Little boys? Color me confused.
If that wasn't enough, it's also been accused of criminalizing the forestry agency. (No, children, it's not sad when trees are little stumps!) This, by the way, is also the argument for banning perhaps the most tolerant of all the authors ever, Dr. Seuss' The Lorax. But who will speak for the trees?
2. Strega Nona by Tomie dePaola
The bottom line on Strega Nona-banning is that there is no such thing as a good witch. A bad witch: Those exist and are totally cool.
This excerpt on the Women of Grace blog essentially sums up why this book is such a bad influence on children.
Strega Nona is a book read at our Catholic school. I hadn't read it since I was a child. I had forgotten she was a "good" witch who uses spells to cure warts, baldness, etc. That bothered me, but the next sentence sealed the deal. The book reads that even the priests and nuns go to her for help.
Warts mustn't be cured!
3. Harriet the Spy by Louise Fitzhugh
Harriet the Spy has been challenged several times, most notably back in the 1980s, for being a bad influence on children like that older girl at school who smokes in the bathroom and curses. It supposedly taught children to lie, talk back, and spy, but I just think parents didn't want kids getting the idea to snoop around their rooms.
4. The Wonderful Wizard of Oz by L. Frank Baum
The Wonderful Wizard of Oz was bound to get banned for one reason or another, but it has perhaps my favorite quote about why it has been challenged. The director of the Detroit Public library banned the classic in 1957 for having "no value for children today." Burn, L. Frank Baum. Burn.
5. Scary Stories To Tell In The Dark by Alvin Schwartz
I can't imagine my childhood without Scary Stories to Tell in the Dark and I'm already annoyed at its new, tamer illustrations because Stephen Gammell dug into my childhood fears and illustrated them to life. It's 2009 and the book still cracks the top 10 of most frequently challenged books. But really, of course parents are banning this one. Because it scares them, too.
6. Brown Bear, Brown Bear, What Do You See? by Bill Martin Jr.
I was completely shocked to find out that this totally charming children's book was banned. But when I found out why, I could not stop laughing. Just to show how eager banners are to ban, parents who challenged the book didn't think to, maybe, Google the author ahead of time. You see, they wanted to ban everything by Bill Martin, who wrote Ethical Marxism: The Categorical Imperative of Liberation, so Brown Bear, Brown Bear was axed, too. This was FOUR YEARS AGO. Because of course, the man who wrote Ethical Marxism wrote Brown Bear, Brown Bear.
7. Julie of the Wolves by Jean Craighead George
Ughh. Julie of the Wolves has been banned for being violent and sexually explicit. The scene in question is when Julie's much, much older husband pushes her down, tearing her dress, and so she runs away and lives with the wolves. Clearly not a teaching moment at all. UGH. PEOPLE.
But as for Jean Craighead George, she doesn't let haters hate.
I'm delighted to be on the list of Banned Books. To think that I am in the company of Mark Twain, the Bible, and other giants of literature is mind blowing. What an esteemed group.
8. A Wrinkle in Time by Madeleine L'Engle
A Wrinkle in Time has often been discussed alongside C.S. Lewis, for its religious imagery in the pages. However, some religious groups banned the book, thinking that Madeleine L'Engle should have made this imagery much more explicit. Because, you see, subtlety isn't their strong point.
9. Forever by Judy Blume
Judy Blume is no stranger to banned books. The major one people take issue with is Forever, which (spoiler alert) tells the story of two teenagers who lose their virginity to each other and it actually doesn't end up picture perfect, but hey, that's OK. Any mention of sex is immediate grounds for someone, somewhere wanting to ban it. I imagine just hoping that maybe, maybe if we ban all the sex books, teenagers will never know what sex is ever, so they'll never ever have it, and then the human population will just stop with us, the parents. Wait...
Of course, banners have also banned Deenie for this sexy sex-with-yourself. And Blubber was banned, too, because (I'm not making this up) the bullies are not punished at the end, and children's reading should always showcase that everything ends up peachy keen and adults will always step in to stop those who bully.
I can't even stop my eyes from rolling.
10. Anne Frank: The Diary of a Young Girl by Anne Frank
I'll preface this by saying everything you're about to read has happened since 2010 and up until just last year. OK, let's brace ourselves.
When I like to make a statement about people who have so completely and utterly missed the point of literature and arguably about being a human being in life in general, I bring up the case of The Diary of a Young Girl being challenged and getting banned from a public school. Let's start out easy: It was banned in Virginia because of its "sexual content and homosexual themes." Yes, that was the easy one.
Last year, one Michigan mother also tried to get the book banned. Here are her words:
It's pretty graphic, and it's pretty pornographic for seventh-grade boys and girls to be reading. It's inappropriate for a teacher to be giving this material out to the kids when its really the parents' job to give the students this information.
You hear that? It's up to parents to teach children about the real-life horrors of the Holocaust. Oh wait... she's talking about what a vagina looks like. Parents should get to tell their 14-year-old daughters that information before some book does. Because Frank briefly describing hers, that is what stood out to a grown woman in Anne Frank's diary.
I can't even.
I assure you, dozens more of your favorite books have been banned, but after that one, I think we should all just take a nice breather, and give all the books to the children in our lives.
Images: Carissa Rogers/flickr; Giphy (3)