How to Build an Anna Costume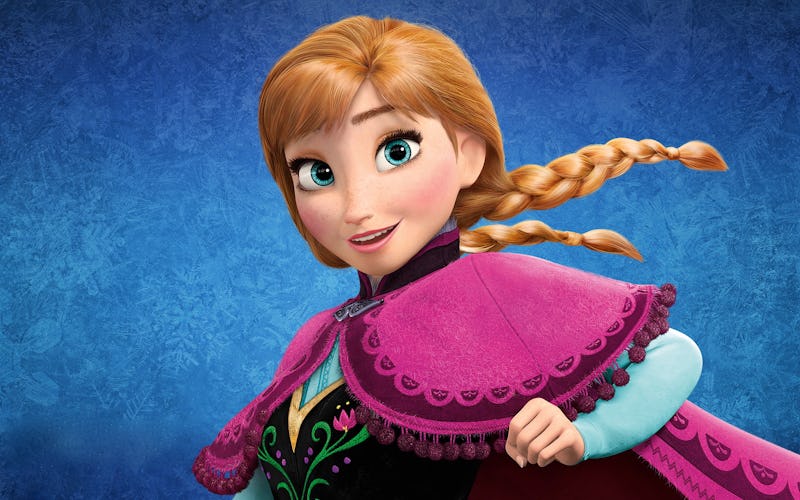 Halloween is fast approaching and what better way to celebrate than by donning a costume of one of the year's most badass female characters? That's right, you should definitely be Anna from Frozen for Halloween because Elsa may be magical, but Anna was one of the bravest women on screen in 2013. Think about it, she left for a journey in the frozen wilderness to rescue her sister — all on her own. Then she was even ready to sacrifice herself to save Elsa in the end. How can you not get behind a character like that?
Frozen costumes will no doubt be very popular this year for Halloween, but you're way better than a cheap discount-brand Anna costume with one of those fake-looking Barbie-doll hair wigs. Besides, it's sad to say that most of those are made for younger kids. Why shouldn't a 20-something want to dress like Anna? Everyone of all ages loves Frozen , but not all costume companies seem to get that.
So instead of buying a pre-packaged dress, do you want to build an Anna costume? It's sure to stand out in a good way if you put the effort in to make it yourself. Here's everything you need: (Kristen Bell's singing voice not included)
THE COZY COAT
If you live in one of those states where it's freezing as early as October, picking a costume where a coat is part of the deal is a good idea. If you're really invested in this costume you can pick up a legit cloak here for $170 dollars. Or you can just make your own. It requires a tad more effort but it's way cheaper and you'll be really proud of yourself.
There's a tutorial to make the coat from a pink bath towel. But if you're not so good at sewing, there's an easier way. For the coat part, pick up some magenta fabric from your local craft store. Joann's has some magenta fleece fabric. You just need a long rectangle of it that you can wrap around your shoulders like you used to do with towels to pretend you were a superhero as a kid. You can safety pin the fabric into place when you assemble the whole costume.
Magenta Fleece, $6 per yard, JOANN
Then for the collar of the coat, you can buy a Christmas tree skirt like this $12 one, and dye it the same color as your fabric. Then simply cut a line from the edge to the edge of the inner circle and plop it on top of your fabric cape.
To keep everything in place, invest in a collar clip like Anna has. This one from Ebay is $5 and has reindeer on it, which is a nice nod to Sven.
THE UNDERSHIRT
Easy-peasy, just buy a long sleeve light blue shirt.
THE CORSET TOP
This one is a little trickier. You could always go with a black corset top.
Then you could buy some gold ribbon from a craft store to trim the corset and some green and pink felt to make the design. Here's a stencil of the applique to copy.
If you want to be able to breathe during the night, though, you could buy a black, one piece bathing suit and apply the ribbon and felt to that.
Black Swimsuit, $22, Amazon
The only issue with the bathing suit becomes that it won't come to a point in the front because the bottom will be covered by the skirt. But if you're feeling very crafty, you could cut a v-shape out of the front and and back of the skirt and sew it to the bathing suit so it's all one piece. Then you'll get that bodice effect without buying a corset.
THE FLOWY SKIRT
Try this blue maxi skirt from Charlotte Russe. It's almost identical in color and shape and you could totally wear it again.
If you really want to get the look exact, add the designs to the bottom of the skirt using this DIY stencil guide and felt from your local craft store.
THE STURDY BOOTS
Anna just wears black boots. If you have a pair already, great! If not, you can pick up a pair of these.
Dollhouse Black Western Boot, $17, Dollhouse
Anna's boots have gold designs on them so you could stencil some on with gold puff paint or felt from your craft store, if you feel so inclined.
THE SIGNATURE HAIRDO
Don't Disney princesses have the best hair? You know Anna wouldn't be complete without her two braids. For your costume, plait your hair, and for added accuracy, pick up this white clip-in hair extension to show that Anna's heart is freezing over thanks to Elsa's magic.
White Clip In Hair Extension, $4, Amazon
Too dark? Well, it is Halloween, after all.
Images: Disney (5); Ebay; Target; Amazon (4), Charlotte Russe; ask-princess---anna/DeviantArt; eventhorizoncosplay, dreamingofdisn3y/Tumblr; warriorcatsrpg