The Biggest Lesson I Learned Each Year of My 20s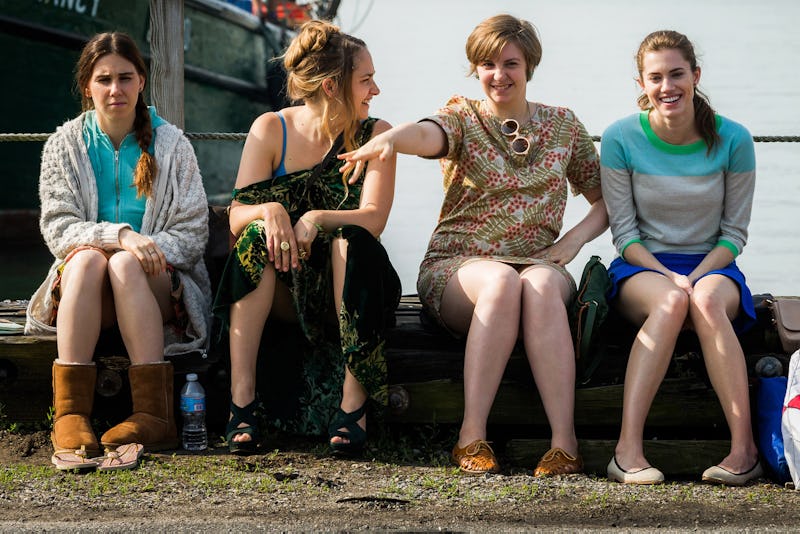 My 20s were many things. They were confusing, fun, and, obviously, a necessary step I had to take in order to reach my 30s. With each year that passed came a new realization and epiphany about life and myself. From the ages of 21 to 29, I could genuinely feel myself maturing, albeit slowly, with only occasional relapses back to my bratty teenage days.
Still, it wasn't easy to getting to 30. Between the quarter-life crisis and the feeling of being not quite an adult, but almost an adult, it was like hanging out in a world that is neither here nor there. It was exciting, but kind of scary, too.
I hoped that by the time I turned 30, I'd finally have my shit together and have a better sense of who I was and what I wanted out of life. Turns out, it's not that simple.
Here are the lessons I learned each year in my 20s. I figure, as an older and somewhat wiser woman, the least I can do is share with younger folks what they might expect.
20: SOMETIMES, YOU NEED TO MOVE AWAY TO START YOUR LIFE
When I was 20, my sister decided she was done with New Hampshire, where we both lived, and was moving to Colorado. That picture up there is a photo her friend's mother took of us the morning that they packed up their car to drive out west. As much as I wanted her to live her life, I was devastated. It was at this time that I was forced to realize that you need to let people go so they can make their way in the world. I learned that we all have different paths, and for my sister, her path led her to Boulder, where she still resides with her husband, two sons, and a teaching career.
21: IT'S OK TO HAVE ZERO CLUE WHAT YOU WANT TO DO WITH YOU LIFE
Although I always wanted to be a writer, in my junior year in college, I started to have an identity crisis. I was experiencing anxiety attacks for the very first time and spent a lot of time with my advisor crying about what the hell I was supposed to do with myself.
It was during one of these cry fests that she said to me: "The most interesting people I know didn't know at 22 what they wanted to do with their lives. Some of the most interesting 40-year-olds I know still don't." About a two years later, I made the connection that this advice was actually from the famous "Wear Sunscreen" graduation speech. Either way, realizing that it was OK to feel lost made me feel less alone.
22: real love allows you to be yourself
I met Timothy one night in college at my apartment. He was there with a friend of friend whom he was dating. I didn't really think much of him, except for noticing his gorgeous tattoos and Belle and Sebastian T-shirt.
Not too long afterward, Timothy and his girlfriend broke up, and he started pursuing me. I had had a boyfriend in high school, but what I felt for Timothy far surpassed that. We started dating a couple months before I turned 22, and shortly after my 22nd birthday, I realized I was in love, madly in love, for the first time. I finally got what all those rom-coms were talking about.
He was the first person for whom I deeply cared, outside of my immediate family and close friends, and someone with whom I could absolutely be myself. Being myself at 22 wasn't easy for me, but with him, I learned that when you love someone, you love the good and the bad. Your quirks are nothing to be ashamed of or hide.
23: YOUR FIRST HEARTBREAK IS SOMETHING YOU NEVER REALLY GET OVER
I was almost 24 when Timothy and I parted ways. It was my first heartbreak, and I remember legitimately feeling like I was dying inside. I couldn't keep any food down, I cried nonstop, and took to my bed for not just days, but weeks, listening to Godspeed You! Black Emperor, of all things, on repeat. My roommate was less than thrilled.
I literally felt there was no way that I would be able to go on as I had before I love him. The pain was so detrimental to every aspect of my life that I messed up royally in school and was forced to do the "five year plan," as they call it.
To this day, Timothy is consistently at the forefront of my brain, and I will always have a soft spot for him. While I'm no longer in love with him, I still love him dearly. He was my first lesson in love, and I think that's the reason we still have such a close bond after all these years. When someone touches your life in that way, it's hard to let them go completely, nor do you ever want to.
24: PAIN IS AWESOME FOR ART
Losing your first love and managing to come out of it in one piece is very difficult, but I came up with a plan: I was going to focus on my writing with everything I had and turn myself into a success. Then, and only then, would Timothy realize what he passed up and he'd come back to me!
Looking back, it seems ridiculous, but at the time, the pain of the breakup was the kick in the ass I needed to get out of bed and get writing. I learned that I could take all that sadness and put it to better use. I was inspired, really inspired, for the first time in my life.
25: EVEN CEREAL CAN BE REALLY EXPENSIVE
When I hit 25, my parents cut me off financially. They assured me that they'd always be there for "emergency" reasons, but they also had to explain to me what fell under the "emergency" tier, as we didn't seem to be on the same page about it.
They helped me set up a budget, one that I've since stopped using, because, ugh, and I started working full time, not as a writer, but as an office manager. It was truly difficult to stand on my own two feet, but I was also pretty damn impressed with myself for pulling it off... as I enjoyed Top Ramen for the fourth night in a row. Cereal was now a luxury.
26: I'M REPLACEABLE — TO SOME PEOPLE, ANYWAY
At 26, I was let go from a job for the very first time in my life. I had long lived under the delusion that I was somewhat special and what I had to offer was unique, but that was far from the truth. The embarrassment that came with being let go is something that I'll never forget, especially since I was fired because, "Amanda, you're obviously miserable here." True! But I would have liked to have left first.
27: I'M NO J.D. SALINGER, BUT THAT DOESN'T MEAN I SHOULD GIVE UP ON MY DREAMS
It was probably naive of me to think that the New Yorker would just scoop up one of my poems or that a literary agent would beg me to write the next great American novel, but that's what I still believed at 27. I was clueless about query letters, knew no one in the industry, and was still writing about Timothy. I tacked every rejection letter I got to my wall and told myself my time would come. I learned that while I may not be J.D. Salinger, that doesn't mean my dreams aren't worth fighting for. At 27, I readied myself to fight for them — for the long haul.
28: YOU ACTUALLY HAVE TO network
As a somewhat socially awkward recluse, the epiphany that networking is an absolute must, especially here in New York City, was a harsh realization. But I realized that if I was going to make it here and not have to run home to mom and dad, I was going to force myself to meet up with strangers in the writing world for drinks and conversation. I'm bad at conversation, until about drink No. 3, when I get rolling. Turns out I'm even moderately funny.
It was in those days that I not only made contacts, but friends whom I know I'll have for the rest of my life. All writers and bloggers are relatively awkward in their own ways, so we all suit each other perfectly.
29: MATURITY IS TOTALLY OVERRATED
Although I couldn't wait to get to 30, because I imagined everything would magically fall into place once the clock struck midnight, it was at 29 that my Peter Pan complex really kicked in. I decided that just because I was a certain age, I didn't have to necessarily act that certain age. I made a pact with myself to never grow up, at least by what society's standards of being a grown-up are.
I figure, as long as I'm fulfilling my responsibilities, then I can do whatever I want. And if that involves playing tag in the park with my friends until dinner time, then so be it.
Now that I'm in my 30s, I know that growing up is certainly overrated. But that doesn't mean I can't enjoy the ride.
Images: HBO; Amanda Chatel