How to Be Shosh for Halloween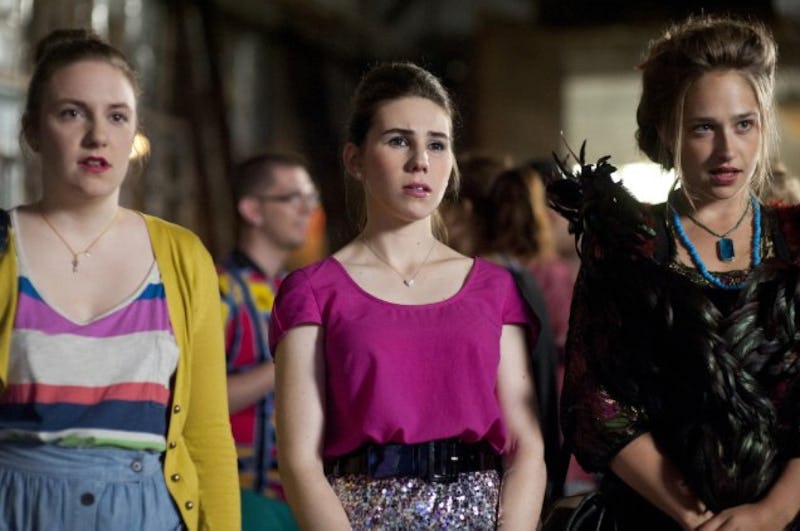 In her recent Rolling Stone interview, Taylor Swift said she's a Shoshanna when asked which Girls character she relates to most. It's not surprising she's a fan of the show, since she's good friends with Lena Dunham in real life. Anyway, this makes me think that if T. Swift and her ever-growing list of besties decided to dress up like the girls from Girls for Halloween, she'd choose Shoshanna as her costume. Luckily, chances are you won't be at the same party as Tay for Halloween (although that would be super cool), so if you want to dress up as this bubbly brunette, go for it! Here's a how-to guide for your Shoshanna Shapiro Halloween costume.
One of the most important things about Shosh is her outrageous hairstyles. It's important to be quirky and adventurous when it comes to your tresses. After all, YOSO (You're Only Shosh Once) so you might as well make the most of it. There was that time where it looked like she had a donut on the side of her head. Oh, and that side-braid ponytail is another great option. Basically anything that combines a braid or bun is perfect, as long as it's lopsided.
Shoshanna Hair-spiration Ideas:
The Side Bun
I don't consider myself a hairstyling pro, but even I could accomplish this look. It looks like you simply take a chunk of hair from one side, twist it around, and wrap it up in a mini bun. With enough patience and bobby pins, I have faith that you can get this same look!
The Braided Pony
Pull your hair into a side pony. But not just any side pony! Dye one strand of the hair blonder (or for less commitment, use one of those clip-in extensions) then braid the ponytail. Secure with an elastic and you'll be all set.
The Donut 'Do
Pshhh, forget about normal sock buns! Those are so not something Shosh would wear. Instead, you need to bold and make your bun front and center — like a giant donut. You can use a tutorial, but just place it farther forward on your head:
Shoshanna ensembles:
Baby Doll Dress
This look is so perfectly Shosh-esque! I found an Urban Outfitters dress that isn't exactly the same — it has a floral pattern, but it's still a short-sleeved, green dress. Plus, it's only $20!
If you add something bold to your head (either the donut bun or some feathery bow like in the photo above), you'll def look like her.
Try adding something like this:
Party Outfit
This look is an easy one to copy. First, you need a super sparkly skirt.
There's this skirt from Forever 21, which isn't quite like Shosh's:
But the good thing is it's cheaper, than say this one that's nearly $80 at Dillard's. If you're dedicated, buy the more expensive one and re-wear it for New Year's Eve:
Then add a purple tee with it.
Preppy in Pink
This outfit seems pretty simple, but it's the braid that ties it all together.
Get yourself a pink patterned dress.
Then add a pale pink cardigan on top.
Try a tutorial like this to master the braid/bun:
Most of these outfit suggestions are from H&M and Forever 21 (since they're relatively inexpensive options), but you can probably get these basics anywhere — even your closet. The real key is the hairstyles and the attitude. Once you've got those, you'll totally transform into your favorite Girls character!
Images: HBO, Urban Outfitters, Amazon, Forever 21, Dillard's, H&M