Victoria Freed Herself & Got Into Bigger Trouble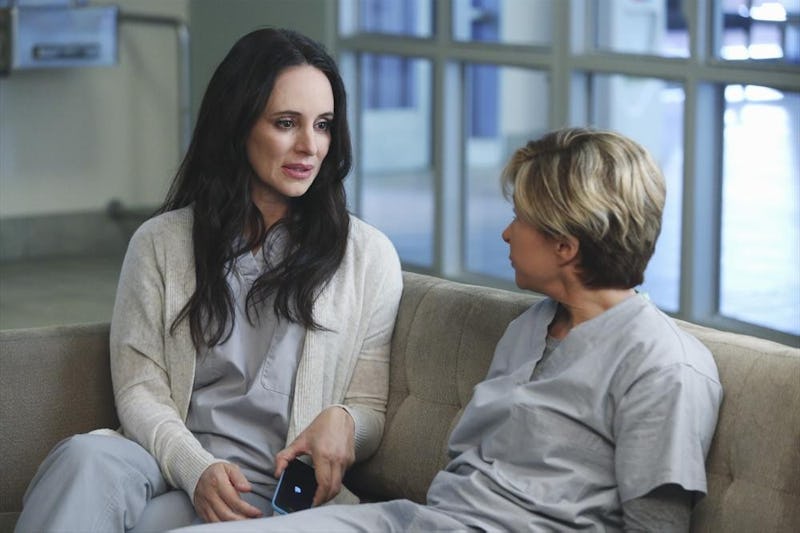 Now here's the action Revenge fans have been waiting for since 10 p.m. — Victoria Grayson escaped on the Revenge Season 4 premiere. And now we're getting somewhere further than me repeatedly asking myself, "Wait, when did this happen?" and thinking, "WTF?" over and over again. It's been a confusing and extreme hour of Revenge — so confusing that seeing Victoria scheme her way out of an insane asylum was the most straightforward and welcome part of the Revenge Season 4 premiere, "Renaissance." But the Grayson matriarch is far from free because she ran right into the arms of David Clarke. Boom.
With the help of her new roommate, a materialistic, Southern socialite that is "totally not crazy, but her mom thinks she is" and Lisa Simpson — OK, fine, her name is Yeardley Smith and she's playing an asylum cohort on Revenge — Victoria sprung herself from her cell. And while we suffered through some uncomfortable moments of Charlotte and Gideon naked and snorting cocaine, Victoria found her way back to Grayson Manor. Because obviously the first place someone who just broke out of an insane asylum would go is to the new home of the person who put them there in the first place. Sometimes Revenge's logic is just so wrong, I don't even know how to feel about it.
So, Victoria confronted Emily on her old doorstep and did everything short of revealing to Emily exactly how she was going to get revenge. She mentioned "the truth," Charlotte being Emily's sister, and the fact that Emily lost her chance at having the very thing she lamented losing — "something to go back to." And then, after Victoria said her triumphant and slightly manic piece about what was to come on Revenge Season 4, the slow-burning and confusing episode finally took a turn. Victoria ran from the insane asylum right into the waiting and hateful arms of David Clarke who drugged her and dragged her away.
He might not have let his daughter know he was alive all of these years, but he's not going to let her lifetime of revenge be in vain, apparently. And poor Victoria Grayson is a prisoner once again. Nice try though, girl, but maybe next time you should plan a little better.
Image: Danny Feld/ABC