He Just Met His Sister's Rumored Boyfriend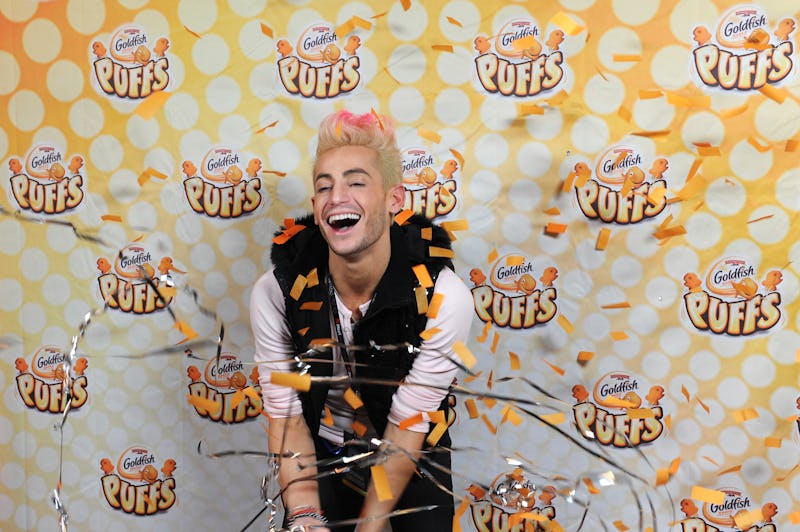 Craig Barritt/Getty Images Entertainment/Getty Images
The Grande family is one of the most talked about families on the Internet right now. Every day, there's a new story about how Ariana Grande is a huge diva. And, since Frankie Grande was just on Big Brother , he's been getting a lot of press relating to that, and to her, as well. Now that Frankie and Ariana are reunited, it's no surprise that they've hardly left each other's sides since being separated for most of the summer. However, that's not the only way they're making up for lost time. Ariana Grande had a secret concert after her Saturday Night Live appearance and Frankie and her alleged boyfriend Big Sean were both in attendance. Does that mean that Big Sean got the Talk last weekend?
Of course, Big Sean and Ariana still haven't confirmed that they are anything more than friends and collaborators, but it's very interesting to note that the two people Ariana chose to take with her to a secret show after SNL was her older brother and her rumored beau. This is how rumors start, okay? Frankie was still in the Big Brother house when the rumors of Ariana and Big Sean's relationship began to fly, which means that now would be the first time he was meeting Big Sean as Ariana's boyfriend as opposed to as someone Ariana was working on a song with. That's a whole new level of introduction.
If Big Sean is Ariana's boyfriend and was just introduced to Frankie as such, would they have gotten along? Well, there are certain criteria that every older brother needs their little sister's boyfriend to meet and it all depends on whether or not Big Sean is meeting them.
1. Does he treat her well?
To be fair, we don't know that for sure. If there's anything I've learned from Sarah Hyland and Matt Prokop's break up, it's that you can never know what goes on behind closed doors. However, Frankie would definitely not have spent the whole night hanging out with someone who doesn't treat his sister like a princess and Big Sean's words have shown he has nothing but the purest adoration for Ariana. I think this one is a yes.
2. Does he make an effort to get along with her family?
We don't know how Big Sean gets along with the rest of Ariana's family, especially her mother and her beloved Nona, but we can at least say that he's putting in the effort to get along with her brother, Frankie. After all, he did go to the gay club to support Ariana's show along with Frankie, which is a great gesture.
3. Does he treat women well in general?
When Big Sean and Naya Rivera broke up, it was rumored to be due to infidelity on his part. However, his representatives said that Big Sean had ended the engagement with nothing but the highest respect for Rivera and she later remarried anyway. If we believe the rumors, then Big Sean has a choppy history with women that might have made Frankie wary. However, considering the rumors flying about Ariana, Frankie might know better than to believe what he hears.
4. Does he protect her from the media?
Ariana has been keeping her mouth shut on the subject of Big Sean no matter who's asking her publicly. Big Sean has also been remaining mum on the subject, aside from showering Ariana with compliments. We're going to go ahead and say he'd pass this criteria with flying colors.
5. Does he make her happy?
Ariana has certainly seemed happy lately and nothing makes her erupt into embarrassed giggles faster than being asked about Big Sean. In fact, the only thing that has really been getting her down since her relationship with Big Sean first made the news was the fact that Frankie still wasn't home from Big Brother yet. If she's in high enough spirits to post photos like this to Instagram, I think it's safe to say Big Sean is nailing this criteria.
6. Does he sign autographs?
All right, all right, so this has nothing to do with the big brother talk every boyfriend gets. But it's Big Sean. Surely Frankie's not too famous to ask for an autograph, right?