Will Karma Get To Sing with Fifth Harmony?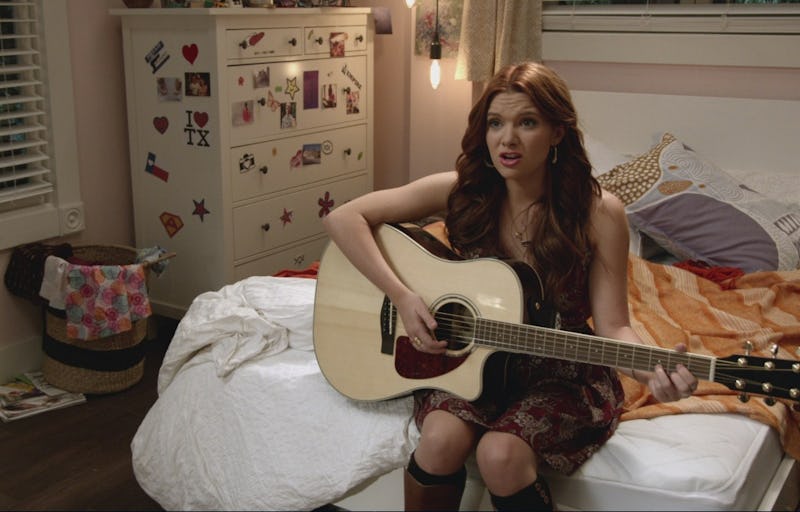 This week, the biggest story in TV news was the Simpsons-Family Guy mashup. Sure, that was cool and all, but coming soon to a screen near you is a media collaboration we can all get very excited about: girl group Fifth Harmony will guest star on Faking It later this season! This is amazing information. It means that, on one night, on one show, we'll get to experience the fabulousness of Karma and Amy, combined with the talents of the five girls who make up Fifth Harmony. It's like someone invented peanut butter and jelly all over again — except with musical numbers. Rejoice.
If you're not familiar with Fifth Harmony, here's a little history lesson for you. The band formed on Season 2 of the U.S. X Factor, where they eventually made it to the final three. Despite not winning, they managed to tough it out and were given a joint record deal with Simon Cowell and L.A. Reid's record companies. Since 2012 they've released an album (with another on the way), opened for Demi Lovato on tour, and most impressively, they're the only American X Factor act to ever get a song on the Billboard 100 chart. Also, Britney Spears — who was an X Factor judge — called one of their performances "like magic." To me, Britney's word is law, so you basically have no choice but to become a Fifth Harmony fan (who are called Harmonizers, BTW). Watch a video of them performing below.
But how will Fifth Harmony fit into Faking It? The cast gave a panel at PaleyFest on Sept. 12, and showrunner Carter Covington revealed that the group would be appearing in the sixth episode of Season 2, which is set to air on Oct. 28. According to Covington, Fifth Harmony will be performing (as a fictional band) at a dance club Shane brings Lauren and Amy to. Covington also shared that Fifth Harmony will be singing New Kids on the Block's "(You Got It) The Right Stuff," which is the official soundtrack of '80s nostalgia. Could this little field trip be a sign that Lauren and Amy will experience some step-sisterly bonding later this season? I hope so, because at this point, both characters are sort of on their own.
Now that we know when Fifth Harmony will be showing up on Faking It, just one question remains: will Karma join them in song? As we saw in the season premiere, actress Katie Stevens has a serious set of pipes (even when singing a not-so-serious ballad). Don't forget, Stevens made it to eighth place on American Idol in 2010. Not too shabby. Karma's friendship/love song for Amy was corny to the max, but still pretty adorable, and incredibly easy to get stuck in your head, if my own experience is anything to go by. Here's "Don't Pull Away" in all its glory.
How could Faking It have the Fifth Harmony girls and Katie Stevens together in one episode and not include a group number? We'll have to wait until Episode 6 to find out if they all make sweet music together.
Images: MTV; Observer