He Just Challenged George Clooney to a Contest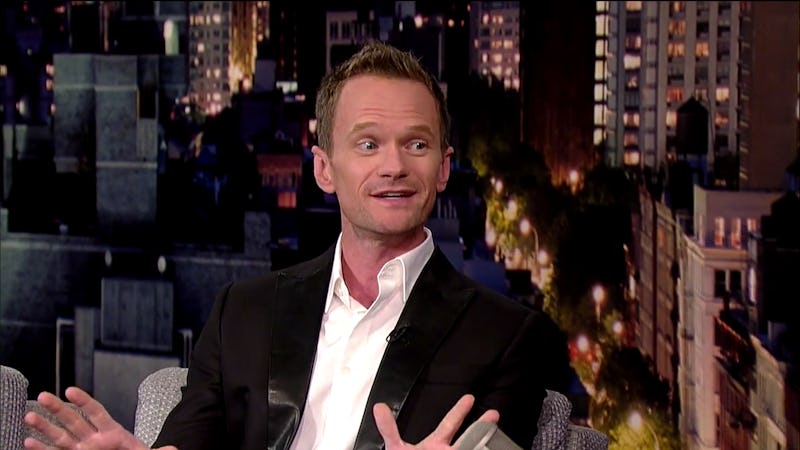 Neil Patrick Harris is just like the rest of us. You know, rich, famous, and wanting George Clooney to step up his wedding photo game. Much like Clooney, Harris married partner David Burtka in Italy over the weekend in September, but unlike Clooney it was a secret wedding that nonetheless has a bunch of pictures floating around from the ceremony. Most of them are pictures that were shared by Harris or Burtka themselves rather than through an official magazine release, but they're no less adorable than you might expect. In fact, on Monday's Late Show with David Letterman, Harris shared more wedding photos with the audience and challenged Clooney to do the same. This is one celebrity face-off I could totally get behind.
Harris released more details about the wedding and, predictably, they were adorable. Apparently, Harris and Burtka danced their first dance to "A Moment Like This" by Kelly Clarkson and had arranged for fireworks to go off at the crescendo of the song. Despite Harris' misgivings that such a thing could happen in a small Italian town, the display went off without a hitch to the delight of the audience and the grooms. Letterman also showed two brand new photos from Harris' wedding, just in case you weren't already melting at everything you'd seen and heard already.
That would pretty much be my reaction if fireworks went off during the best part of my favorite song, too. Just after sharing these, Letterman and Harris issued a challenge to Clooney. "Take that, George Clooney," said Letterman with Harris adding: "I don't see you showing pictures of your wedding on talk shows." The challenge proved to be a bit premature since the first photos of Clooney and Amal Alamuddin's wedding were released Tuesday morning via People and Hello!, but Clooney still has yet to share them on a talk show.
If you ask me, now is a golden opportunity for Harris and Clooney to have a wedding photo-off. Just whip out their wedding albums and start broadcasting pictures to the world to see who had the cutest wedding. It doesn't matter which one of them is the winner, because the true winners are all of us out here in the audience who want to pretend we were there by looking at as many cute pictures as possible. The ball's in your court, Clooney. Surely Jimmy Fallon could put together a sketch/game idea for The Tonight Show based on this premise.
Check out the whole interview below.
Image: YouTube (3)