Aretha Franklin Rolls In The Deep & It's Amazing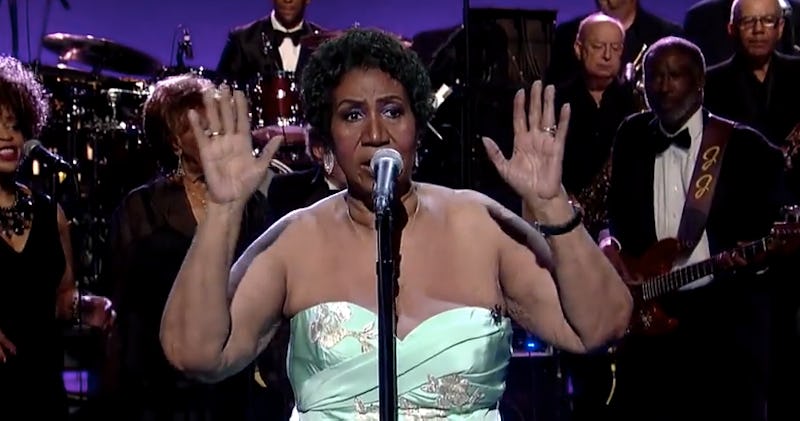 Adele has officially arrived. No, the Grammys do not matter, nor do the millions in album sales, nor generally being amazing and beautiful and perfect. Adele did not matter until right now: The Queen Aretha Franklin has covered "Rolling In The Deep" and it's exquisite. Singing live on The Late Show with David Letterman last night, Aretha flexed her vocals and let us know who's still boss. I mean, who of Adele's contemporaries could ever hope to match the young Brit's lung capacity? No one, that's who. "Rolling In The Deep" is a difficult song to pull off (don't try this one at home, kids), but classic diva Aretha's huge voice is perfect for the gymnastic vocals in the song. Both women both have the same dexterity and dynamism within their range that has made Aretha, and will make Adele, legendary.
While the performance reminds us why Aretha Franklin demands our r-e-s-p-e-c-t as one of the greatest music talents ever (aging both gracefully and sassily while retaining her awesome talent), it's also got us hankering for Adele's return, and praying that it's sooner rather than later. (Isn't that baby of hers grown yet? Jeez, go to college already, kid. We need your mom back.) We're also going to go out on a limb here and suggest that Aretha and Adele team up for a duet. Maybe even a duet album? They could combine their powers to sing both of their greatest hits, and make everyone's heads explode with the greatness of it all.
Image: YouTube