Make Your Own 'TFIOS' Halloween Costumes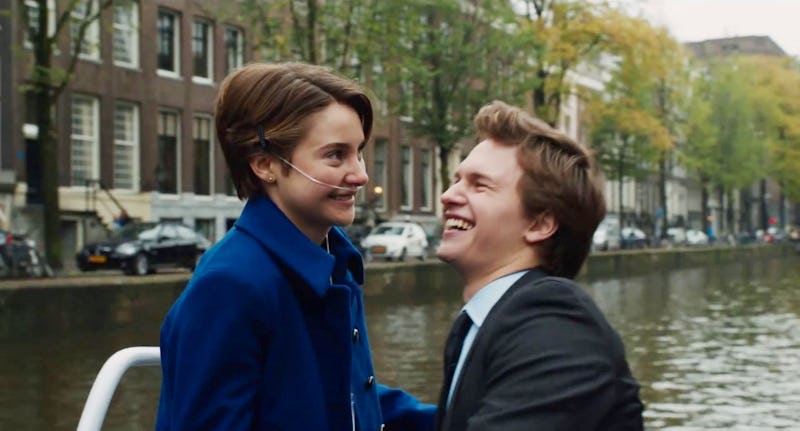 Instead of going for a scary costume this year, you could switch things up and choose one that's heartbreaking, yet amazing. Yup, there's an ensemble that will automatically make people desperately search for tissues and cry their eyes out. OK, that may be a bit of an extreme reaction, but I'm talking about The Fault In Our Stars Halloween costumes! The John Green book-turned-movie was a major blockbuster this year, and all anyone could talk about for months. So why not show your support for Hazel Grace and Augustus' love by dressing up like them?
Grab a male friend to be Augustus Waters. It doesn't necessarily have to be your soulmate like in the movie. It could just be an equally huge fan or your best guy friend. Then you'll transform into Hazel Grace Lancaster. There are so many options for how to be this couple, but I'll stick to giving you tips about how to recreate outfits from the movie's most memorable scenes. (Even though, come on, the whole movie is memorable!)
Just a note: Hazel's character wears a cannula to help her breathe. It's up to you whether to make it part of your costume. You wouldn't want to offend anyone, but some people feel more offended when it's not included. Consider what happened when Entertainment Weekly left the cannula off their TFIOS cover — some fans were disappointed, since it could've shed light on the reality of Hazel's illness. So ultimately, it's your decision.
Here's how to make your TFIOS costumes happen, okay? Okay!
Amsterdam Adventures
This was such a perfect part of the movie! Hazel's mom bought her a new dress, and then Hazel and Augustus went out to dinner in Amsterdam. They sipped the stars — I mean champagne — and had the most romantic night ever.
To recreate Hazel's look, you only need two things: A blue dress and blue trench coat. Actually the coat is totally optional, since she doesn't wear it the whole time. But it could be the perfect excuse to get a new cute jacket! This coat is only $60, which is a bargain if you'll get a whole winter out of it. As for the dress, this option is currently on sale at The Limited. Again, you can definitely get more than one use out of it.
For your Mr. Waters, he needs a suit. While this Zara option is pretty pricey, hitting up the local Goodwill store is always an option. As for underneath, he can get a pale blue dress shirt from Kohls for less than $20. And the tie? There's a website called cheap-neckties.com (I'm not even joking!), where they sell classic black ties for only $5. It seems legit too, since they've received a bunch of five star reviews.
Picnic In The Park
Remember the scene where Augustus planned a Dutch-themed picnic to tell Hazel that they're going to Amsterdam? Duh, how could you forget! Well, everyone will remember that scene even more when you recreate it with your costumes.
This outfit is super simple — and comfy. All you need is a purple v-neck (like this one from LL Bean) and a pair of your favorite jeans. The flowers are an added way to get into character, since Augustus surprises her with a bouquet of tulips. You can easily get fake flowers to carry around.
The guy will need a basketball jersey. Instead of paying more to have Rick Smits' name on it like Augustus does, just get a generic Pacers jersey. You can find one on Ebay for around $40. Add a pair of jeans (which I'm sure he'll already have) and grab a picnic basket. It'd be ideal if you can find an inexpensive one at a craft store.
"It's A Metaphor"
Ah, the beloved scene where Augustus and Hazel meet for the first time after support group! He's doing really great at flirting until he pulls out a cigarette. She's disappointed, until he explains his meme-worthy quote about it being a metaphor.
Hazel's look is once again an easy-to-recreate ensemble. Basically it's a jean jacket (you can snag one from pretty much anywhere, but this one is $30 at Forever 21) and a white t-shirt. At Target, you can get a white tee for only $10. As for the bottoms, gray sweatpants. Score! You'll be the most comfy person at any party.
The best part of this outfit is the candy cigarettes. Because it's a metaphor, of course! Find them at your local candy shop, or you can get them for 40 cents a pack online. He'll wear a brown leather jacket (this vintage option is around $40) paired with a gray t-shirt.
So there you have it! People will fall in love with your costumes the same way they fall asleep — slowly and then all at once.
Images: 20th Century Fox, SheInside.com, The Limited, Zara, Kohls, Cheap-Neckties.com, LL Bean, H&M, AFloral.com, FashionForPlay/Ebay, Old Navy, Epicsports.com, Forever 21, Target, Dick's Sporting Goods, OldTimeCandy.com, Lightinthebox.com, Hanes