7 Reasons To Stay In This Halloween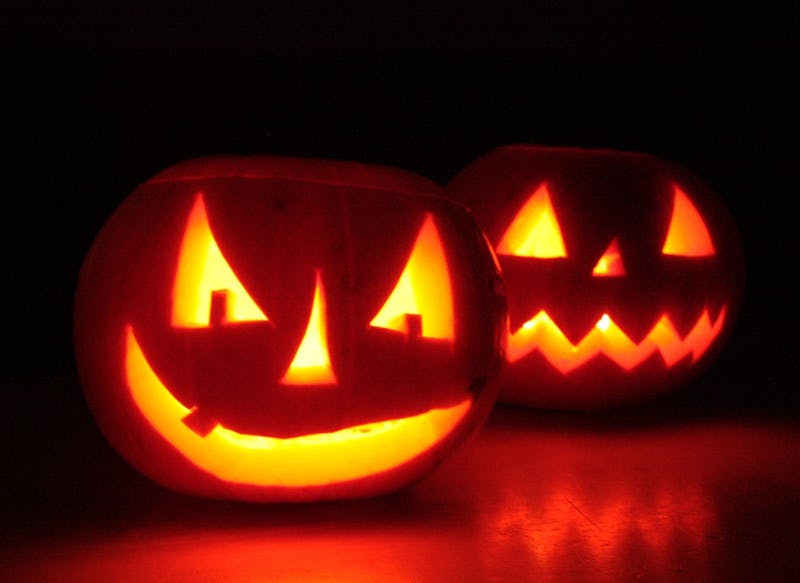 Everyone knows that celebrating Halloween is an exciting time of year. There are pumpkins and candy and costumes and parades and oh boy, I'm exhausted already. When did I get so old? Let's be honest, Halloween — especially those costumes — can be so freakin' awesome, but it can be a little overwhelming as well, and so can parties, and so can fun in general. While it all sounds great (who doesn't love candy?), dressing up and going out isn't always for everyone. And if the idea of leaving the comfort of your pajamas sounds scarier than anything else you might encounter on this creepy holiday, then you might want to consider spending October 31 at home.
Now that I'm not a teenager, I'm less inclined to spend my night throwing shaving cream around, or decorating a house with toilet paper (although, for the record, I've never actually done that). And now that I'm an adult, I'm less inclined to spend a night out drinking and partying (although, for the record, I have definitely done that).
I'm sure that the introvert in all of us is much more excited by Gilmore Girls being on Netflix than a crazy party, and I know how tempting a night in with mulled cider can sound despite having other plans for the evening.
Here's how you can throw a low-key but totally awesome Halloween.
1. Invite your friends over and have a scary movie marathon
Grab some popcorn and settle for a night watching the spookiest flicks on Netflix. My recommendations include V/H/S, American Psycho, Scream, and The Cabin In The Woods. Or just watch Mean Girls, if scary movies aren't your thing. Whatever. You're just doing you tonight.
2. Better yet, have a Halloweentown movie marathon
Halloweentown is the best Disney Channel Original Movie of all time, with the exception of Smart House. It won't give you the creeps like a horror movie might, but it will definitely give you those happy/nostalgia feels. Halloween is cool!
3. Have a costume contest comprised of some celeb costumes
When celebrities do Halloween, they do it big. Grab your friends and check out their creative costumes for yourself to declare a winner. Spoiler alert: Heidi Klum is still going to win every time.
4. Tell scary stories flashlight-under-the-chin style
If you are looking for a little more conversation during your night in, grab the emergency flashlight your mom made you pack, and start telling those spooky tales. Remember that time you thought a ghost was in your kitchen, or when that little girl down the street gave you a strange look? Heck, make 'em up for all I care. See which of your friends can manage to spook everyone the most!
5. Cook that recipe you've been meaning to try
This is your night off with no obligations, so if you aren't dressing up yourself, you should try to dress up those cooking skills. Try this amazing rustic turkey pot pie from A Better Happier St. Sebastian. If it goes wrong, blame it on the mysteries of Halloween!
6. Halloween nail art because, duh
I find nail art to be super therapeutic, so what better night to do it than a night of crazy? This spooky creation is from Little Tip Off. (P.S. She has a lot more amazing Halloween nail designs to choose from, and it's a little mind blowing.)
7. Get to bed early
Before you try to point out how lame this sounds, think about it. When was the last time you went to bed at a reasonable hour? Getting enough sleep is the ultimate treat yo' self, so what are you waiting for?
Image: pedroferrer/Flickr; Giphy (3); Rebloggy; A Better Happier St. Sebastian; Little Tip Off; Getty Images