Let's Hope Joe & Donna Are Season 7's It Couple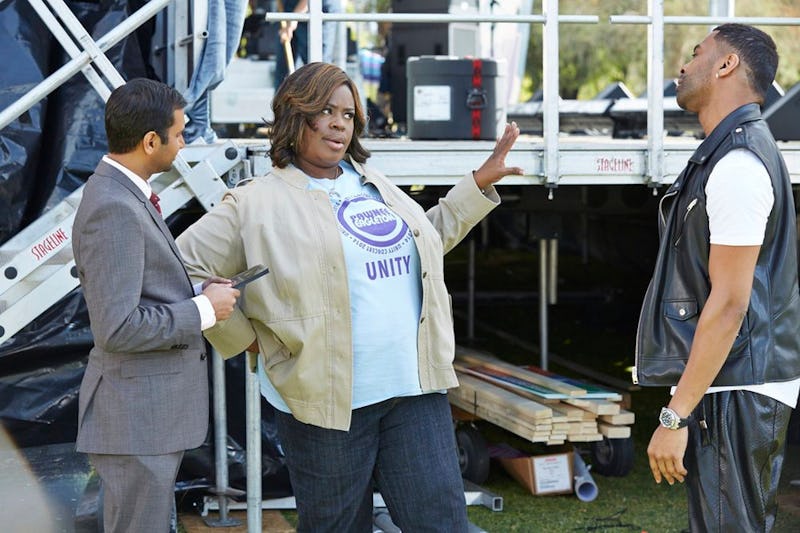 We've been kept pretty in the dark about Donna Meagle's life outside of the office in the six seasons that Parks and Recreation has been on, so it was exciting when the episode "One in 8,000" introduced Donna's ex-boyfriend Joe, portrayed by comedian Keegan-Michael Key. Since the episode ended with Retta's Donna deciding to get back together with him, will Key return to Parks and Rec Season 7? Donna deserves a substantial storyline and though I don't think the independent woman who is Donna (or anyone for that matter) needs a man to give her that substance, it would be an easy jumping off point for her character's development. With Season 7 only having 13 episodes, it would make sense that if we're going to see another side of Donna, they could use Key's Joe to do it.
There has been no official word about Key coming back to the show, but if he does, I think Retta may be one of the first people to leak it since she's already been posting Season 7 photos on her Instagram. With no showing of Key's Joe (who is oh, so different from Sewage Joe) in the Season 6 finale, we've only seen him in one episode, but would Parks and Rec really bring on the adorable and hilarious Key for just one episode for him never to return? That would just be a cruel tease.
Although Donna claimed to become a person she doesn't recognize when she's around Joe (aka she becomes boring), she told him that he couldn't pin her down when they got back together. With the potential of a "Treat Yo Self" episode, we know that Donna must not have changed that much in the three years the show jumped.
Speaking of the time jump, Parks and Rec co-creator Michael Schur told Entertainment Weekly that, "I think the biggest thing is ... we have the chance to put anybody anywhere we want. If we want to say that Donna bought a 5 percent stake in the Seattle Sounders major league soccer team and is now working in their front office, we can do that." As ridiculous and amazing as that idea would be, we need to be seeing Donna in Pawnee as much as possible. And thanks to her aforementioned Instagramming, I'm pretty confident that Donna didn't leave Pawnee for Seattle.
So what will we learn happened to Donna from 2014 to 2017? Could the casual dater have entered a long-term relationship with Joe?
As a lot of the characters on Parks and Rec have been coupled off, I've appreciated Donna playing the field. We've seen Ron enter a functional marriage (sorry, Tammys) and there's a chance that Tom could be in a relationship in Season 7 too. Although I want all of my favorite people of Pawnee to be happy, I wouldn't want there to be domestic bliss overload.
But what makes the potential of a Donna-Joe relationship fun is how different Joe is from her. Key's elementary school music teacher is so outrageously nice that he even charmed Ron with his woodworking knowledge and baking skills. He may bring out a side of Donna that she doesn't like to admit she has, but that's what would make it so fascinating to watch. And I'd love to hear that Donna spent the three years enjoying the freedom she needs while still having a relationship with Joe that consists of having sex, sitting on the couch, eating homemade pasta, and having sex again. (Come on, Donna. That sounds pretty spectacular.)
Donna better take Ron's advice of "don't confuse drama with happiness." If Joe does end up in Donna's life after three years, I just hope he finally earned the right to see her in the "red thing."
Images: Ben Cohen/NBC; elizabethtinafeys, 2x04, supernatasha (4)/Tumblr