We're Finally Going to Get The Carlton Dance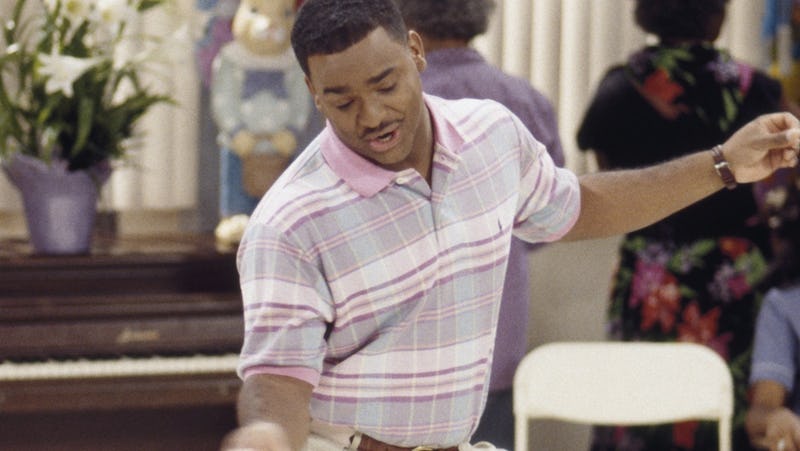 On Monday night's Dancing With the Stars we know we'll see a Mean Girls-inspired samba courtesy of Jonathan "Aaron Samuels" Bennett and Allison Holker. But that's not the only piece of nostalgia to come. It turns out Alfonso Ribeiro will finally dance The Carlton. And if you thought fans went crazy when he performed to a Will Smith song a couple of weeks ago, just wait because the Internet is likely to blow up on Monday. The Fresh Prince of Bel-Air may have premiered over 20 years ago, but fans of the show have always loved Ribeiro's dance set to Tom Jones' "It's Not Unusual." But it turns out Ribeiro loves it just as much.
Monday's theme is "The Most Memorable Year of Your Life" and the stars get to pick which moment of their lives they want to turn into a dance. How adorable is it that Ribeiro's Fresh Prince days are his most memorable? It would be easy for an actor to grow annoyed with fans praising one particular character or scene, or in his case, a dance, but Ribeiro isn't like that. It's so cool that he doesn't shun The Carlton or his time on Fresh Prince. Even more so, he celebrates it. "I never thought it would still be something 20-something years later," he admitted to People of the dance. But he's more than happy to oblige the fans and show off the moves for the show. "I just feel like this week is all about giving the fans what they have been asking for and making them happy," he said.
In a sneak peek for his dance, Ribeiro took part in a fun behind-the-scenes shoot where he judged his fellow dancers on their Carlton abilities. It's so funny to watch highly-trained pros go wild, but to be honest, no one does it like Ribeiro can.
For the true master of that dance, we'll have to tune in Monday to watch our 90s childhoods come back to life.
Image: NBC