23 Things In The 'SATC' Movies That Were The Worst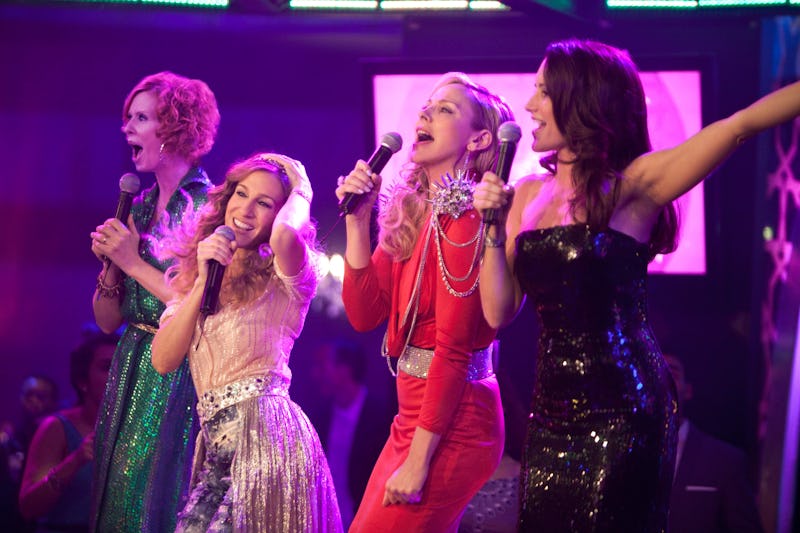 Here we go again: For the umpteenth time since Sex and the City ended in 2004, another rumor of yet another SATC movie possibly being in the works has surfaced. This time, the rumor comes from Jennifer Hudson, who played the adorable and hopelessly romantic Louise, Carrie's assistant, in the first Sex and the City movie. Hudson let slip last week that a third movie "might" be happening, because "somebody" has talked to her about it, so we should all "look for it."
I will not be looking for it.
Don't get me wrong, I'm just as big a Sex and the City fan as anyone else. I can quote it on demand, have seen each episode about two dozen times, and for far too long, was pretty invested in the fictional lives of Carrie, Miranda, Charlotte, and Samantha. But if they do a third movie, you will not be seeing me at the theatre. After the unbearable flop that SATC 2 was (we'll give them some slack for the first one), a third movie wouldn't just be a horrible attempt at keeping the SATC franchise alive, but sort of an insult to just how great the show was. SJP, I love you, but come on, girl! Let it go. Let's keep our SATC memories intact and full of those happier times.
Part of what was so insulting about the movies was that they featured plot twists that never would have flown on the show, and made us fans look dumb for liking the series in the first place. Don't know what I'm talking about? Here, let me refresh your memory. Here are 23 things that happened in the SATC movies that never would have happened in the show. This is why they're the worst.
SAMANTHA RELOCATING HER BUSINESS TO LOS ANGELES
A true New Yorker doesn't go to L.A. It just doesn't happen, like, ever.
...IN ORDER TO BE WITH SMITH JERROD
She couldn't hold his hand in public, cheated on him, and wanted an open relationship. But we're supposed to believe she moved to another city, away from all her friends, just to be with him. OK.
BIG PROPOSing WITH A DAMN SHOE
This, at the end of first movie, after their attempt at a big wedding. In the series, Carrie would have barfed.
I'LL SAY IT AGAIN, A DAMN SHOE
Granted, it's a Manolo, but who didn't groan at this scene?
STEVE CHEATING ON MIRANDA THANKS TO A SEXLESS MARRIAGE
Apparently, it's been six month since Miranda and Steve have had sex, and because of this, Steve has strayed and, to use Miranda's word, "broke" them. The Steve of SATC would have talked it out before he ever would have risked losing Miranda.
...and MIRANDA EVENTUALLY FORGIVING HIM
Considering the advice she always gave Carrie, there's no way in hell Miranda would have forgiven Steve for his infidelity.
BIG STANDING CARRIE UP AT THE ALTER
From episode one, we knew they'd be together and after six seasons of drama, but this really pushed it. Plus, Big cared way too much about saving face to ever pull a stunt like that.
WHICH WE're supposed to BLAME ON MIRANDA?
Nice job, Hobbs! But seriously, Miranda may have always been outspoken about her feelings regarding Carrie and Big, but to pin the demise of their wedding day on her, because of a one off-color comment, didn't fit with the series.
and almost ENDs HER FRIENDSHIP WITH CARRIE?
Over a guy? That was the one thing that never stood in the way of their friendships.
CARRIE HIRING AN ASSISTANT
The woman has one column and one book, and she all of sudden needs an assistant? If only that was how it worked.
CHARLOTTE GOING INTO LABOR WITH BIG
In the series, Big rarely had contact with the girls, so for Charlotte to go into labor during this specific confrontation, when the two characters didn't share more than 20 minutes on-screen for six seasons, is just a little over the top.
ANTHONY AND STANDFORD GETting MARRIED
Let's take the two token gay guys, and hook 'em up, shall we? Gotta keep it in the family.
How can we forget about when Charlotte tried to set up Anthony with Stanford, and Anthony was appalled? The two never got along, are completely different in every way possible, and yet they were married in the second movie?
MIRANDA BECOMING A STAY-AT-HOME WIFE
Yes, she gets a job again, but Miranda a stay-at-home mom, even for just a little while, is just, well, weird.
THE ALL EXPENSES-PAID TRIP TO ABU DHABI
Because sheikhs do that all the time.
group karaoke
Not their style.
SAMANTHA'S MENoPAUSE HORMONES being TAKEN AWAY
And we're forced to deal with this scene. Everything about the trip to Abu Dhabi was absurd from the beginning.
CARRIE RUNning INTO AIDAN IN ABU DHABI
Of all the places in the world…
AND aiden hitting on her
Because of course.
then kissing her?!
She finally marries the love of her life, and she's off kissing Aidan, a man whose heart she broke TWICE, because she thinks it's some sort of sign they're in the same country at the same time. No way in hell would Aidan go down this road again.
the girls mocking a veiled woman eating French fries
Yes, there were problematic conversations in the series, but this whole conversation is beyond problematic. It wasn't enough to have Samantha giving a handie in a restaurant, but then we also came the generalization that all people of Arab dissent are somehow evil and out to condemn all women?
Samantha losing her account with the sheikh
Samantha is many things, but unprofessional is not one of them.
CARRIE doing this TO GET A CAB
Um, wouldn't this be Samantha's thing in the series? Carrie was always the relatively conservative one, not including Charlotte, of course.
THEn being SAVED BY ARAB WOMEN WHO ARE INTO WESTERN STYLE TOO!
Seriously? I have to be honest, I just can't even with these movies. Please don't make a third movie. We've been through enough.
Images: Giphy(11); HBO(6); SamanthaKnowsItBetter/Tumblr(2)