Can You Get Divorced In the Kim Kardashian Game?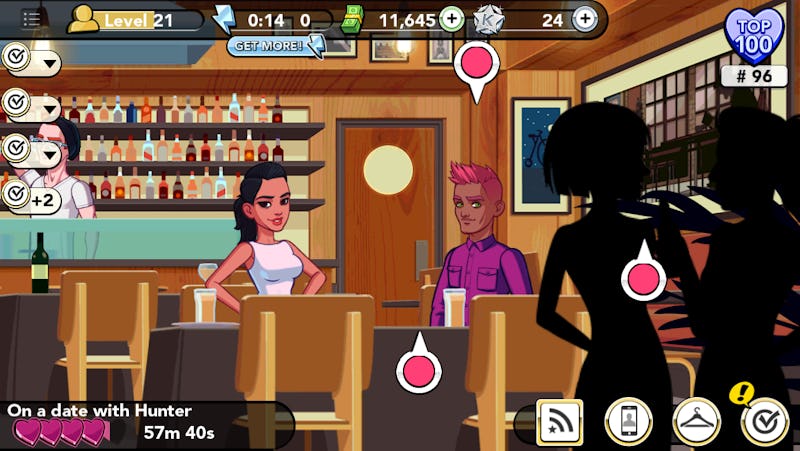 File this under: "Important Kim Kardashian: Hollywood Questions I'm Asking Myself Today." Last week, KK: H fans everywhere rejoiced when the iPhone games' 2.0 update was released. Because, not only can you now play the wildly addicting game on Facebook, but your avatar can get married in the Kardashian game now. Which, naturally, brings up the next question — can you get divorced in Kim Kardashian: Hollywood? I mean, you can't blame me wondering, since Kimye is the subject of divorce rumors at least twice a week on tabloid covers.
I'm sure you've noticed, because you're an avid KK: H player like myself, that it's pretty easy to get broken up with in the Kardashian Game. I've actually been broken up with while I was on a date with the person — I stepped outside to search for energy bolts mid-date and they called and said the usual "we're drifting apart" and broke up with me. It hurt, especially after I used so many energy bolts and a significant chunk of change to take them out even after they'd insulted my outfit, but I've forged on. And, even though it's detrimental to my quest for fans, I'm on the fast-track to marriage with my new significant other.
Because who wouldn't want to wear Kim's actual Givenchy wedding gown and get married in front of that flower wall in Florence?
But can you get divorced? Kim's gotten divorced, Kris and Bruce are currently getting divorced, so is divorce an option in the Kim Kardashian game? Well, actually, yes — I mean, you can get broken up with already in the game so it's basically the same thing. Even though I'd like to think that getting married in the Kardashian game will be wonderful, like I choose to believe Kimye's marriage is, but much like the dark side of fame, KK: H will let you ruin your marriage also.
According to a Chapter Cheats update about KK: H marriage, you can, in fact, get divorced from your spouse in KK: H. But you have to cheat on them first. Here's what Kardashian game-player Sara had to say:
You can cheat but after you go on a date with someone he'll call you and ask for a divorce. Which you can get or use the k stars to stay with him.
So, getting divorced in the KK: H game is exactly like getting broken up with, except you have to make it happen. You cheat, you get the call, and then you have to decide whether or not to use your hard-earned K stars to keep your spouse. (Which makes no sense since you already cheated on them.)
I'd like to think that Kim Kardashian launched this game to try to teach her fans a little something about her life and how difficult things can be for her. (I have very high opinions of Kim and her intentions.) So I definitely believe that she would want us to have learned something from her marriage to Kris Humphries, like not rushing into marriage just to be married (that's probably why there's a three-date rule before you can marry in KK: H ). Basically, when you're about to accept that proposal think, "What would Kim do?" and if it's not Kanye-worthy and you don't think you can make little North West's with your spouse, don't say yes.
Images: Kim Kardashian: Hollywood (2)