You Won't Believe How Much This Burger Costs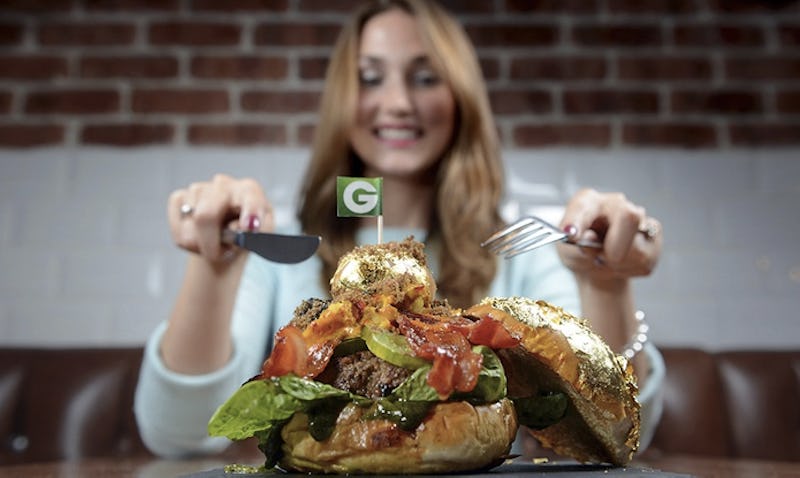 The newest result of the world's weird obsession with customizing burgers is the Glamburger, which is claiming to be the world's most expensive burger. We have already seen black burgers, burgers that come with cock rings, burgers that taste like human flesh, and burgers inspired by Batman, so why not introduce a $1,770 burger?
The Glamburger, a publicity stunt to celebrate Groupon's five millionth food and drink deal sold, is available at the American cuisine restaurant Honky Tonk, located in Chelsea, England. One lucky Groupon winner will win the honor of ingesting the Glamburger for free, with their travel expenses to the restaurant included.
So what makes the Glamburger so expensive? The patty is made from Kobe beef, minced with New Zealand venison, and stuffed with black truffle brie. It is then topped with other proteins including Canadian lobster, maple syrup bacon, Beluga caviar, and smoked duck egg. All of this is accented with smoked Himalayan salt, mango and champagne jus, and grated white truffle, all placed in between a bun covered in edible gold leaf. Sounds…excessive.
Earlier this week, Record Setters certified this burger as the most expensive in the world. However, we have to point out that Mandalay Bay in Las Vegas once offered a $5,000 FleurBurger, and in 2000, Juicy Foods in Oregon offered another $5,000 burger that weighed in at 352.44 kilograms.
But while it might not be the most expensive burger in the world, it certainly might be the most indulgent. I'm just scared for whatever weird burger monstrosity that will be dreamt up next.
Image: Groupon