The 'AHS' Clown Is The Zodiac Killer, Obv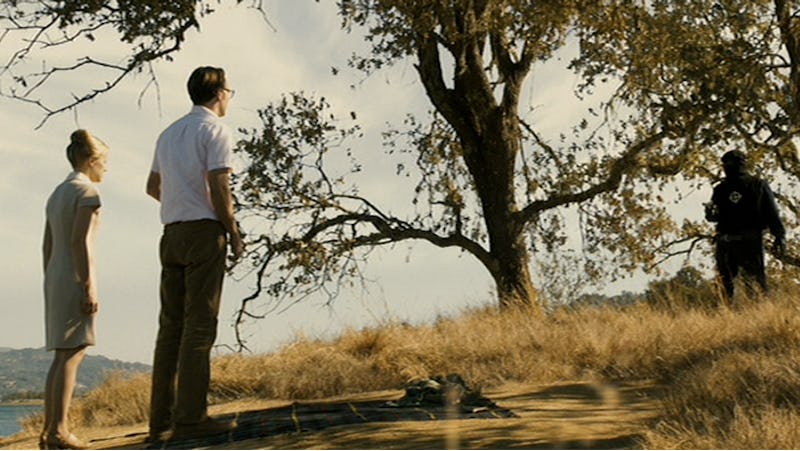 From the second we all laid eyes on American Horror Story's Killer Clown Twisty, I think we all started trying to figure out how to navigate Thursday on no sleep. That clown is the stuff nightmares are made of. The problem is that Twisty even commands fear during the day time: His first murder takes place in broad daylight in an idyllic nature scene. What's creepier is that the scene appears to be AHS ' own homage to Zodiac , if you look closely.
That's right. It seems that Ryan Murphy and Co. were inspired by the fact that the man behind the killer clown, John Carroll Lynch, also played suspect numero uno in Zodiac. Of course, there's always the possibility that Murphy planned the scene that way first and then cast Lynch as a bonus. But no matter the origins, the resemblance cannot be denied.
From the calm, natural setting, to the silent, yet stealthless way both Twisty and the Zodiac killer come up on their respective happy young couples and soon-to-be victims, these scenes are a match and my guess is that Murphy wants us to notice. There's no way a man who created a show with Horror in the title didn't obsess over the 2007 David Fincher classic.
As a refresher, here's that scene from Zodiac:
And the nature scene from AHS:
Twisty's Conspicuous Approach:
And of course, the look of terror when the girlfriend watches her boyfriend being stabbed to death:
I'll spare you the screengrabs of the bloody boyfriend, but it's pretty undeniable that AHS is paying homage to the unforgettable (if nightmare-inducing) Zodiac killer scene in which a happy couple's perfect day is interrupted by a horrific, bloodthirsty murderer.
Images: Paramount Pictures (screengrab); FX (screengrab) (3)