Fall TV Madness, Simplfied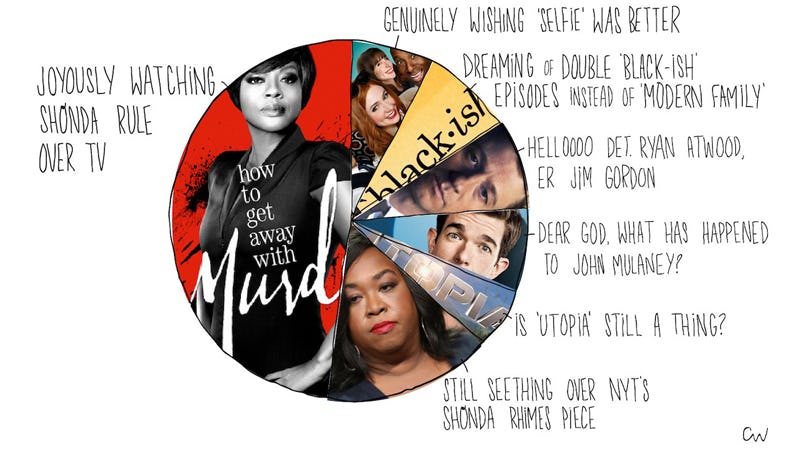 Looks like we've made it, everyone. Bring down the confetti and start clearing out your DVR. While there are still a few more premieres left in the Fall 2014 TV season, almost every huge premiere will have happened by this Sunday. Finally, we can settle in, figure out what really belongs on our DVRs, what we need to let go as the cancelation ax starts swinging, and what shows we would die before missing. We've reached the cozy part of Fall TV, where we can start grading new shows on their feminist efforts, plan all of our dream Fall TV crossovers, and of course, write our own Fall TV Haikus.
But let's not forget what we've been through. Between the shows I think I can safely say we all loved (How to Get Away With Murder, black-ish, and Gotham), those we wanted to love (you really tried, Selfie!), the ones we can't help but hate (sorry to say it, but that's you Manhattan Love Story and Mulaney), and the ones we keep forgetting are on (I tried, Red Band Society!), we've seen a lot of television this past month. And comprehending it is not easy.
So, as a form of therapy, the Bustle design team and I put together these pies (OK, they are charts, but they are certainly pie-shaped!) to help us process the mental onslaught that we all just survived together. This, is Fall TV, organized:
Because as much as I hate to admit it, every time ABC plays that promo telling us all how insanely popular How To Get Away With Murder is, part me says, "ORLY? Guess the NY Times didn't see that coming, eh?"
As much as I want to hang onto Selfie, I can recognize that some unnamed soul in the middle of the internet wildness, writing about Bruno Toniolo making good on his DWTS panel innuendos, is probably writing a more worthwhile character arc.
Because seriously, how am I already at 98 percent full? And what idiot gave Mulaney a season pass and clogged up my Sunday night lineup? I. can't. even.
Images: NBC (2); Fox (5); Showtime; CBS; ABC (7); Getty Images; Caroline Wurtzel/Bustle (3)